Strategically located in the town's most developed area, within the Nuevo Nogales industrial park and at the main entrance to the town and with easy access to the El Greco, Kalitea and Nogales  shopping centers. Situated ten minutes from the center of the city and the United States border, 10 minutes from the airport and 15 minutes from the bus station.

We remind you that the check-in time is from 3:00 PM. Check-out is at 12:00 PM. We suggest you use our express check-out service .

Services
The hotel has 107 rooms, a restaurant and a lobby bar open from 12:00 to 23:00 hrs. Other facilities include the Lounge 360°, outdoor swimming pool and fitness center. Hotel services include:
Indoor parking
Handicapped access
Business center
Free Wi-Fi access
Gym
Restaurant(s)
Guests access with guide dogs
Laundry service
24 hours room service
Pets are not allowed
Bar(s)
Outdoor pool
Restaurant

Restaurant
The Fiesta Inn features a restaurant which opens from 6:00 a.m. until 11:00 p.m. and is an excellent choice for breakfast, lunch and dinner. Choose from buffet or menu dishes, our Mexican appetizers and the finest regional cuisine.
Meeting Rooms

Event and meeting rooms
The hotel has a Business Center with computers and high speed wireless Internet, it also has a meeting room with air conditioning and capacity for 4 people.

It also features meeting rooms that can be adapted to host for up to 240 people in an auditorium; each room has a board, electric screen, flip charts, coffee service and personalized service. Our professional team will help with your groups and conventions.
Qualified:
x
Location #1 of 6 hotels in Nogales
GreenLeader Silver
Summary of qualifications
Best comments
"Good as a B&B"
Nice, clean for a good night's rest on a business trip. Fair to good breakfast buffet. Would not recommend other meals, since they are clearly using cheap ingredients for savings. I would not dare to send a meal back to the kitchen, since the chef does not seems to be willing to accept any observation.
"Fiesta Inn Nogales SonoraI"
Decent hotel with problems. Keys don't always work, water quits running without notice, no hot water, air conditioning doesn't always work. This hotel is in dire need of addressing continuous issues. I stayed there for 8 - 10 weeks and continued to deal with the issues stated above. A bigger issue is they don't seem to know how to address the problems.
"Good Hotel, not-so-great location"
Checked in late on a Sunday night. Got a room with a King bed. Room was very clean and comfortable. Price seemed high for the location. No breakfast included. Went to the restaurant in the morning. Buffet breakfast, including omelets made-to-order, was good, but again the price seemed high. Nowhere to go outside the hotel. Saw an Oxxo nearby, but decided not to walk there after dark.
"Reservations are not valid"
They did not respected my reservation, and the room was not big enough; I reserved a Jr Suite with doble beds and a sofa-bed, when I got there I just got a room with a king size bed and 1 roller bed, I needed to ask for another roller bed in order to accommodate my family, they charge me as I reserved not for the service received
"Nice Place Not in love with the pillows."
The room is great for the price. The Pillows arent the best. The breakfasts however are EXCELLENT. Staff is helpful and really nice. Great place for the price. The hotel is on the outskirts of Nogales right at the beginning of an industrial park. The Gym was nice. The pool while medium size is very nice.
Top-rated Attractions Nearby
Nogales Mall
Photos hotel and surroundings (55)
Rooms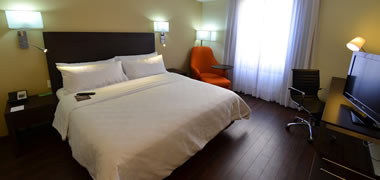 Superior Room, 1 king
Room with a king-size bed, 2 bedside tables, 32" LCD screen, spacious work desk, telephone, shower and toilet.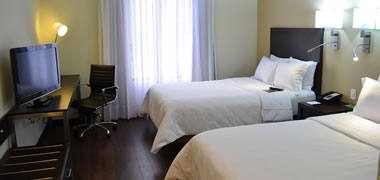 Superior Room, 2 double
Equipped with 2 double beds, 32" LCD screen, spacious work desk, telephone, shower and toilet.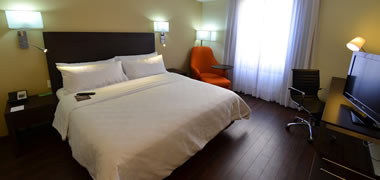 Handicapped Room
Furnished room equipped to meet the needs of handicapped guests: 2 single beds, 32" LCD screen, desk, telephone, a bathroom equipped with a 1 meter high handrail, shower and toilet with special safety bars.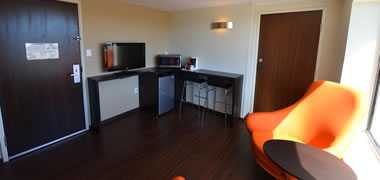 Junior Suite King
Suite equipped with king-size bed, private bathroom, air-conditioning, 2 telephones with direct access, hair dryer, two  32" LCD TVs, internet access, living area with breakfast bar, microwave, minibar, and individual sofa bed.