Fiesta Inn has advanced, innovated and transformed the Business Class concept. At the Fiesta Inn Zacatecas, these changes are present in the hotel's design and facilities. The rooms are practical and welcoming, connected and independent at the same time and have been designed to provide creative freedom, making work enjoyable. Today, Fiesta Inn is more than a hotel, it's a community that enjoys constantly striving for success.

Situated at the entrance to Zacatecas, next to the Government offices, the hotel allows easy access to the city center, where you can admire buildings in the characteristic 'pink quarry stone', the Cathedral, the Calderon Theater, or marvel at the city from above, taking a cable car from the Cerro de la Bufa to the Cerro del Grillo.
Fiesta Inn Zacatecas is an Eco-friendly hotel, so it is a 100% smoke free hotel.

We remind you that the check-in time is from 3:00 PM. Check-out is at 12:00 PM. We suggest you use our express check-out service.

Services
There are 146 guest rooms, restaurant, lobby bar and a range of spacious and comfortable multi-use rooms for private work sessions, meetings and other group events. Other facilities include Lounge 360°, and fitness center. Hotel services include:
Handicapped access
Shuttle service with cost
Gym
Restaurant(s)
100% smoke free hotel
Stores onsite/nearby
Guests access with guide dogs
Pets are not allowed
Indoor parking
Business center
Free Wi-Fi access
Laundry service
Bar(s)
24 hours room service
Restaurant

La Isla
The new Fiesta Inn features "La Isla", where you can refuel your energy with a convenient snack, open 24-hours and offering many options: breakfast buffet, restaurant, grab and go, room service or other specials, letting you take a break and relax. Also including a self-service area and a bar with domestic and imported drinks.
Meeting Rooms

Event and meeting rooms
The hotel features a B-on Business Center with computers and high speed wireless Internet, it also has 4 meeting rooms with a screen, air conditioning and capacity for 8 people.
It also features meeting rooms that can be adapted to host up to 260 people in an auditorium; each room has a board, electric screen, flip charts, coffee service and personalized service. Our professional team will help with your groups and conventions.

Qualified:
x
Location #4 of 37 hotels in Zacatecas
GreenLeader Bronze
Summary of qualifications
Best comments
"Nice middle class hotel"
This hotel offers a good ration of service and value. The rooms are nice designed and clean and in good conditions. On breakfast buffet you can almost your favours if you are not to early in the morning.
"Really Enjoyable Stay!"
Staying in Zacatecas for 2 days so thought that I would try the Fiesta Inn - As is right on the Highway 45! So great location = 15 minutes walk to the Galleria Shopping Mall, A 10 minutes walk to a traditional Mexican Restaurant, A 5 minute walk to OXXO and also a filling station right out from with a small Extra store... So location is perfect! Lovely warm welcome from the staff, first impression is a light bright reception area! Easy check in and then a look to the bar area, hotel is a kind of open plan affair. took the elevator to the room, again nice and clean modern and fresh! - My room had no view - So request a room high up at the rear of the hotel, great view over the mountains as the sun rise in the morning! The rate I had was around $67 US!! and this did not include breakfast. Internet was powerful in the room and reception and automatically connects when you re enter the hotel :-) A highly enjoyable stay and would stay again and recommend!
"Great hotel "
Our stay at Fiesta Inn was very pleasant. This hotel is very modern and the rooms are very clean. I would definitely want to come stay here again as there are not many hotels in this city that seem to be acceptable. Definitely recommend it.
"Poor excuse for a hotel"
The rooms in this hotel are difficult to be in. The bathroom is so small, you can't even get out of the shower without leaving the floor wet from the door. The sink/dressing table is small and was very difficult for my husband to take his insulin shot. The lighting is really bad in the entire room. Definitely will never stay here again.
"Not the best Fiesta Inn, but ok for a short stay"
The location is not ideal, there is nothing around it within walking distance -other than an OXXO. But it is next to Highway and it is easy to get to downtown in 10-15 minutes (cab for 80 pesos or Ruta bus for 6 pesos). You can also rent a car at the hotel. We drove downtown and did not find it hard to park (for free). Lots of parking about 5-10 minutes away from Centro. Also paid parking was amply available (about 15 pesos per hour). We did not have the best experience at this Fiesta Inn. We arrived at 2:00 pm and were told no room was available. We waited in the lobby until 3:00 pm for a room to become available (and it would have been nice to have been offered a bottle of water while sitting by the desk for an hour). Once we checked in the room was not very clean. It was very dusty and the floor was dirty and behind the curtain there was a huge pool of hair - as if it had not been cleaned in years. There was also hair and dust in the bathroom. I went downstairs and asked the floor to be cleaned while we left the room for the day (considering how small the rooms are, it should have taken them 5-10 minutes). When we came back at night, it was still not cleaned. So I cleaned it myself with a towel as it was a bit gross. In the morning, I wanted to use the coffee maker, but discovered it was super dirty and there was coffee there that probably had not been cleaned in a very long time (with signs of mold). I mentioned this to the desk again in the morning and they promised to clean the room better. I asked for a free coffee since I could not even use the coffee maker, but it never came! When we came back to the room at the end of the day, the coffee maker was cleaned, but the leftover coffee grounds were spilled on the floor! This is such a tiny room, I don't know how they missed it. You would think after someone complains about cleanliness in the room 3 times, that they would take better care cleaning the room. It was almost funny. Also, one of the two elevators were broken the whole time we were there and often we had to wait a long time for the other (small) elevator to arrive (it took us 20 minutes on the last day with our suitcases. Most would just take the stairs, but not easy if you are on top floors and this hotel has 8 floors). When at check-out, I mentioned our experience to the desk, their only answer was that "sorry, we are busy". The hotel is next to Hampton Inn and City Express and they both looked new, and the city is not very big and lots of nice hotel options around. You may want to check the competition as Fiesta Inn was nothing special.
Top-rated Attractions Nearby
Mina El Eden
Cathedral
Rafael Coronel Museum (Museo Rafael Coronel)
Cerro de la Bufa
Pedro Coronel Museum (Museo de Pedro Coronel)
La Quemada
Teleferico
Church of Santo Domingo (Iglesia de Santo Domingo)
Museo de Arte Abstracto Manuel Felguerez
Parroquia de Nuestra Senora de Fatima
Photos hotel and surroundings (88)
Rooms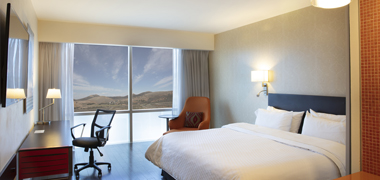 Superior Room, 1 king
The hotel has 60 rooms that feature a king-size bed, work desk, a closet for personal items, telephone, coffee maker, wireless Internet, full bathroom, air conditioning and cable TV.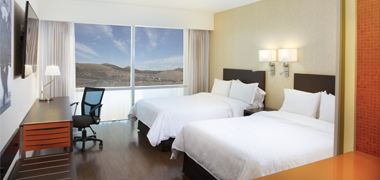 Superior Room, 2 double
The hotel has 76 rooms with double beds, a work desk, a closet for personal items, telephone, coffee maker, wireless Internet, full bathroom, air conditioning and cable TV.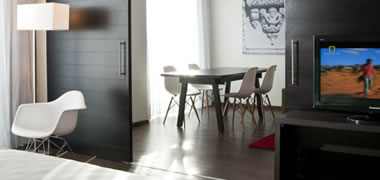 Junior Suite King
Junior King Suites have a king-size bed, work desk, closet for keeping personal items, telephone, coffee maker, wireless Internet, full bathroom, air conditioning and cable TV. They also include a room with a living and dining area, alarm clock and sofa.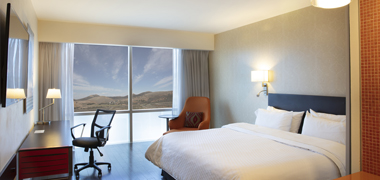 Master Suite
Master Suites are very large, providing comfort and relaxation. They feature a king-size bed, work desk, closet for personal items, telephone, coffee maker, wireless Internet, full bathroom, air conditioning and cable TV. They also include a room with a living and dining area, alarm clock and sofa for ultimate relaxation.