AdressPosadas
Fiesta Inn Aeropuerto Ciudad de México
ComPosadasCalificacionTripadvisor
Qualified:
ComPosadasTripadvisorModal
x
Fiesta Inn Aeropuerto Ciudad de Mexico
Location #80 of 448 hotels in Mexico City
GreenLeader Platinum
Summary of qualifications
Best comments
"Great for a mission trip"
My wife and I stayed here for a week. Good sleep, air conditioning, food, etc. Centrally located to shops, pharmacies, restaurants, and bakery. Great front desk. Really a full service hotel. We had our laundry done. We upgraded to a suite so the room was very comfortable. Overall a great stay.
"The pictures look way better than in person"
Not sure this place qualifies as a 3 star accommodation. I would say it's more a 2 star. The inn is located about a 10 min drive from the airport. Supposedly they have a free shuttle but we had no idea where the pick up was from the airport and when I called the hotel, the receptionist didn't understand what I was saying, so we spent about $5 on an Uber. The exterior and the lobby look fine, but past that, the building is quite dated. While the room was clean, it's also dated (no thanks to the brown carpeting). For the price that we paid for this last minute booking, we would've selected another hotel instead. Free wifi. Toiletries included bar soap, shampoo/ conditioner and body lotion.
"Impossible to sleep"
This hotel has a very good location because it's just next to the airport and 1 minute away from the metro station. It has comfortable beds, it's clean, it has a shuttle that runs 24/7 and is for free, and people at the reception are nice. However, when u book a hotel close to the airport the goal is usually to get a good nap before the flight and in this hotel it is just not possible because of the noise. The room has the thinnest walls you could imagine, you can hear everything from the neighboring rooms (there are doors in the wall between the rooms for some reason, which make the noise even more unbearable), and also because the rooms are not soundproof you wake up at night every time a plane arrives to the airport (believe me the noise is extreme, as if you lived at the airport). Also the price is too high for what you actually get (even breakfast is not included and it's quite expensive to buy). They also respond to messages with a huge delay. I messaged them 2 days in advance to book a shuttle from the airport and they replied after I already checked out of this hotel so I had to arrange my own transportation when I came to CDMX. Overall if you are lucky and get a better room than I did without neighbors constantly talking on the phone and maybe in a different block where plane noise is not that annoying then this hotel isn't that bad. However it is expensive as compared to other hotels in Mexico City and the rooms look much different than how they look in the photos.
"Had a good little stay"
Overall nice, clean hotel for short and long stay. Rooms are spacious and comfortable. Staff is helpful and attentive. Overall enjoyed my stay. Also, it's close to airport with shuttle provided to and from Airport
"Decent Business Hotel Near Airport"
It was surprisingly good my first stay at a property from Posadas chain. High standard hospitality, modern facilities, happy and friendly staff with, full commitment to sanitary standards, well organized, clean and with a very nice atmosphere.
Top-rated Attractions Nearby
Photos hotel and surroundings (322)
ComPosadasDesWeb
Strategically located across from the Mexico City Airport, with shuttle service for guests during all year, this hotel is an excellent option for business travelers that need a central location and an agreeable setting. The hotel has gardens and an outdoor pool. The hotel is situated just 20 minutes from the Historic Center, the Zona Rosa neighborhood and 10 minutes from the Foro Sol stadium and the Palacio de los Deportes (sports arena). The hotel offers free airport-hotel-airport shuttle service every 20 minutes (At the number 4 door in the Terminal 1 and in front of national arrivals in Terminal 2)Fiesta Inn Aeropuerto Ciudad de México is an Eco-friendly hotel, so it is a 100% smoke free hotel.ABC Medical Center, our protocols ally. A leader in medical best practices for more than 130 years, ABC Medical Center, dedicated to caring for their patients' health, has assisted POSADAS in the development of prevention, hygiene, and disinfection protocols that allow the group to guarantee the safety of their staff and guests.We remind you that the check-in time is from 3:00 PM. Check-out is at 12:00 PM. We suggest you use our express check-out service.
Facilities
Services
The hotel has 327 rooms, a restaurant, a lobby bar open from 1:00 p.m. to 12:00 a.m., swimming pool and fitness center. Hotel services include:
Guide Dog
Gym
Smoke Free Hotel
Outdoor Parking extra Cost
Free Shuttle Service
Room Service
Outdoor Pool
My Stay
My Cast
Event and meeting rooms
The hotel has a Business Center with computers and high speed wireless Internet, and 12 meeting rooms with a screen, air conditioning and capacity for 8 people. It also features event rooms that can be adapted to host up to 500 people in an auditorium; each room has a board, electric screen, flip charts, coffee service and personalized service. Our professional team will help with your groups and conventions.
Restaurant
The Fiesta Inn features a restaurant which opens from 6:00 a.m. until 12:00 a.m. and is an excellent choice for breakfast, lunch and dinner. Try our breakfast, lunch or dinner buffets or order items from the menu. Different buffet styles are served Monday through Friday including Mexican, Italian and Seafood on Fridays. Open to all public.
HabitacionesMinisite
Rooms
Executive Room Dog Friendly, 2 Double
Tenemos la solución para que dejes de extrañar a tu perrito mientras viajas, y puedan estar juntos en esta espaciosa habitación con detalles minimalistas que crean un ambiente muy acogedor; así podrás descubrir con tu mejor compañero de viaje la nueva experiencia de nuestro programa Dog Friendly de Fiesta Inn Aeropuerto que, por un costo adicional, permite traerlo y disfrutar de su compañía mientras consiguen todos sus objetivos, ya sea diversión e incluso trabajo, ya que cuentan con WiFi de alta velocidad, 2 camas matrimoniales, pantalla de 32'', cómodo escritorio y todas nuestras amenidades de gran calidad. Para tu mascota, te brindamos un Kit Especial de camita, tapete y plato, que podrá usar durante su estancia.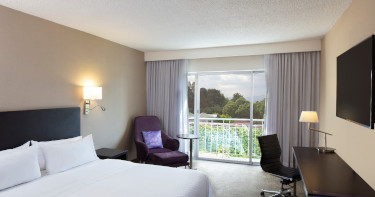 Executive Room Dog Friendly, 1 King
Our Fiesta Inn Aeropuerto Dog Friendly program has been designed to make trips with your best friend easier and practical. At an additional cost, your small or mid-sized dog can travel with you, and share a relaxed, pleasant room. Stay productive with all of the room's services and amenities, or just relax in the King Size bed, and use the high-speed WiFi and 32'' screen as your adorable travel mate rests on its bed, which is part of its Special Kit (it also includes a mat and a dish to use throughout its stay).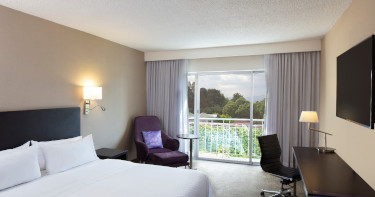 Executive Room, 1 King
Whether traveling for work or pleasure, you will feel instantly relaxed when entering these spacious rooms with minimalist design. Each room has a king bed, 55" LCD TV, two telephones, and work desk with high-speed wireless Internet. They also offer a bathroom with tub, air conditioning, security safe and ironing kit, and everything you need for an enjoyable stay, including 24-hour room service.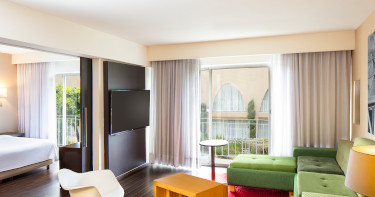 Junior Suite King
A spacious room with 2 areas: living room and bedroom; featuring 1 king-sized bed, two 55" LED screens (one in each room), 2 phone lines and a spacious desk.
Executive Room, 2 Double
These spacious rooms feature minimalist design, making them ideal for rest and relaxation. Each room has two double beds, 55" LCD TV, two telephones, and work desk with high-speed wireless Internet. They also offer a bathroom with tub, air conditioning, security safe and ironing kit, and everything you need for an enjoyable stay, including 24-hour room service.