AdressPosadas
Fiesta Inn Aeropuerto Ciudad de México
ComPosadasCalificacionTripadvisor
Qualified:
ComPosadasTripadvisorModal
x
Fiesta Inn Aeropuerto Ciudad de Mexico
Location #77 of 427 hotels in Mexico City
GreenLeader Platinum
Summary of qualifications
Best comments
"Decent Business Hotel Near Airport"
It was surprisingly good my first stay at a property from Posadas chain. High standard hospitality, modern facilities, happy and friendly staff with, full commitment to sanitary standards, well organized, clean and with a very nice atmosphere.
"Stopover"
Ideal stopover at the Mexico City Airport. I took a pre-paid taxi from the airport (120 Peso), that took approx 10 mins of travel, but there is a shuttle bus somewhere, but I was too tired to find it. First impressions of the hotel was it's a concrete box, in the middle of an industrial zone, but the check- in was pretty easy and calm. The room was fairly spacious and clean, with a comfortable bed. The downs side of the hotel is the intermittent banging of the scare gun going off. I believe this is to keep stray dogs away from the airport runway, but not sure? The shower was pretty poor with a dribble coming out of a large rainforest head, but the water was hot. I got the shuttle bus to the airport next morning( free but kindly tip the driver who is most helpful), that leaves every half hour from the hotel. Overall, a nice reasonable priced convenient stay.
"Excellent Stay"
Value for money, and a superb breakfast. The location is handy for the airport and availability of the shuttle welcome. I was particularly delighted with the food quality in spite of the COVID-19 restrictions. Staff friendly and helpful
"close to the airport"
Hotel nearby the airport with efficient and free shuttle service. My room in ground floor was a bit noisy. I used the room service for dinner, the food was good. Definitely the hotel location is a plus if you have 1 day transit in Mexico.
"Good service"
We had to stay there only 1 night because of our flight's schedule. We went to the restaurant area to get some dinner, it was 3 of us traveling together and staying in the same room but by the time of getting a table they wanted us to sit separately because of the new regulations. Which we think are okay and understand, but if 3 people are already traveling together and even staying in the same room we thought it was absurd and ridiculous to ask us to be apart by the time of eating. We ended up eating in the room. The banana rice I ordered was bad and smelled bad, I had to return it and instead I use the refund for a small fruit breakfast the following morning. Love the fact they had airport transportation and it was close to our terminal
Top-rated Attractions Nearby
Photos hotel and surroundings (320)
ComPosadasDesWeb
Strategically located across from the Mexico City Airport, with shuttle service for guests during all year, this hotel is an excellent option for business travelers that need a central location and an agreeable setting. The hotel has gardens and an outdoor pool. The hotel is situated just 20 minutes from the Historic Center, the Zona Rosa neighborhood and 10 minutes from the Foro Sol stadium and the Palacio de los Deportes (sports arena). The hotel offers free airport-hotel-airport shuttle service every 20 minutes (At the number 4 door in the Terminal 1 and in front of national arrivals in Terminal 2)Fiesta Inn Aeropuerto Ciudad de México is an Eco-friendly hotel, so it is a 100% smoke free hotel.ABC Medical Center, our protocols ally. A leader in medical best practices for more than 130 years, ABC Medical Center, dedicated to caring for their patients' health, has assisted POSADAS in the development of prevention, hygiene, and disinfection protocols that allow the group to guarantee the safety of their staff and guests.We remind you that the check-in time is from 3:00 PM. Check-out is at 12:00 PM. We suggest you use our express check-out service.
Facilities
Services
The hotel has 327 rooms, a restaurant, a lobby bar open from 1:00 p.m. to 12:00 a.m., swimming pool and fitness center. Hotel services include:
Guide Dog
Gym
Smoke Free Hotel
Outdoor Parking extra Cost
Free Shuttle Service
Room Service
Outdoor Pool
Event and meeting rooms
The hotel has a Business Center with computers and high speed wireless Internet, and 12 meeting rooms with a screen, air conditioning and capacity for 8 people. It also features event rooms that can be adapted to host up to 500 people in an auditorium; each room has a board, electric screen, flip charts, coffee service and personalized service. Our professional team will help with your groups and conventions.
Restaurant
The Fiesta Inn features a restaurant which opens from 6:00 a.m. until 12:00 a.m. and is an excellent choice for breakfast, lunch and dinner. Try our breakfast, lunch or dinner buffets or order items from the menu. Different buffet styles are served Monday through Friday including Mexican, Italian and Seafood on Fridays. Open to all public.
HabitacionesMinisite
Rooms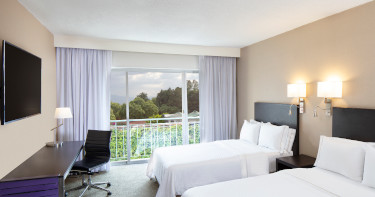 Executive Room, 2 Double
These spacious rooms feature minimalist design, making them ideal for rest and relaxation. Each room has two double beds, 55" LCD TV, two telephones, and work desk with high-speed wireless Internet. They also offer a bathroom with tub, air conditioning, security safe and ironing kit, and everything you need for an enjoyable stay, including 24-hour room service.
Executive Room, 1 King
Whether traveling for work or pleasure, you will feel instantly relaxed when entering these spacious rooms with minimalist design. Each room has a king bed, 55" LCD TV, two telephones, and work desk with high-speed wireless Internet. They also offer a bathroom with tub, air conditioning, security safe and ironing kit, and everything you need for an enjoyable stay, including 24-hour room service.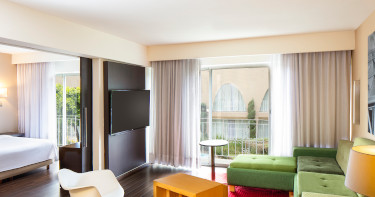 Junior Suite King
A spacious room with 2 areas: living room and bedroom; featuring 1 king-sized bed, two 55" LED screens (one in each room), 2 phone lines and a spacious desk.