Fiesta Inn Aeropuerto Ciudad de México
ComPosadasCalificacionTripadvisor
Qualified:
ComPosadasTripadvisorModal
x
Fiesta Inn Aeropuerto Ciudad de Mexico
Location #83 of 459 hotels in Mexico City
GreenLeader Platinum
Summary of qualifications
Best comments
"Clean and comfortable"
Very helpful and friendly staff. Check-in/out was easy and fast. Clean rooms with comfortable beds. Request a room in building A. Avoid building D because it has not been renovated yet and doesn't seem to be cleaned and maintained as well. Food is lackluster and everything comes wrapped in plastic whether dining in the restaurant or room service. Plenty of other food options in the area. Great location if you need to be close to the airport. Free airport shuttle every 30 minutes.
"Nice stay, not so quiet"
Stayed in a 1 bedroom suite on the 2nd floor. Contactless check in, 24hr shuttle at your service. Nice updated room, comfy beds and great pillows. Noise level is average and you could hear steps from room upstairs. I had a great sleep but it could have been better. Great and friendly staff through put the hotel.
"Tremendous staff and excellent tour guide"
Excellent service and helpful staff from front desk and especially our charming tour guide who managed to get us access (tickets) to the Frida Kahlo museum within few hours same day!! That is extraordinary and sublime service and I felt lucky to have chosen that that hotel and to get such great experience in our short 24 h - visit in Mexico City. We chose the hotel near the airport and they provide shuttle service to and the airport. We didn't need more.
"Great for a mission trip"
My wife and I stayed here for a week. Good sleep, air conditioning, food, etc. Centrally located to shops, pharmacies, restaurants, and bakery. Great front desk. Really a full service hotel. We had our laundry done. We upgraded to a suite so the room was very comfortable. Overall a great stay.
"The pictures look way better than in person"
Not sure this place qualifies as a 3 star accommodation. I would say it's more a 2 star. The inn is located about a 10 min drive from the airport. Supposedly they have a free shuttle but we had no idea where the pick up was from the airport and when I called the hotel, the receptionist didn't understand what I was saying, so we spent about $5 on an Uber. The exterior and the lobby look fine, but past that, the building is quite dated. While the room was clean, it's also dated (no thanks to the brown carpeting). For the price that we paid for this last minute booking, we would've selected another hotel instead. Free wifi. Toiletries included bar soap, shampoo/ conditioner and body lotion.
Top-rated Attractions Nearby
Photos hotel and surroundings (329)
Strategically located across from the Mexico City Airport, with shuttle service for guests during all year, this hotel is an excellent option for business travelers that need a central location and an agreeable setting. The hotel has gardens and an outdoor pool. The hotel is situated just 20 minutes from the Historic Center, the Zona Rosa neighborhood and 10 minutes from the Foro Sol stadium and the Palacio de los Deportes (sports arena). The hotel offers free airport-hotel-airport shuttle service every 20 minutes (At the number 4 door in the Terminal 1 and in front of national arrivals in Terminal 2)Fiesta Inn Aeropuerto Ciudad de México is an Eco-friendly hotel, so it is a 100% smoke free hotel.ABC Medical Center, our protocols ally. A leader in medical best practices for more than 130 years, ABC Medical Center, dedicated to caring for their patients' health, has assisted POSADAS in the development of prevention, hygiene, and disinfection protocols that allow the group to guarantee the safety of their staff and guests.We remind you that the check-in time is from 3:00 PM. Check-out is at 12:00 PM. We suggest you use our express check-out service.
Services
The hotel has 327 rooms, a restaurant, a lobby bar open from 1:00 p.m. to 12:00 a.m., swimming pool and fitness center. Hotel services include:
Guide Dog
Gym
Smoke Free Hotel
Outdoor Parking extra Cost
Free Shuttle Service
Room Service
Outdoor Pool
Dog Friendly-Extra cost
My Stay
My Cast
Event and meeting rooms
The hotel has a Business Center with computers and high speed wireless Internet, and 12 meeting rooms with a screen, air conditioning and capacity for 8 people. It also features event rooms that can be adapted to host up to 500 people in an auditorium; each room has a board, electric screen, flip charts, coffee service and personalized service. Our professional team will help with your groups and conventions.
Restaurant
The Fiesta Inn features a restaurant which opens from 6:00 a.m. until 12:00 a.m. and is an excellent choice for breakfast, lunch and dinner. Try our breakfast, lunch or dinner buffets or order items from the menu. Different buffet styles are served Monday through Friday including Mexican, Italian and Seafood on Fridays. Open to all public.
Rooms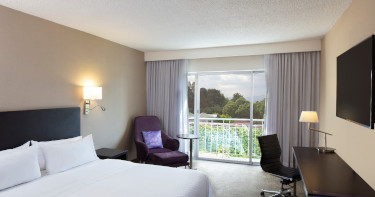 Executive Room Dog Friendly, 1 King
Our Fiesta Inn Aeropuerto Dog Friendly program has been designed to make trips with your best friend easier and practical. At an additional cost, your small or mid-sized dog can travel with you, and share a relaxed, pleasant room. Stay productive with all of the room's services and amenities, or just relax in the King Size bed, and use the high-speed WiFi and 32'' screen as your adorable travel mate rests on its bed, which is part of its Special Kit (it also includes a mat and a dish to use throughout its stay).
Executive Room, 2 Double
These spacious rooms feature minimalist design, making them ideal for rest and relaxation. Each room has two double beds, 55" LCD TV, two telephones, and work desk with high-speed wireless Internet. They also offer a bathroom with tub, air conditioning, security safe and ironing kit, and everything you need for an enjoyable stay, including 24-hour room service.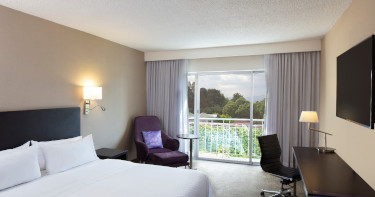 Executive Room, 1 King
Whether traveling for work or pleasure, you will feel instantly relaxed when entering these spacious rooms with minimalist design. Each room has a king bed, 55" LCD TV, two telephones, and work desk with high-speed wireless Internet. They also offer a bathroom with tub, air conditioning, security safe and ironing kit, and everything you need for an enjoyable stay, including 24-hour room service.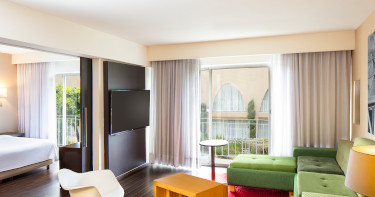 Junior Suite King
A spacious room with 2 areas: living room and bedroom; featuring 1 king-sized bed, two 55" LED screens (one in each room), 2 phone lines and a spacious desk.
Executive Room Dog Friendly, 2 Double
If you miss your dog while you are away, we have a solution for you: bring them along, and share this spacious room with minimal details that create a cozy atmosphere. Discover our Fiesta Inn Aeropuerto Dog Friendly program, which allows you to bring your dog along at an additional cost, and enjoy their company as you both achieve all of your goals, whether you are here for fun or work. The room offers high speed WiFi, two double beds, a 32'' screen, a comfortable desk, and high-quality amenities. Your pet will receive a Special Kit with a bed, mat, and plate to use throughout its stay.