AdressPosadas
Fiesta Inn Cancún Las Américas
ComPosadasCalificacionTripadvisor
Qualified:
ComPosadasTripadvisorModal
x
Fiesta Inn Cancun Las Americas
Location #84 of 279 hotels in Cancun
GreenLeader Gold
Summary of qualifications
Best comments
"Good hotel"
The bed is comfortable but the duvet is smaller than the bed. The hotel hall doesn't have the ac on and there are lines some times, so it is extremely hot in the hall.. the other downside there is no fridge, however the rest is really good. Good location close to everything in Cancun.
"Satisfied"
Nice clean room in a good downtown location. I would definitely recommend if looking to save some money not too concerned about being near the beach. Located within a mall and next to a few bars but not loud at all.
"The Best Location for a Shopper!"
I loved my stay at the Fiesta Inn. Great location especially for a solo traveler who is not a beach person. The hotel was actually in the mall!!! Great restaurants just a few feet away. Friendly staff. Comfortable rooms. Food in the restaurant was delicious! I would definitely recommend this for a great stay in Cancun.
"Nice, reasonable, but disappointed "
This is the first time I went to a hotel where there wasn't a greater telling you where the lobby desk is. Figured it out, and completed registration. Asked if there was a airport service in the morning and was told no, but somehow it changed with a charge. Still reasonable. Checked out the pool and it is exactly as the picture shows but it was ice cold ! Even the jacuzzi was ice cold ! I had been diving in the ocean and it was warmer than this water. Room condition was clean. Restaurant and all other services were nice.
"Very good"
The hotel is in a large mall. Convenient for shopping, dining and transportation to the beaches. The staff are well spoken, and cordial. The rooms are clean and in good shape. The mall is very secure and busy.
Top-rated Attractions Nearby
Photos hotel and surroundings (163)
Tripadvisor_Fiesta_Inn_Cancun_las_Americas
ComPosadasDesWeb
Please be advised that from now on, an official Sanitation tax of $29.57 MXN per night will be charged in our hotels located in Benito Juárez, Quintana Roo (Cancún).
Fiesta Inn continues to evolve and transform as a leader in Business Class hotels with the Fiesta Inn Cancún Las Américas. The hotel is designed to let visitors pass their time as they wish, with spaces that are functional and welcoming, so guests can work independently or socialize in groups. Today, the Fiesta Inn is more than just a hotel. It's a community of travelers all working to get ahead.The hotel is located at Avenida Bonampak in Cancun downtown, inside the most important shopping mall of the city, where you have access to the main attractions of this magnificent destination. Just 15 minutes from the airport.Our 187 rooms offers an exclusive design, created for a productive and comfortable stay, equipped with what is necessary for the business traveler, such as work desk, reading chair, high-speed wireless internet, among other amenities designed to make your rest also perfect.Amazing views to the Nichupte lagoon and from our pool views to the Caribbean sea.Fiesta Inn Cancún Las Américas is an Eco-friendly hotel, so it is a 100% smoke free hotel.ABC Medical Center, our protocols ally. A leader in medical best practices for more than 130 years, ABC Medical Center, dedicated to caring for their patients' health, has assisted POSADAS in the development of prevention, hygiene, and disinfection protocols that allow the group to guarantee the safety of their staff and guests.We remind you that the check-in time is from 3:00 PM. Check-out is at 12:00 PM. We suggest you use our express check-out service.
Facilities
Services
Fiesta Inn Cancún Las Américas has 187 rooms, restaurant, bar, a range of spacious and comfortable multi-use rooms for private work sessions, meetings and other group events. Other facilities include Lounge 360°, fitness center and outdoor swimming pool with lap lanes. Hotel services include:
Guide Dog
Gym
Smoke Free Hotel
Indoor Parking Extra Cost
Room Service
Outdoor Pool
My Stay
My Cast
Event and meeting rooms
The B-on Business Center offers computer workstations with high-speed wireless Internet access and three meeting rooms, with projection screen and air conditioning, accommodating up to 12 guests. There are also four meeting and event rooms accommodating up to 300 people with auditorium seating. Each room has whiteboard, video screen, flipchart and other amenities. The professional staff can assist with coffee breaks and other services.
HabitacionesMinisite
Rooms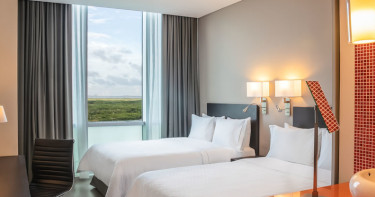 Superior Room, 2 double
The hotel offers 105 rooms with two beds, work desk, closet, telephone, coffeemaker, wireless Internet, full bathroom, air-conditioning and flat-screen cable TV.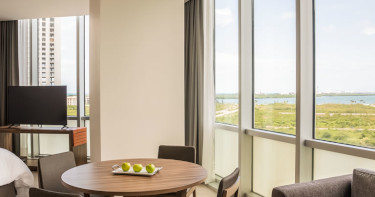 Junior Suite, Lagoon View, 1 King
These spacious and modern suites are the perfect home base for a successful trip. Each suite features a king bed, work desk, closet, telephone, coffeemaker, wireless Internet, full bathroom, ironing kit, hairdryer, air conditioning, LCD cable TV, and personal amenities. Each of these rooms also has a sitting room, dining room and views of the city and tropical lagoon.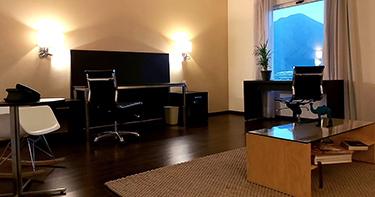 Flex Office
Thanks to the strictest safety and cleaning measures, you can relax and enjoy a pleasant atmosphere, as well as our excellent service and warm welcoming. With a room adapted for you and two more guests, you can achieve total privacy and enjoy amenities such as high-speed Wi-Fi, 55" TV, HDMI cable, private bathroom, and air conditioning. At an additional cost, you can have access to printing and copying services, meeting rooms, and room service delivered under social distancing measures. At Fiesta Inn, your rest matters, so we offer special areas, facilities, and comfortable furnishings for whenever you need a break. Relax, have a cup of coffee, and make new friends.
*This service includes work space only, not the room for the night.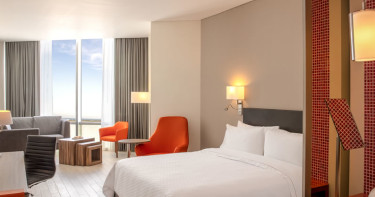 Accessible Room
This guest room is specially equipped for guests with special mobility needs. It has a double bed, work desk, closet, telephone, coffeemaker, wireless Internet, full bathroom, air-conditioning and flat-screen cable TV.

Superior Room, 1 king
There are 64 rooms with King bed, work desk, closet, telephone, coffeemaker, wireless Internet, full bathroom, air-conditioning and flat-screen cable TV.