Carousel Fiesta Inn Centro Histórico Ciudad de México
Fiesta Inn Centro Histórico Ciudad de México
ComPosadasCalificacionTripadvisor
Qualified:
ComPosadasTripadvisorModal
x
Fiesta Inn Centro Historico
Location #56 of 456 hotels in Mexico City
GreenLeader Gold
Summary of qualifications
Best comments
"Great place to stay near Historic Center"
I often try to stay at or near Mexico City's historic center, and this hotel was one of the available options. I'm used to great service in this area, but this hotel went above and beyond in regards to the staff's helpfulness and cordiality. The room was clean, and even though I was in a fourth floor it was surprisingly quiet. The convenience of having a McDonald's, Starbucks and Krispy Kreme right next to the entrance was great for a quick bite, but good restaurants are also available nearby. There's a library and some stores below the hotel as well. The room was well lit and organized, the bed was comfortable. The hot water takes less than 10 seconds to go up to the proper temperature. These may all sound trivial, but in low-cost hotels something is usually either broken or missing. I feel very satisfied with this hotel.
"Location, Cleanliness, Service, Comfy Beds.. RECOMMENDABLE!"
Would definitely consider staying again! It conveniently has a Starbucks, library, Mc Donalds, Japanese like food, donuts and other sweet stores on the 1st floor. Hotel is from 2nd floor up. I was surprised it was pretty big. Beds are comfy don't get the other reviews, the pillows might feel hard for some but i think you can request change. Service is excellent. Make sure breakfast is included and request which one Continental or American in the price. You are better if you call their local phone number 1 5551 302 900 instead of the webpage. I reserved a double room on the top floor with 2 double beds. Quite clean, however just one day the stewardess forgot to clean up but it was solved when I mentioned that on the lobby. BRING YOUR HAIR CONDITIONER as only shampoo + conditioner is offered. There was no fridge though. The AC was noisy but ONLY when it first begins to work. I did turned it off while sleeping though even in November that it's supposed to be cold we didn't feel it like it. There is a pharmacy next to the hotel just in case. And the SOUVENIR "LA CIUDADELA" place is very near!! like 4 short blocks up. The area is quite safe even at night. So no worries. YOu can mingle with locals. It's also near the small Chinatown like 2 or 3 blocks. Not to mention close to Bellas Artes Museum, Calle Madero (lots of stores) which goes into el Zocalo. The breakfast at the hotel was good. It offers fruits such as melon, watermelon, papaya, apples in slices. You can repeat it as it is buffet. Hotcakes /Pancakes were good. Eggs are done as you wish. Juice is fresh and not artificial. HOWEVER you are better going out to eat your other meals as it is located next to a Sanborns (1st floor) and other restaurants and local CHEAP food nearby. Make sure to go into the Seven Eleven and Oxxo stores. The hotel overall it's quite relaxing place to stay and the location is superb. Even better than hotels near Zocalo which i have tried as well. The ONLY thing i didn't like about the hotel was that there was a guy on saturdays or friday? that sang with his karaoke IN FRONT of the 1st floor (not hotel door but still the front) and Hotel management should do something about it. He sings terrible!! And the Elevator... it kinda sounds and trembles a bit SOMETIMES. Which is terrifying LOL. Please do something about it. WIFI IS GOOD ALL OVER, Good hot shower water (gotta wait like 30 seconds to warm up) but yeah I 'd recommend the hotel to anyone despite this. :)
"Very nice, but Juarez Avenue is VERY noisy."
We got a junior suite. It was huge! Very nice room. The bed was very comfortable. The pillows were hard our first night, but left a note for the maid and we had soft ones. Walking distance to lots of the historical portion of town. Very nice park across the street. If you are not a night person, do not get rooms facing the park. It is very noisy until around midnight. Expedia said breakfast was included, but it wasn't. That was okay as there are plenty of nicely priced places to eat. Good hotel!
"this is an old building that needs a lots of help!"
Employees are trying to do their best to accommodate guest requests, but when it comes to broken hangers, leaking showers, air conditioning piping making a noise all night, walls are so thin that you can hear next door guess snoring, Hotel gets to be barricaded once per week and your only access is by the garage.
"good location, close to everywhere"
I was in this hotel in the new year 2021. The city was in lockdown. Very few travellers in the hotel. Very friendly staffs, clean environment. The most important for me, the hotel is close to everywhere, Alameda Park, Belles Artes, Zocalo, Chinatown, and subway stations. Will stay here again.
Top-rated Attractions Nearby
Photos hotel and surroundings (186)
Tripadvisor_Fiesta_Inn_Centro_Historico_Ciudad_de_Mexico
Located within the Parque Alameda Commercial Plaza, in the Historic Center, very close to Mexico City's main attractions, such as the Cathedral, the Casa de los Azulejos, Bellas Artes and countless museums. The hotel is situated just minutes from Reforma and Polanco Avenues, and important business, commercial and social districts.Fiesta Inn Centro Histórico is a responsible hotel, so it is a 100% smoke free hotel.ABC Medical Center, our protocols ally. A leader in medical best practices for more than 130 years, ABC Medical Center, dedicated to caring for their patients' health, has assisted POSADAS in the development of prevention, hygiene, and disinfection protocols that allow the group to guarantee the safety of their staff and guests.We remind you that the check-in time is from 3:00 PM. Check-out is at 12:00 PM. We suggest you use our express check-out service.
Services
The hotel has 140 rooms, a restaurant, a lobby bar open from 1:00 p.m. to 11:00 p.m. and fitness center. Hotel services include:
Guide Dog
Gym
Smoke Free Hotel
Indoor Parking Extra Cost
Room Service
Digital Check-in
Event and meeting rooms
The hotel has a Business Center with computers and high speed wireless Internet, and 2 meeting rooms with a screen, air conditioning and capacity for 8 people. It also features 4 event rooms that can be adapted to host up to 210 people in an auditorium; each room has a board, electric screen, flip charts, coffee service and personalized service. Our professional team will help with your groups and conventions.
Rooms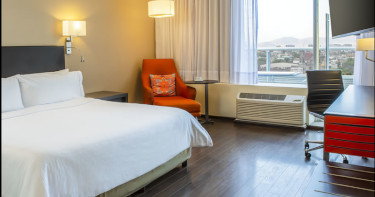 Executive Room, 1 King
Whether traveling for work or pleasure, you will feel instantly relaxed when entering these spacious rooms with minimalist design and laminated floors. Each room has a king bed, 55" LCD TV, two telephones, and work desk with high-speed wireless Internet. They also offer a bathroom with tub, air conditioning, security safe and ironing kit. Each room has a view of the famous Juarez Avenue (subject to availability), and everything you need for an enjoyable stay, including 24-hour room service and a travelers kit.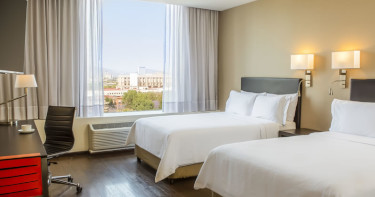 Executive Room, 2 Double
These spacious rooms feature minimalist design and laminated floors, making them ideal for rest and relaxation. Each room has two double beds, 55" LCD TV, two telephones, and work desk with high-speed wireless Internet. They also offer a bathroom with tub, air conditioning, security safe and ironing kit. Each room has a view of the famous Juarez Avenue (subject to availability), and everything you need for an enjoyable stay, including 24-hour room service and a travelers kit.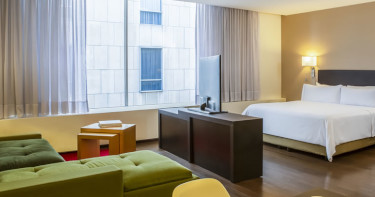 Junior Suite
A spacious room with 2 areas: living room and bedroom; featuring 1 king-sized bed, microwave, 2 televisions (one in each room), 2 phone lines and a spacious desk.