ComPosadasCalificacionTripadvisor
Qualified:
ComPosadasTripadvisorModal
x
Location #14 of 49 hotels in Chihuahua
Summary of qualifications
Best comments
"Stayed here on our way to Mata Irtiz"
Clean, comfortable and good service. A business hotel ideal when travelling further North as a stop over. Food adequate but breakfast poor. Travellibg to Mara Ortis and needed a stop over. Poor choice of hotels in this town as not a tourist attraction.
"Nice hotel, but need maintenance"
Nothing fancy about this hotel. Breakfast buffet very good although a bit expensive for Mexico. Rooms need maintenance urgently. Desks a bit worn and laminate chipped. Toilet with problem while flushing. Personnel very nice and service orientaded. If you have other choices, review them first. AC very, very noisy.
"Nice, good location but....."
Reception and meals are quite nice actually. The staff is courteous and friendly. The pool.....well, it's not really a pool It's really disappointing, specially for kids and families. The water is completely frozen, even with the raising summer temperatures in the summer. It's very small, barely for a couple for swimming strokes. The rooms are kept with a high standard in mind, so they are very comfortable. Buffet is truly expensive for families, better to avoid as the mall is right behind the hotel, where they are other alternatives
"Hotel of two halves"
The reception and dining area very welcoming recently decorated? Room 207 needs some TLC. New laminate floor but chipped desk surface, hot tap would not turn off fully, Bath surround untidy resealing. Window lock did not work. BNo safe in room. Despite these negatives the room was clean and bed comfortable. Staff friendly and helpful. Restaurants to eat within Walking distance. We did not have time to go into Centro as we were only here for one night on our way to Creel. It was good for our purpose.
"Great place to stay"
We thought the hotel was great - Friendly staff, spacious clean rooms, and a great price. We had breakfast the next morning and it was a buffet and good food. We were even offered custom items such as an egg omelet.
Top-rated Attractions Nearby
Photos hotel and surroundings (64)
Tripadvisor Fiesta Inn Chihuahua
Located strategically only 5 minutes from the Historic Center, on one of the main avenues where it is possible to enjoy the city's historical, cultural and entertainment attractions. The hotel is situated just 15 minutes from the industrial parks and 20 minutes from the airport, providing quick and easy access to important business corporations.ABC Medical Center, our protocols ally. A leader in medical best practices for more than 130 years, ABC Medical Center, dedicated to caring for their patients' health, has assisted POSADAS in the development of prevention, hygiene, and disinfection protocols that allow the group to guarantee the safety of their staff and guests.We remind you that the check-in time is from 3:00 PM. Check-out is at 12:00 PM. We suggest you use our express check-out service.
Services
The hotel has 152 rooms, a restaurant, a lobby bar open from 1:00 p.m. to 11:00 p.m., swimming pool, gift shop and fitness center. Hotel services include:
Guide Dog
Gym
Free Indoor parking
Shuttle Service Extra Cost
Room Service
Outdoor Pool
Restaurant
The Fiesta Inn features a restaurant which opens from 6:00 a.m. until 11:00 p.m. and is an excellent choice for breakfast, lunch and dinner. Enjoy the restaurant's ambient music, buffet breakfasts Monday through Sunday. For dinner, choose a dish from the menu with a salad bar and appetizers.
Event and meeting rooms
The hotel has a Business Center with computers and high speed wireless Internet, and 1 meeting room, air conditioning and capacity for 5 people. It also features event rooms that can be adapted to host up to 200 people in an auditorium; each room has a board, electric screen, flip charts, coffee service and personalized service. Our professional team will help with your groups and conventions.
Rooms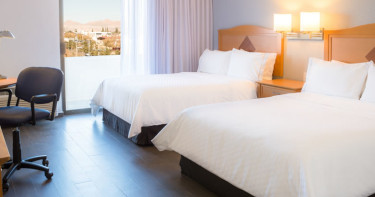 Superior Room, 2 double
Equipped with 2 double beds, 32" TV, spacious work desk, telephone, bathroom with tub, shower and toilet. With a view of the city.
Junior Suite
A large, comfortable room with a king-sized bed, TV, work desk with telephone and wireless Internet. In addition, it has a comfortable TV room with a desk, telephone completely separate from the main room, providing you with greater privacy.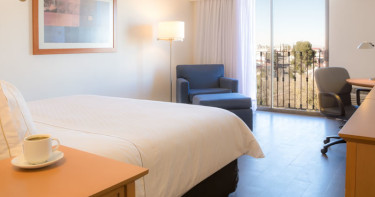 Superior Room, 1 king
The room is 30 m2 with a king-size bed, 2 bedside tables, 32" TV, reading chair and spacious work desk, telephone, bathroom with tub, shower and toilet. With a view of the city, except on the 1st floor.