AdressPosadas
Fiesta Inn Ciudad del Carmen
ComPosadasCalificacionTripadvisor
Qualified:
ComPosadasTripadvisorModal
x
Fiesta Inn Ciudad del Carmen
Location #7 of 27 hotels in Ciudad del Carmen
GreenLeader Silver
Summary of qualifications
Best comments
"very good business or family hotel"
hotel is very clean and staff are great. waiter service can be a bit slow but if you're not in a rush no problem Rooms are very good and impeccably clean but the AC system can be very loud. All in all though very good value for the price.
"Basic hotel"
First they had buffet, that was good. The a la carte is not that good, eatable but no haute cuisine. Rooms are oke, only very noisy on the front near the road. For short stay, for longer stay requirements are too low.
"Good hotel and great staff"
The hotel experience was fine, only some noise from the hallway was getting in the room, and the food area in the restaurant could be more clean and tight. The staff is very friendly and is always willing to help with a smile.
"Decadent Installations very poorly mantained"
One night stay, rooms in very poor conditions: AC extremely noisy and not very really working, water pipes make very loud and very strange noises. The faucet its all clogged and water sits. You can easily tell that pillows and mattresses haven't been updated in years.... All the signs of a hotel which reinvest ZERO and has no intention of doing it. Very very sad and would never stay here again. Off course the staff tries to its best, nice caring people who know what the customers are going through with the rooms and overall condition of the building but very few they can do when evidently there is a zero maintenance management policy.
"Love this place"
I came back a second time in less then a month, this time I try to order from the small menu they have, I order Cesar salad and was very surprised it was very good. They do not have a restaurant but you can order food to your room, they have wine small selection but no to bad. Breakfast was very good and everyone was very helpful I arrive on my motorcycle and they were very nice at looking after the bike on the parking lot
Top-rated Attractions Nearby
Photos hotel and surroundings (62)
Tripadvisor_Fiesta_Inn_Ciudad_del_Carmen
ComPosadasDesWeb
Located in the most developed area of the island, it is 5 minutes from the airport, 10 minutes from the city center and just steps from the best shopping and entertainment centers. The hotel is situated very close to private and public corporate offices, which makes it an excellent option for business travelers and tourists alike.Fiesta Inn Ciudad del Carmen is an Eco-friendly hotel, so it is a 100% smoke free hotel.ABC Medical Center, our protocols ally. A leader in medical best practices for more than 130 years, ABC Medical Center, dedicated to caring for their patients' health, has assisted POSADAS in the development of prevention, hygiene, and disinfection protocols that allow the group to guarantee the safety of their staff and guests.We remind you that the check-in time is from 3:00 PM. Check-out is at 12:00 PM. We suggest you use our express check-out service.
Facilities
Services
The hotel has 131 rooms, a restaurant, a lobby bar open from 1:00 p.m. to 11:00 p.m., swimming pool, gift shop and fitness center. Hotel services include:
Guide Dog
Gym
Smoke Free Hotel
Free Indoor parking
Free Shuttle Service
Room Service
Outdoor Pool
My Stay
My Cast
Event and meeting rooms
The hotel has a Business Center with computers and high speed wireless Internet, and 2 meeting rooms with a screen, air conditioning and capacity for 8 people. It also features event rooms that can be adapted to host up to 200 people in an auditorium; each room has a board, electric screen, flip charts, coffee service and personalized service. Our professional team will help with your groups and conventions.
HabitacionesMinisite
Rooms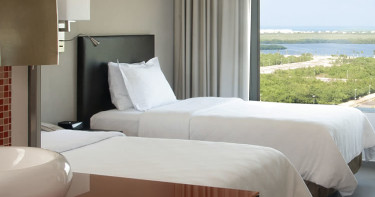 Superior Room, 2 double
Equipped with 2 double beds, 32" TV, spacious work desk, telephone, bathroom with tub, shower and toilet. With a view of the city. With a view of the main plaza or the pool and gardens.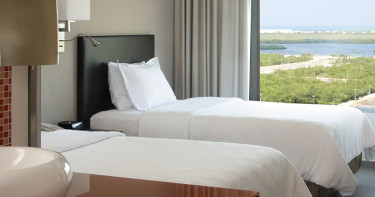 Junior Suite Double
A spacious room with minimalist decoration, double beds, furnished living room and additional services including luxury bath toiletries and a desk with high speed Internet connection. A view of the city's main business plaza is available.
Accessible Room
The room is 20 m2 and is equipped to meet the needs of handicapped guests: 2 beds, 32" TV, desk, telephone, a bathroom equipped with a 1 meter high handrail, tub, shower and toilet with special safety bars.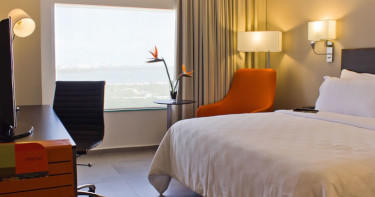 Junior Suite
A spacious room with minimalist decoration, king-size bed, living room, luxury bathroom toiletries, desk with direct high speed Internet connection. With a view of the city's main business plaza. Ideal for extended stays.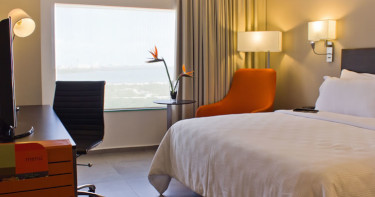 Master Suite
Includes 2 rooms: a comfortable bedroom with king-sized bed and a living room with dining area furnished with 3 armchairs, an additional TV, pantry, microwave oven, refrigerator with separate freezer, additional bathroom amenities, work desk with internet connection and a view of the commercial plaza, or the pool and gardens.