Carousel Fiesta Inn Ciudad Obregón
Fiesta Inn Ciudad Obregón
ComPosadasCalificacionTripadvisor
Qualified:
ComPosadasTripadvisorModal
x
Fiesta Inn Ciudad Obregon
Location #1 of 11 hotels in Ciudad Obregon
GreenLeader Silver
Summary of qualifications
Best comments
"Bad, neglected hotel with mediocre service."
This is a very basic, very poorly maintained property with mediocre service at best. Stayed here for 2 nights for a family visit. And one bed had a broken leg so bed was crooked. Since we checked in late at night the response was just a shrug. The next morning they did fix it. But honestly I have never seen a broken bed at a hotel before. On checkin their system pulled some random frequent traveler names and attached to our reservation. She tried to get us to sign with the wrong names, normally I wouldn't care but I was mostly concerned about safety. When I refused because "who is this person?" She fixed it with an attitude then we signed.
"A funny room layout"
This is a typical business hotel, so don´t expect anything fancy. The lobby is simple, the rooms are simple, the décor is simple, the furniture is basic. What´s not very simple is the room layout, at least, the one where my husband and I stayed. The shower and toilet are inside the bathroom, but the sink is outside, facing the bed; not facing the wall, but the bed. The mirror hangs on the wall, at your left. The bed is soft and bumpy. The curtains block the sunlight correctly. There´s a large minibar, empty, so bring your own refreshments.
"Comfortable, Safe, Clean, Good Food and Excellent staff"
This hotel and served us for four years now as we take an annual trip to Obregon. I truly enjoy how attentive the staff is. The food is excellent and if you need something, simply ask. They want to know and speak more English and you as a traveler should try out your Spanish. Great fun!
"Excellent stay"
Cleanliness, the roomss are always well kept with nice and fresh deodorant, comfortable beds, very kind personnel. The internet runs pretty well. Breakfast buffet is great , good protein, juice variety and fresh fruit.
"Pretty nice hotel in the city center "
This hotel is pretty nice, but the lobby is a little dated. The rooms are large and well kept. The hotel is right next to the holiday inn which does look better. The prices were similar, but I booked this hotel because it had more reviews and because I thought it included breakfast. When we went downstairs for breakfast, I was informed it was not. The food prices at the hotel were a little high, so we decided to dine out. The hotel is pretty nice and the staff is very welcoming. The parking area is limited, but fortunately we did not not have any problems.
Top-rated Attractions Nearby
Photos hotel and surroundings (102)
Tripadvisor_Fiesta_Inn_Ciudad_Obregon
Please be advised that access to our gym is subject to availability with a prior appointment. We appreciate your understanding.
Located in the city's hotel district, it offers quick and easy access to the city's financial district and city center. The hotel is situated just minutes from the main thoroughfare into Ciudad Obregón, 20 minutes from the airport and 5 minutes from the center and main corporations.Fiesta Inn Ciudad Obregón is an Eco-friendly hotel, so it is a 100% smoke free hotel.ABC Medical Center, our protocols ally. A leader in medical best practices for more than 130 years, ABC Medical Center, dedicated to caring for their patients' health, has assisted POSADAS in the development of prevention, hygiene, and disinfection protocols that allow the group to guarantee the safety of their staff and guests.We remind you that the check-in time is from 3:00 PM. Check-out is at 12:00 PM. We suggest you use our express check-out service.
Services
The hotel has 141 rooms, a restaurant, a lobby bar open from 1:00 p.m. to 11:00 p.m., and fitness center. Hotel services include:
Guide Dog
Gym
Smoke Free Hotel
Free Outdoor Parking
Shuttle Service Extra Cost
Room Service
Outdoor Pool
My Stay
My Cast
Restaurant
The Fiesta Inn features a restaurant which opens from 6:00 a.m. until 11:00 p.m. and is an excellent choice for breakfast, lunch and dinner. Delight your palate in a casual setting with buffet or menu service. Ideal for work breakfasts and lunches, as well as family outings on weekends. Open to all public.
Rooms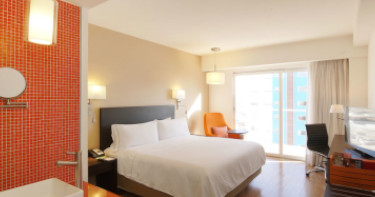 Deluxe Room, 1 king
Discover the perfect place to work and relax in this comfortable room, outfitted with a king bed, closet, bathroom, climate control, coffeemaker, telephone, wireless high-speed Internet, cable TV and special amenities.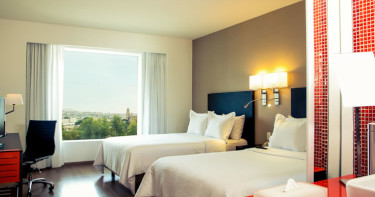 Deluxe Room, 2 double
Discover the perfect place to work and relax in this comfortable room, outfitted with two double beds, closet, bathroom, climate control, coffeemaker, telephone, wireless high-speed Internet, cable TV and special amenities.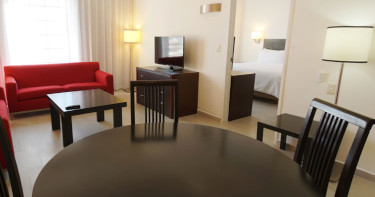 Junior Suite
A spacious room with a king-size bed, modern furnishings including duvets and TV, small living room also with TV, kitchenette, breakfast bar, work desk, closet, bathroom with shower, air conditioning, daily coffee kit and personal toiletries.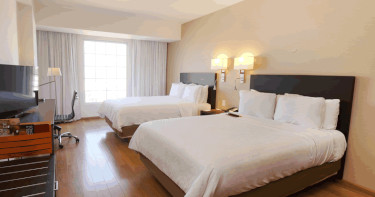 Superior Room, 2 double
Equipped with 2 double beds, 55" TV, spacious work desk, telephone, bathroom with shower and toilet. With a view of the city.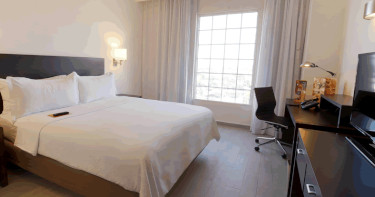 Accessible Room
The room is 25 m2 and is equipped to meet the needs of handicapped guests: 2 beds, 55" TV, desk, telephone, a bathroom equipped with a 1 meter high handrail, shower and toilet with special safety bars.