ComPosadasCalificacionTripadvisor
Qualified:
ComPosadasTripadvisorModal
x
Location #1 of 20 hotels in Coatzacoalcos
GreenLeader Gold
Summary of qualifications
Best comments
"Comfortable "
Stayed 1 night during a rain storm. Great location to see the water close up and easy to get basically anywhere here in town. Clean facilities, tile floors, friendly staff. Small bathroom in room 208. Thin doors so you can hear everyone that walks down the hallway with their luggage. No fans in the rooms.
"A nice but overpriced hotel, in the wrong place"
The hotel is fine, very new and comfortable with nice new rooms and comfortable beds. Service is very friendly and helpful. There are two major drawbacks: The location, in theory it is good on the malecon right across the street from the sea, but in practice it is not good, because it is isolated and very far from the town center and any shops or restaurants. The neighborhood is not safe for walking at night (all the cabdrivers agreed). This leads to the second drawback: since it is so far from everything one is dependent either on taxiing back and forth or on eating and in the hotel's restaurant which is very overpriced (double of normal price) and not nearly good enough quality for the price, but quite ordinary in terms of the food.
"May 20-21, 2019 Offsigner"
Shuttle service need improvment..No aircondition. Bad smell inside the car..overall Good experiences for 3rd time already in the hotel.. Just noise in tha alley was disturbing during someone is cleaning or entering/leaving the near room.
"nice hotel"
clean modern and comfortable rooms. Rooms have an excellent view. hotel is along the waterfront. Staff is very friendly and helpful. very good value for your money. A long ways from the center of town but is in a touristy area. a few restaurants nearby. taxi required for most outings. Taxis are very inexpensive here.
"A pleasant surprise in Coatzacoalcos!"
I had never been to this area of Mexico before, and for the very reasonable price, my expectations were not so high for my week-long business conference here. I was completely surprised! This is definitely an "up and coming" hotel, and the staff did everything in their power to make my stay, as well as that of the large group I was coordinating, a very pleasant experience. Check-in is so important in a hotel, as are first impressions when meeting a person! The genuine smiles and sincere friendliness that greeted us on arriving here were like a "glass of cold water" in this nearly-stifling hot coastal city. The staff placed everyone in the rooms of their choice, and for one week we were treated like royalty (not something we deserve or asked for!). The rooms (as well as all of the hotels areas) were exceptionally clean and large. The restaurant staff did a fine job of serving our group of more than 100, and their conference room facilities were very good as well. Even though we had a "fixed price" menu due to the group rate, the hotel´s menu offered a diverse selection of all types of food, and everything we had was excellent. What I particularly liked about this hotel was the distance from the actual city of Coatzacoalcos, which is not the safest. We felt very safe here, safe enough to walk along the promenade along the beach during the day. If my travel plans require me returning to "Coatza", I will definitely look no further than this hotel.
Top-rated Attractions Nearby
Photos hotel and surroundings (102)
Tripadvisor_Fiesta_Inn_Coatzacoalcos
ComPosadasDesWeb
Fiesta Inn Coatzacoalcos brings you newly renovated public areas to help you rest or work, and make your trip a success.The hotel is located in the most bustling part of the boardwalk, just 15 minutes away from downtown, 20 minutes from the airport and 25 minutes from Pemex's main petrochemical facilities. Also nearby is the Olmec Archaeology Museum and the Lighthouse Museum, as well as several large-scale shopping centers.The hotel has 122 guest rooms offering an ocean view, 24-hour room service, high-speed Internet, outdoor swimming pool, fitness center, meeting rooms, event rooms, restaurant, La Isla, B-On, self-service area and convenience store.ABC Medical Center, our protocols ally. A leader in medical best practices for more than 130 years, ABC Medical Center, dedicated to caring for their patients' health, has assisted POSADAS in the development of prevention, hygiene, and disinfection protocols that allow the group to guarantee the safety of their staff and guests.Please note that check-in begins at 3:00 p. m. Check-out is at 12:00 p. m. Express check-out is recommended.
Facilities
Services
The hotel has 122 rooms, a restaurant, a lobby bar open from 1:00 p.m. to 11:00 p.m., outdoor swimming pool and gym. Hotel services include:
Guide Dog
Gym
Smoke Free Hotel
Free Outdoor Parking
Shuttle Service Extra Cost
Room Service
Outdoor Pool
My Stay
My Cast
Restaurant
Fiesta Inn brings you the freedom and service of La Isla, a 24-hour restaurant that lets you choose what you want and when. Offerings include a breakfast buffet, restaurant, grab-and-go, room service, plus relaxing areas to take a break or get some work done. Sample a variety of items including paninis, pizzas or coffee, as well as domestic and imported beverages. The hotel also boasts a restaurant, open from 6am to 11pm, which serves breakfast, lunch and dinner. Whether you opt for the buffet or à la carte option, you can choose from tasty regional, national and international dishes.
Event and meeting rooms
Work is more enjoyable with B-On, a modern business center featuring computers, office services, and high-speed Internet access. It has two meeting rooms that can accommodate up to six people each and are equipped to handle video-conferences or presentations in real time. For presentations with larger audiences, the hotel also offers rooms with a maximum capacity of 60 people. These rooms include a whiteboard, projector screen, flip chart, and coffee break service. Our highly trained staff will provide personalized service guaranteed to make your event a success.
HabitacionesMinisite
Rooms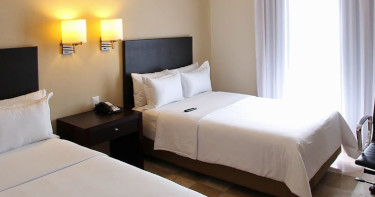 Superior Room, 2 double
A full day of activities requires a good night's rest, which is exactly what this room offers guests. It comes equipped with 2 double beds, 32" TV, spacious work desk, telephone, shower and toilet. The spectacular view of the ocean is a great bonus!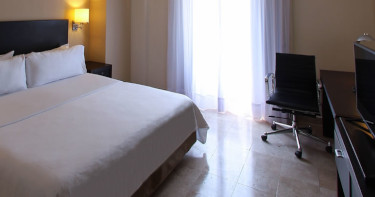 Superior Room, 1 king
Your stay will be more productive and comfortable in this large room which features a king bed, 2 dressers, 32'' TV, spacious work desk, telephone, shower and toilet. The ocean view offered by this room is a welcome treat.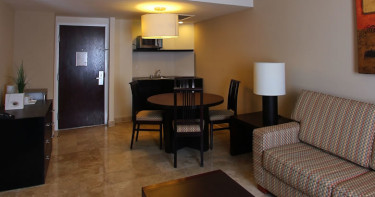 Junior Suite King
Whether working, resting, eating or relaxing, this spacious room has everything you need to do so comfortably. It comes with a king bed, living room, breakfast bar, minibar, microwave oven, work desk, cable TV, telephone, sofa bed and full bathroom. Add a touch of beauty to your stay with a magnificent view of the ocean.