ComPosadasCalificacionTripadvisor
Qualified:
ComPosadasTripadvisorModal
x
Location #1 of 25 hotels in Colima
GreenLeader Bronze
Travelers Choice 2021
Summary of qualifications
Best comments
"only spanish Tv slow internet"
only spanish Tv slow internet ,you should have some english TV options ,when I stay in a hotel in the U.S i have spanish t.v options . Also wifi is not high speed ,you should really offer english option Tv
"Clean and neat, good location"
For a business hotel is just great. Other than the floor numbers not matching the room number and only spanish language TV, it is as expected. Staff was nice. Room was clean, food is good. Very efficient overall.
"BEST HOTEL IN COLIMA! BEST STAFF + SUPER CLEAN!!"
Our family of 4 stayed 9 days in this wonderful little hotel in Colima. I could not recommend it enough!!! The staff was WONDERFUL! And I love how everything is tidy and CLEAN!!! Cleanliness is a big deal for our family and we can totally see how much pride and dedication the workers in this hotel take of making this Hotel spotless! Please keep it that way. We are coming back someday! Just a little tip, the buffet there although a bit pricey is convenient and the food decent. If you are looking for a food deal, there is many places to chose from in a 10 min. radio that are a bit cheaper and also safe. They truly catered to us and made sure we were well taken care of and out every need met. We are absolutely happy with our stay! Thank you very much!!!
"Disaster!!!"
Room reserved and paid long time ago, and when I showed up the reservation was not honored. These people don't deserve our business for sure. My recommendation will be to not use it, there are many good hotels around that will speak much better about this beautiful city!
"Good rooms and staff "
Overall the hotel is good. The room is clean and has a good space, the bed is good, but the bathroom is a bit tight for bathing. The shower in my room was not very good. Breakfast is good but has to be paid separately. The restaurant features some Mexican food options, hamburgers and pizza.
Top-rated Attractions Nearby
Photos hotel and surroundings (61)
Tripadvisor_Fiesta_Inn_Colima
ComPosadasDesWeb
Located across from the state government's administrative complex, 10 minutes from the University of Colima's central campus and close to the Museum of Popular Arts and the Nogueras Cultural Center. The hotel is situated just 15 minutes from the Miguel de la Madrid Airport.Fiesta Inn Colima is a responsible hotel, so it is a 100% smoke free hotel.ABC Medical Center, our protocols ally. A leader in medical best practices for more than 130 years, ABC Medical Center, dedicated to caring for their patients' health, has assisted POSADAS in the development of prevention, hygiene, and disinfection protocols that allow the group to guarantee the safety of their staff and guests.We remind you that the check-in time is from 3:00 PM. Check-out is at 12:00 PM. We suggest you use our express check-out service.
Facilities
Services
The hotel has 104 rooms, a restaurant, a lobby bar open from 3:00 p.m. to 11:00 p.m., outdoor swimming pool, gift shop and fitness center. Hotel services include.
Guide Dog
Gym
Smoke Free Hotel
Free Outdoor Parking
Shuttle Service Extra Cost
Room Service
Outdoor Pool
My Stay
My Cast
Event and meeting rooms
The hotel has a Business Center with computers and high speed wireless Internet, and a meeting room with a screen, air conditioning and capacity for 6 people. It also features event rooms that can be adapted to host up to 120 people in an auditorium; each room has a board, electric screen, flip charts, coffee service and personalized service. Our professional team will help with your groups and conventions.
HabitacionesMinisite
Rooms
Superior Room, 1 king
The room is 30 m2 with a king-size bed, 2 bedside tables, 32" TV, reading chair and spacious work desk, telephone, bathroom, shower and toilet. With a view of the city, except on the 1st floor.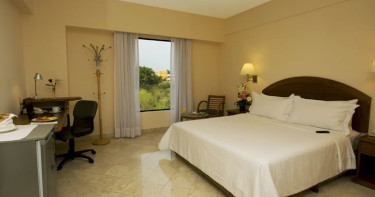 Accessible Room
The room is 30 m2 and is equipped to meet the needs of handicapped guests: 2 beds, 32" TV, desk, telephone, a bathroom equipped with a 1 meter high handrail, tub, shower and toilet with special safety bars.