Carousel-Fiesta Inn Cuautitlan
ComPosadasCalificacionTripadvisor
Qualified:
ComPosadasTripadvisorModal
x
Location #1 of 6 hotels in Cuautitlan Izcalli
GreenLeader Silver
Summary of qualifications
Best comments
"Awesome stay at Fiesta Inn Cuautitlan"
This is a very good hotel located north of Mexico City in an industrial area of Estado De Mexico. I was here on a business trip. The staff is amazing, very well trained and polite. The front desk helped me to get a taxi to work every day. When I was done at work, I would call the hotel to send a taxi to bring me back to hotel. The food in the hotel restaurant is very good. I never got sick from eating at hotel; or any of the restaurants nearby. The hotel is located in a shopping area where you can walk to nearby restaurants, Starbucks, banks, Chilis, El gGobo pastry shop (Excellent), movie theatre, and Walmart. Its very safe to walk around here. The hotel as a small gym and outdoor pool. They met my needs. When I was there in November 2021, you had to wear a mask inside every business (except when eating or drinking), use the hand sanitizer dispenser, and some businesses take your temperature. If I come to this area again for business, I will stay at Fiesta Inn Cuautitlan.
"Fiesta Inn Cuautitlan"
I awlays know what to expect from Fiesta Inn and the Cuautitlan Fiesta Inn did not disappoint. It was close to where I had a meeting and anything I might need was with in walking distance. It is not the first time I have stayed here but the first time since COVID. I felt very safe and the hotel was very clean.
"Cold showers"
Stayed in Cuautitilan Fiesta Inn. Water was warm at best for showers. There is no mini refrigerator or coffee maker in the room. They don't provide coffee in the lobby that I could find. I had bottled water my first night but none after. The room temperature controller had a mind of it's own. Moved to ONE Hotel down the street. $20 cheaper and had much better accommodations. Nice bagged breakfast and hot coffee in the lobby. Refrigerator in the room. They even have extended stay rooms.
"Great customer service"
I totally recommend Fiesta inn Hotel. They met all my requirements. I will definitely stay here again. Service is good, Food is really good. Front desk agent helped me with the extension of my reservation.
"great business hotel"
Rooms are nice, pool and gym are great, restaurant has 0 personality but great food, overall perfect for a business trip, fast access to the highway if you have meetings out of town, about 50 min to the airport
Top-rated Attractions Nearby
Photos hotel and surroundings (58)
Tripadvisor_Fiesta_Inn_Cuautitlan
Fiesta Inn continues to evolve, transform, and innovate its Business Class hotel concept. With a fresh, modern image and new facilities, Fiesta Inn Cuautitlán is the perfect example of business accommodations done right. Designed to encourage creativity and productivity, the hotel's spaces are functional yet friendly, allowing guests to be connected while remaining independent. Today's Fiesta Inn is more than simply a hotel; it is a community of professionals who thrive on success.Located in the city of Cuautitlán Izcalli, in the northern region of the State of Mexico, the hotel is just 5 minutes from the most important shopping centers and industrial complexes in the area, such as O'Donnell, Tres Ríos, El Convento, La Luz, El Trébol and Cuamatla. It is strategically located to give you access to an endless number of options for business or recreational activities.The hotel has 128 comfortable guest rooms and is also home to the Lounge 360°, where guests will find the B-On Business Center and the La Isla restaurant. Amenities include 24-hour room service, high-speed Internet access, swimming pool, fitness center, and event rooms.ABC Medical Center, our protocols ally. A leader in medical best practices for more than 130 years, ABC Medical Center, dedicated to caring for their patients' health, has assisted POSADAS in the development of prevention, hygiene, and disinfection protocols that allow the group to guarantee the safety of their staff and guests.Please note that check-in begins at 3pm, subject to availability. Check-out is at 1pm. Express check-out is recommended.
Services
The hotel has 128 rooms, a restaurant, a lobby bar open from 12:00 p.m. to 11:00 p.m., indoor swimming pool and fitness center. Hotel services include:
Guide Dog
Gym
Smoke Free Hotel
Free Outdoor Parking
Shuttle Service Extra Cost
Room Service
Indoor Pool
Digital Check-in
My Stay
My Cast
Event and meeting rooms
Work is more enjoyable with our B-On Business Center, which is equipped with Internet access, computers, fax machine, copy machine, scanner, and black-and-white and color printer. Secretary services are also available. The business center has 5 meeting rooms that accommodate 6 people each and are perfect for hosting work-related meetings.
Restaurant
Fiesta Inn Cuautitlán brings you the freedom and service of La Isla, a 24-hour restaurant that lets you choose what you want and when you want it. Offerings include a breakfast buffet, restaurant, grab and go, room service, or special items to take a break and relax. The restaurant also offers buffet-style or a la carte breakfast options with a distinctly Mexican flavor. For lunch, guests can experience deliciously prepared cuts of meat and other tasty dishes inspired by the regional cuisine. On the dinner menu, guests will find a wide variety of antojitos, which are like typical Mexican appetizers, as well as other enticing entrees. La Isla makes it possible for guests to eat at any time of day while being surrounded by the sights and sounds of authentic Mexican culture. Open to all public
Rooms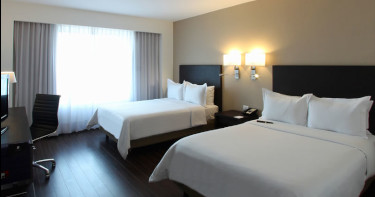 Superior Room, 2 double
This spacious room, subtly decorated with warm colors and laminate flooring, is the perfect place to work or relax away from home. It includes two double beds, a 55'' LCD TV, desk, wireless phone,high-speed Internet access and bathroom with tub. Also includes beverage service (bottled water, coffee).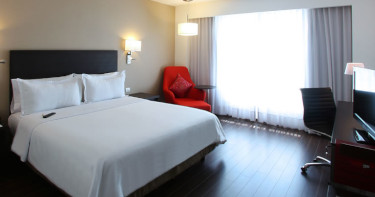 Accessible Room
This room is outfitted with safety rails, shower bars, an elevated toilet with grab bars, and a wide entry door, providing you with everything you require to meet your special needs. The room also includes two double beds, chest of drawers, two bedside lamps, 55'' TV, and a spacious work desk that includes a telephone and lamp.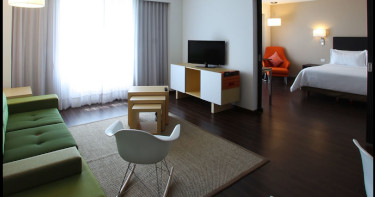 Junior Suite King
Experience your stay exactly how you imagined it with the freedom of this spacious room that features two parts: a bedroom with a king-size bed and a living room with a 4-person dining table, microwave and refrigerator. This room has a wireless phone,an executive work desk, 2 TVs, and a sofa.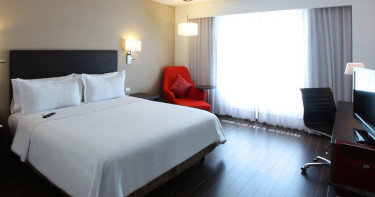 Superior Room, 1 king
Whether you are seeking rest and relaxation or a place to be productive, this inviting and comfortable suite has everything you need for a great stay. The suite is equipped with a closet, coffeemaker and laminated plank floor. Also included two end tables with minimalist-style lamps, 55'' TV, telephone and luxury accessories.