Carousel Fiesta Inn Cuernavaca
ComPosadasCalificacionTripadvisor
Qualified:
ComPosadasTripadvisorModal
x
Location #8 of 82 hotels in Cuernavaca
GreenLeader Bronze
Summary of qualifications
Best comments
"Good Enough for a Business Trip"
We choose this hotel, since we had to work in the WTC of Cuernavaca, which is located like 15 minutes from it. Check in was easy and fast. Service very good. Water was cut in the whole hotel from 11pm to 5am due to maintenance, but they offered 1.5L bottled water for free. Rooms are not so big, but they are enough. Sleep quality is very good. Beds are very comfortable and the 3rd floor was so quiet all night. Meals and service in the restaurant were great. It is a buffet which is 280 MXP per person.
"a very simple place, good enough for one night"
Small rooms, at a hotel in dire need of renovation with friendly staff, but you are surrounded by noise. I would highly recommend you stay on the side of the hotel that is away fro the incredibly busy massive highway. It's a decent place to stay for just one night I suppose, though I can't imagine ever returning. The halls are noisy and the noise echoes, so just beware this is not a place to come to for any semblance of tranquility.
"Very nice"
Business hotel type but very clean and nice. Staff extra friendly, thanks. Room was ample and comfortable. Shower exquisit. Room service quite nice. Try not to get a room with a door that opens to another room because you will hear EVERYTHING. And if you need a good air consitioning, get a room that has one of the older ones. Overall I was very pleased with my stay.
"Great place to stay"
If you are traveling to Cuernavaca, Fiesta Inn is the right place to stay: excellent location; very nice hotel; great restaurant (especially the Sunday brunch.) The employees work very hard to make you feel at home. The facilities are in wonderful conditions. There are two great swimming pools to enjoy the perfect weather in Cuernavaca.
"Fiesta INN NOT A GOOD PLACE TO STAY if you want good service"
The check in process is a nightmare, instead of service you will be attended in a rude way. The hotel is not updated and Looks in not nice way. Be careful and write all the promises that you receive durin reservation
Top-rated Attractions Nearby
Photos hotel and surroundings (108)
Tripadvisor_Fiesta_Inn_Cuernavaca
Located on the Mexico-Acapulco highway, in front of Galerías Cuernavaca, a shopping center with excellent entertainment and shopping options. The hotel is situated just 10 minutes from CIVAC, the city's most important industrial area, and the Historic Center, where you can visit the Cuauhnáhuac Regional Museum (Cortez Palace), the Cathedral and the Spender Mansion (Borda Garden).ABC Medical Center, our protocols ally. A leader in medical best practices for more than 130 years, ABC Medical Center, dedicated to caring for their patients' health, has assisted POSADAS in the development of prevention, hygiene, and disinfection protocols that allow the group to guarantee the safety of their staff and guests.We remind you that the check-in time is from 3:00 PM. Check-out is at 12:00 PM. We suggest you use our express check-out service.
Services
The hotel has 155 rooms, a restaurant, a lobby bar open from 1:00 p.m. to 9:00 p.m., 2 swimming pools open from 08:00 a.m. to 9:00 p.m. and fitness center open 06:00 a.m. to 11:00 p.m. Hotel services include:
Guide Dog
Gym
Smoke Free Hotel
Indoor Parking Extra Cost
Room Service
Outdoor Pool
Digital Check-in
Dog Friendly-Extra cost
My Stay
My Cast
Event and meeting rooms
The hotel has a Business Center with computers and high speed wireless Internet, and 2 meeting rooms with air conditioning and capacity for 4 people. It also features event rooms that can be adapted to host up to 400 people in an auditorium; each room has a board, electric screen, flip charts, coffee service and personalized service. Our professional team will help with your groups and conventions.
Tita Comedor Mexicano
Tita, a cuddle in every bite Tita Comedor Mexicano is a new meeting point, where every dish is slowly cooked with love, and prepared with the freshest ingredients, as well as grandma¿s unique touch, her warmth, and experience. An embrace for enjoying at any time of day and feeling like part of the family. At breakfast, lunch, or dinner, Tita Comedor Mexicano stands as a symbol of traditional cooking; a warm, colorful space that makes any visitor feel like the most special of guests. No matter where our guests go, wherever they find Tita, they can enjoy traditional dishes, a steaming cup of café de olla, and a delicious dessert, as well as regional specialties made with the recipes that have stood the test of time and that only the house¿s commander in chief can offer.
Rooms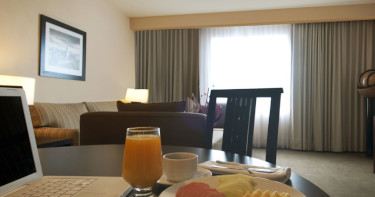 Junior Suite King
A large, comfortable room with 2 areas, with a living and dining area, a bedroom with a king-size bed, 2 55" TVs with cable, a work desk with Internet connection, 2 closets, a luggage rack and iron.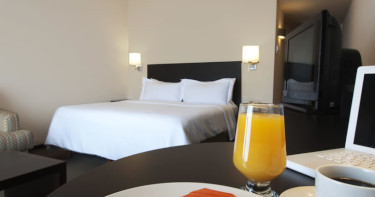 Superior Room, 1 king
The room is 30 m2 with a king-size bed, 2 bedside tables, 55" TV, reading chair and spacious work desk, telephone, bathroom with tub, shower and toilet. With a view of the city, except on the 1st floor.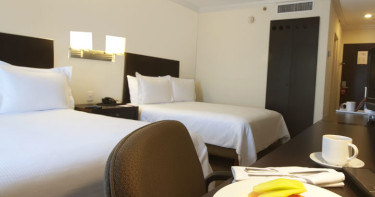 Superior Room, 2 double
Equipped with 2 double beds, 55" TV, spacious work desk, telephone, bathroom with tub, shower and toilet. With a view of the city.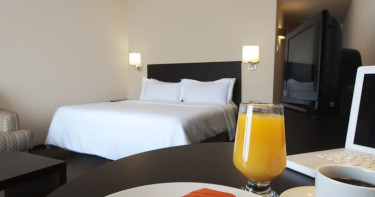 Deluxe Room, Pool View, 1 King
This spacious suite with pool view offers both the perfect place to rest and get your work done quietly and comfortably. There are 13 spacious rooms with king bed, equipped with 2 bedside tables, 55" TV, reading chair and spacious work desk, telephone, bathroom with tub, shower and toilet.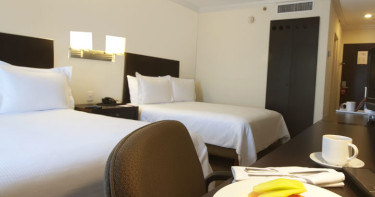 Superior Room Dog Friendly, 2 Double
The perfect weather is enjoyed best when you are staying in an ideal room with your favorite companion. The next time you want to go on a weekend getaway, you do not need to leave your dog at home; you can bring them along, thanks to our Fiesta Inn Cuernavaca Dog Friendly program. At an additional cost, your mid-sized dog or two small pets are welcome to share a two-bed guest room with you, as well as excellent amenities, and everything you may need to relax. For them, we have a Special Kit that includes a bed, a mat, and a dish that they can enjoy throughout their stay, as you all relax together ¿or even if you have to work. Because nobody cares for your dog like you do, and you all deserve a break, we have created the perfect environment for you to enjoy.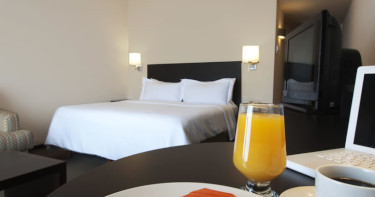 Superior Room Dog Friendly, 1 King
This spacious room is equipped with a desk, a King Size bed, a relaxing couch, a bathtub, and a LCD TV, and is the perfect atmosphere in which to enjoy the company of your dog, thanks to our Fiesta Inn Cuernavaca Dog Friendly program. If you have a mid-sized dog or two dogs that weigh less than 20 kg between the two of them, bring them along on your next trip, and enjoy a relaxing getaway together. Upon check-in, your pal will receive a Special Kit with a bed, a mat, and a dish to use throughout its stay. Take a break with your favorite travel mate, and we will take care of your relaxation, you just make sure to have fun.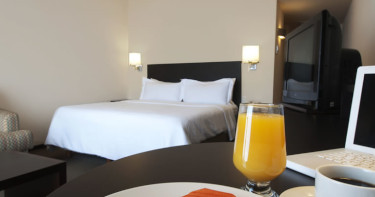 Accessible Room
The room is 30m 2 and is equipped to meet the needs of handicapped guests: 2 double beds, 55" TV, desk, telephone, a bathroom equipped with a 1 meter high handrail, shower and toilet with special safety bars.