Fiesta Inn Guadalajara Periférico Poniente
Tripadvisor_Fiesta_Inn_Guadalajara_Periferico_Poniente
Fiesta Inn Guadalajara Poniente welcomes business travelers, offering the tranquility and support they need to make their trip a success, all in a space where they can rest, relax, and enjoy a pleasant atmosphere providing a true Business Class Experience.Located on Anillo Periférico Manuel González Morín, Colonia Ciudad Granja, Zapopan, Jalisco, the hotel is close to both business districts and tourist attractions in the Guadalajara metropolitan area.Opposite the Judicial Plaza and Akron Stadium where the Chivas of Guadalajara soccer club plays, it's just five minutes from the University of Guadalajara Performing Arts and Cultural Center, and near business centers and industrial parks.For those who wish to include sightseeing and Guadalajara's rich cultural heritage during their business trip, the Magical Town of Tequila is a short 44-minute drive, and downtown Tlaquepaque just 13 miles away.ABC Medical Center, our protocols ally. A leader in medical best practices for more than 130 years, ABC Medical Center, dedicated to caring for their patients' health, has assisted POSADAS in the development of prevention, hygiene, and disinfection protocols that allow the group to guarantee the safety of their staff and guests.
Services
The hotel has 142 rooms, wireless Internet access, a meeting room and restaurant
Guide Dog
Gym
Smoke Free Hotel
Free Outdoor Parking
Room Service
Outdoor Pool
My Stay
My Cast
Restaurant
Enjoy a breakfast buffet or lunch and dinner a la carte in our restaurant, open from 6 a.m. to 11 p.m. The restaurant offers a wide variety of flavors sure to please any palate. Order anything from regional Mexican fare to fine cuts of rib eye, T-bone, or skirt steak sizzling and delicious off the grill. Pair your food with a glass of wine and savor the moment. Start your day off right with a coffee or juice at La Isla, a comfortable space where you'll enjoy memorable moments. If you're short on time, visit our deli where you can get food to go.
Meetings
At Fiesta Inn Guadalajara Poniente, a group of experts take care of every detail to make your event a success. We will customize according to your needs and offer original and modern concepts. Organize your business events in our fully equipped meeting rooms, or choose banquet service with three event halls with capacity for 200 people and auditorium-type equipment. We also offer themed parties and even pool parties. You deserve a stress-free business trip. Spend time in an open-air pool or the gym, and enjoy all the spaces offered by Fiesta Inn Guadalajara Poniente, the perfect place for a restorative business trip.
Rooms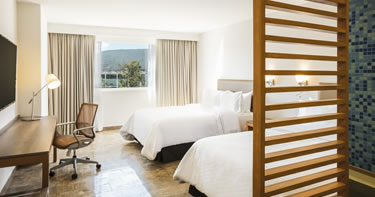 Superior Room, 2 Double
The peacefulness and comfort of this room is perfect for clearing your mind after a hard day's work. With two double beds, it's a space designed for work, but also to relax and unwind.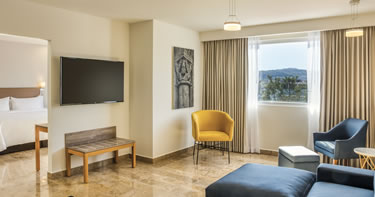 Junior Suite, 1 King
A spacious room that transmits freedom. With a King Size bed, this room has everything you need to finish work projects and also have time for yourself. Relax on the balcony or kick back in your room: you deserve it.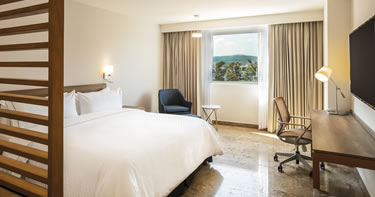 Superior Room, 1 King
With a King Size bed, this is a perfect room to relax, take a deep breath and dream. Here you can recharge before and after your workday.