ComPosadasCalificacionTripadvisor
Qualified:
ComPosadasTripadvisorModal
x
Location #15 of 88 hotels in Leon
Summary of qualifications
Best comments
"The worst. Lo peor."
I travel a lot and this hotel is the only one in my life where it is very difficult to find the entrance! I took us an hour. I explained the problem to the staff and they just offered an excuse. I made a suggestion about how to the resolve the problem and they were obviously not interested at all. Also I called ahead to check if they have an EV chargers and if it definitely was functioning. They said yes. But when we arrived the charger was not working. It's very easy to check but it was easier to just lie. Also there was no one checking at the door for masks. Some Fiesta Inns have someone at the entrance checking temperature and masks and dispensing alcohol. But not here. Summary: Disorganized, irresponsible, and dishonest. One of the worst hotels. Viajo mucho y este hotel es el único que he conocido en mi vida donde es bien difícil encontrar la entrada! Duró una hora buscando. Explique el problema a la tripulación y solo me ofreció una excusa. Cuando hice una sugerencia en cómo resolver el problema obviamente ellos tuve zero interés. También les marque adelante para chequear si hay una cargador para autos eléctricos y si definitivamente está funcionando. Me dijo que sí. Pero cuando llegamos el cargador no funciona! Es bien fácil para ellos chequear pero más fácil mentir que revisarlo. También no había ningún vigilancia de las máscaras para Covid. Algunos Fiesta Inns tienen una persona en la entrada chequeando temperatura y máscaras y echando alcohol. Pero aquí no. Resumen: Mal organizado, irresponsable, y mentiroso. Uno de los peores hotels.
"Amazing staff"
I had the impression that this hotel was a bit old and never gave it a chance during many years visitng Leon. Frankly speaking I was terribly mistaken... I wish I had discover it before! Hotel is sparking clean, well kept and comfortable for a business basis stay. But the best of all is the staff. There aren't negatives from the team. They are always available and fulfilling all requests from guests with a smile. Really, all the staff are who make the difference, since the warm welcoming up to the friendly goodbye as: "this is your home, please come back again". Now there are no doubts that Fiesta Inn is my favortie and only option to stay in the city.
"Geat Location"
Hotel is perfect for business o vacation, very clean, close to costco, home depot and dinner options, has private parking, platinum floor has caffe out of the elevator, full amenities in room, good food
"Great Team"
Great environment, great teamwork, excellent facilities, everything was great and this is a nice experience and when I come back to town I will consider this hotel as a first option. Thank you very much
"Excellent Stay"
Excellent hotel for a quick stay or for a week long trip. Hotel is clean, well maintained and the staff do their best. Their English is great and very helpful if you need anything including a private taxi to the airport. From House Keeping to checking-in as well as the buffet breakfast which is perfect to start you day. The highlight of the stay really. My second time staying and I will be returning.
Top-rated Attractions Nearby
Photos hotel and surroundings (104)
Tripadvisor_Fiesta_Inn_Leon
The hotel has an excellent location, near the main industrial area in Silao, which makes it the best option for business travelers. Close to the city's main shopping center Centro Max, and near Outlet Mulza, the more exclusive fur zone. The hotel is situated just 10 minutes from Explora theme park where children can learn and play, and 25 minutes from the Bajio international airport.ABC Medical Center, our protocols ally. A leader in medical best practices for more than 130 years, ABC Medical Center, dedicated to caring for their patients' health, has assisted POSADAS in the development of prevention, hygiene, and disinfection protocols that allow the group to guarantee the safety of their staff and guests.We remind you that the check-in time is from 3:00 PM. Check-out is at 12:00 PM. We suggest you use our express check-out service.
Services
The hotel has 160 rooms, a restaurant, a lobby bar open from 4:00 p.m. to 11:00 p.m., swimming pool, gift shop and fitness center. Hotel services include:
Guide Dog
Gym
Free Outdoor Parking
Shuttle Service Extra Cost
Room Service
Outdoor Pool
Digital Check-in
My Stay
My Cast
Event and meeting rooms
The hotel has a Business Center with computers and high speed wireless Internet, and 2 meeting rooms with a screen, air conditioning and capacity for 8 people. It also features 4 meeting rooms that can be adapted to host up to 200 people in an auditorium; each room has a board, electric screen, flip charts, coffee service and personalized service. Our professional team will help with your groups and conventions.
Rooms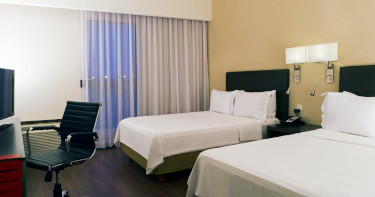 Superior Room, 2 double
Equipped with 2 double beds, 55" TV, spacious work desk, telephone, bathroom with shower and toilet. With a view of the city.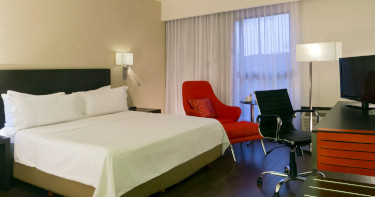 Superior Room, 1 king
The room is 30 m2 with a king-size bed, 2 bedside tables, 55" TV, reading chair and spacious work desk, telephone, bathroom with shower and toilet. With a view of the city, except on the 1st floor.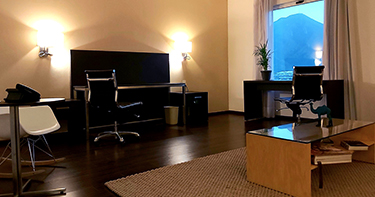 Flex Office
Thanks to the strictest safety and cleaning measures, you can relax and enjoy a pleasant atmosphere, as well as our excellent service and warm welcoming. With a room adapted for you and two more guests, you can achieve total privacy and enjoy amenities such as high-speed Wi-Fi, 55" TV, HDMI cable, private bathroom, and air conditioning. At an additional cost, you can have access to printing and copying services, meeting rooms, and room service delivered under social distancing measures. At Fiesta Inn, your rest matters, so we offer special areas, facilities, and comfortable furnishings for whenever you need a break. Relax, have a cup of coffee, and make new friends.
*This service includes work space only, not the room for the night.
Junior Suite
A large room with an additional living area, both spacious and fully equipped with cable TV, telephone, bathroom with shower and toilet, and everything you need to make your stay more comfortable. We have 3 rooms of this type on floors 2 and 3.