Carousel Fiesta Inn Monterrey La Fe
Fiesta Inn Monterrey La Fe
ComPosadasCalificacionTripadvisor
Qualified:
ComPosadasTripadvisorModal
x
Fiesta Inn Monterrey La Fe
Location #16 of 146 hotels in Monterrey
Summary of qualifications
Best comments
"Excellent"
Excellent service, I recommend 100% Great breakfast. People very nice and friendly. Transportation to the airport it is about 15 to 20 min, it is very convenient, hotel looks like brand new hotel, I can say it is one of the best in the town
"Book the new Loft suites"
Always happy with Fiesta accommodation, but just stayed in the slightly more expensive Loft suites. PLEASE do yourself a favour and 'upgrade'. In general, Fiesta seem to choose handy locations, and La Fe is no exception next door to Paseo La Fe, cinemas etc
"Awsome stay in Fiesta Inn"
Very nice place to stay. Value for money. All facilities are really good. One of the best experience in my life with the staff, food and facilities. Re command to stay in Fiesta Inn. Rally good. Just need to improve in keeping the breakfast more warm..
"Good value"
The staff was friendly, spoke good english, and was responsive to my request. The facilities are clean and well maintained. Sometimes the staff needs to be reminded of a request, or alerted to a condition, but they are responsive.
"Decent stay. Check in time is not flexible. Breakfast not included."
Decent stay. Check in time is not flexible. Most hotels allow me to check in before actual check in time but fiesta inn wouldn't allow us to check in before 3. Breakfast not included with stay. Okay in cleanliness. Hotel is close to everything.
Top-rated Attractions Nearby
Photos hotel and surroundings (82)
Tripadvisor_Fiesta_Inn_Monterrey_La_Fe
Fiesta Inn is transforming the Business Class concept and the Fiesta Inn Monterrey La Fe shows how the design and facilities of a hotel can really make a difference in the quality of your stay. The hotel features 209 rooms, including 48 lofts designed to meet the needs of the business traveler who wants the comforts of home.The hotel is strategically located five minutes from the city's four most important industrial parks, next to Paseo La Fe shopping center and adjacent to the Citadel and Plaza La Fe. It is 10 minutes from Cintermex, the city center, and 15 minutes from the international airport.The Fiesta Inn Monterrey La Fe offers B-On business center, self-service area, and a mini-shop are located. In addition there is high-speed wireless Internet, laundry and dry cleaning services, event rooms, parking, a swimming pool and fitness center.The hotel 100% smoke-free.ABC Medical Center, our protocols ally. A leader in medical best practices for more than 130 years, ABC Medical Center, dedicated to caring for their patients' health, has assisted POSADAS in the development of prevention, hygiene, and disinfection protocols that allow the group to guarantee the safety of their staff and guests.Please note that check-in is 3pm. Check-out is 12 pm. Express Check-out is recommended.
Services
The hotel has 161 rooms, a restaurant, a lobby bar open from 3:00 p.m. to 12:00 a.m., outdoor swimming pool and fitness center.
Guide Dog
Gym
Smoke Free Hotel
Free Outdoor Parking
Room Service
Outdoor Pool
Digital Check-in
My Stay
My Cast
Events and meeting room
Work is more enjoyable with B-On, a modern business center featuring computers, office services, and high-speed Internet access. It has three meeting rooms that can accommodate 6 to 8 people and comes with high-speed Internet access, secretarial service, coffee, and water. For a successful event, Fiesta Inn Monterrey La Fe hotel offers 5 event rooms that can accommodate auditorium seating for 300 guests and banquet seating for 150. All are equipped with wireless high-speed Internet, and are equipped to handle presentations. You can count on the support of experts who will take care of every detail to make your event effective.
Rooms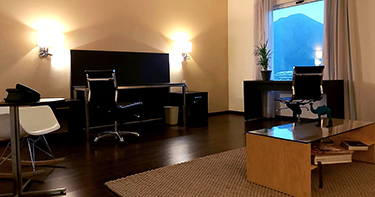 Flex Office
Thanks to the strictest safety and cleaning measures, you can relax and enjoy a pleasant atmosphere, as well as our excellent service and warm welcoming. With a room adapted for you and two more guests, you can achieve total privacy and enjoy amenities such as high-speed Wi-Fi, 55" TV, HDMI cable, private bathroom, and air conditioning. At an additional cost, you can have access to printing and copying services, meeting rooms, and room service delivered under social distancing measures. At Fiesta Inn, your rest matters, so we offer special areas, facilities, and comfortable furnishings for whenever you need a break. Relax, have a cup of coffee, and make new friends.
*This service includes work space only, not the room for the night.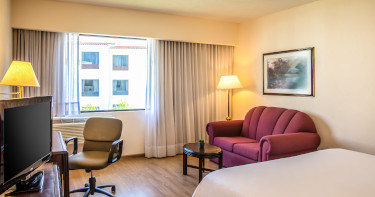 Accessible Room
The room is 30m 2 and is equipped to meet the needs of handicapped guests: 2 beds, 32" TV, desk, telephone, a bathroom equipped with a 1 meter high handrail, tub, shower and toilet with special safety bars.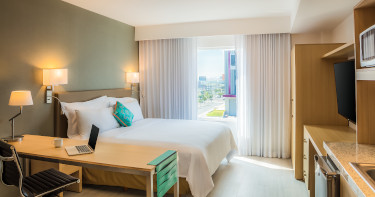 Loft
Feel at home with everything you need to work, eat, relax and sleep comfortably. Our spacious loft is equipped with minibar, kitchenette, microwave, 32'' TV, dining area, spacious work desk, telephone, high-speed Internet, bathroom, AC and heating.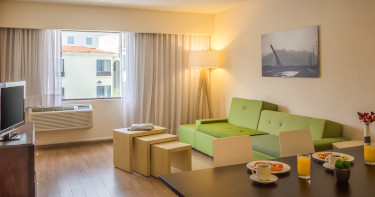 Junior Suite
Be productive in this spacious room with king bed, armoire, ample work desk, 32'' TV, 2 telephones, ironing board and iron. It comes with a refrigerator, microwave, dining area, and kitchen.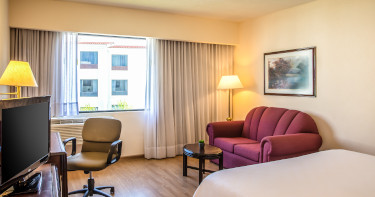 Superior Room, 1 king
Your stay will be more productive and comfortable in this room with king bed, 2 night stands, 32'' TV, spacious work desk, telephone and bathroom with shower, tub and toilet.