ComPosadasCalificacionTripadvisor
Qualified:
ComPosadasTripadvisorModal
x
Location #2 of 12 hotels in Nuevo Laredo
Summary of qualifications
Best comments
"Bad customer service and hotel was not what it seems"
Was on a trip with my wife for her birthday and i have to say this hotel had bad customer service and the manger told lies about their policy and what the will and will not do. Also you can tell on the construction of the building and rooms that they cut a lot of corners of the building materials which made us feel unsafe and would not recommend this hotel to anyone else.
"Very good hotel"
In my opinion,the best option in Nuevo Laredo.......clean rooms,nice beds,friendly people,very close to several good restaurants and shopping ......I have tried all other hotels,this is the better than any other hotel in town
"This place it's the worst place ever"
I would not recommend this place to anyone. The stay are not friendly and I believe they are racist against Americans. They don't fix any issues that can occur. They tell you when you booked that it's free complementary breakfast but it's a lie it's not
"Fiesta Inn Nuervo Laredo"
Great hotel, Clean, Safe, No complaints. Nice staff. Would stay there again. I felt like I was at an American Hotel. The food wasn't great but, that could have been the cultural difference,. Thanks !!!
"FIESTA INN NUEVO LAREDO"
great service especially jorge the manager at the reception. he communicated in english even though it was hard for him and he made us feel welcomed. great location with shopping malls and restaurants around.
Top-rated Attractions Nearby
Photos hotel and surroundings (14)
Tripadvisor_Fiesta_Inn_Nuevo_Laredo
ComPosadasDesWeb
Located on one of the city's most important avenues in the main financial district, at the southern entrance to the Nuevo Laredo industrial park, near the cultural center and the zoo. The hotel is located 8 kilometers from Quetzalcóatl International Airport.ABC Medical Center, our protocols ally. A leader in medical best practices for more than 130 years, ABC Medical Center, dedicated to caring for their patients' health, has assisted POSADAS in the development of prevention, hygiene, and disinfection protocols that allow the group to guarantee the safety of their staff and guests. We remind you that the check-in time is from 3:00 PM. Check-out is at 12:00 PM. We suggest you use our express check-out service.
Facilities
Services
The hotel has 120 rooms, a Lobby bar open from 1:00 p.m. until 11:00 p.m., swimming pool and fitness center. Hotel services include:
Guide Dog
Gym
Smoke Free Hotel
Free Outdoor Parking
Shuttle Service Extra Cost
Room Service
Indoor Pool
My Stay
My Cast
Meeting Room
The hotel has a Business Center with computers and high speed wireless Internet, it also has 2 meeting rooms, one with capacity for 6 people and another for 8 people with a screen and air conditioning. It also features meeting rooms that can be adapted to host up to 150 people in an auditorium; each room has a board, electric screen, flip charts, coffee service and personalized service. Our professional team will help with your groups and conventions.
HabitacionesMinisite
Rooms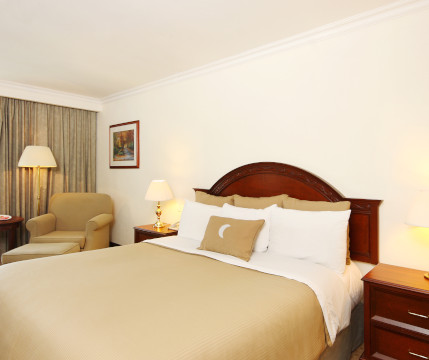 Superior King
The room is 30 m2 with a king-size bed, 2 bedside tables, 43" TV, reading chair and spacious work desk, telephone, bathroom with tub, shower and toilet.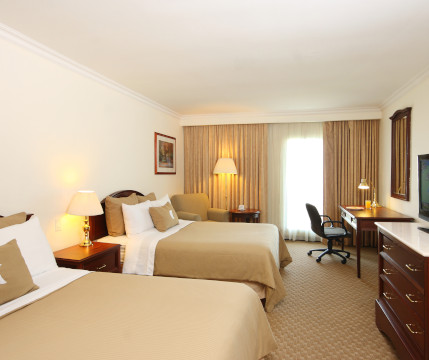 Superior Double
Equipped with 2 double beds, 43" TV, spacious work desk, telephone, bathroom with tub, shower and toilet.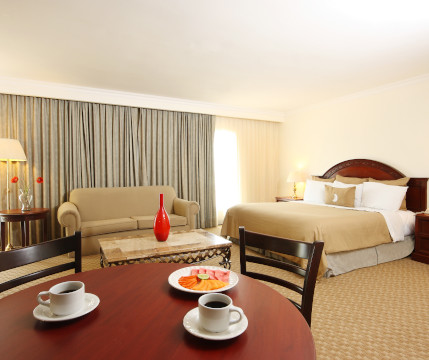 Junior Suite
The room has a king-size bed, mini bar, microwave, plasma screen, bathtub with hand-held shower, steps for the bath, wireless Internet, cable TV, and an executive desk with lamp.