Carousel Fiesta Inn Oaxaca
ComPosadasCalificacionTripadvisor
Qualified:
ComPosadasTripadvisorModal
x
Location #17 of 150 hotels in Oaxaca
GreenLeader Gold
Summary of qualifications
Best comments
"Nice experience. Too expensive"
I stayed 5 days and 4 nights at this hotel, and I had a good time. I think the hotel is overpriced since there are newer and more modern hotels in the city. The hotel is really old; I had trouble every time I tried to open my door with my keycard; the bathroom is good, it has a tub (which is really small by the way) and I had trouble switching the water flow from the tap to the shower head. Rooms have plenty of space. Staff are all really friendly and helpful. The hotel offers a non-included buffet restaurant which I liked, but again, too expensive for what you actually get. Unlike other hotels in Oaxaca, Fiesta Inn offers a big pool which you can swim in with friends/family. I'd go back with a lower price.
"Comfortable but slightly outdated"
This hotel's courtyard and pool look beautiful in the mornings, however the rooms are a but outdated but clean. It's located on a busy road and downtown is about 10 mins away depending on traffic. Our room wasn't ready until an hour after the scheduled check in time which was inconvenient. The morning restaurant staff was incredibly nice and attentive but the night staff was a bit rude.
"Very Good for Business or Rest"
This is a very good hotel, what you should expect from a Fiesta Inn. It is well located with stores and restaurants around. Service is pretty good and employees are very kind. Sleep quality is good. Rooms are small but nice and comfortable.
"Excellent hotel!"
The best hotel in Oaxaca! The staff was so friendly, the rooms were very clean and beautiful. My flight was delayed until the following day and they were so kind as to switch my stay for my new arrival date.
"Happy Customer"
I was visiting family for Christmas holidays. I had an early flight and decided to get a room last minute. I called and the representative was extremely helpful in finding this location. Upon arrival I was greeted and felt welcomed. Everyone in the complex had a smile and Showed excellent customer service. Very clean and good location in Oaxaca. I recommend it to families and visitors.
Top-rated Attractions Nearby
Photos hotel and surroundings (176)
Tripadvisor_Fiesta_Inn_Oaxaca
ComPosadasDesWeb
Located in the most commercially developed area of the city, opposite the Plaza del Valle shopping center and Plaza Oaxaca, very close to the main tourist attractions such as the Church of Santo Domingo, the Basilica of La Soledad and the Cathedral. Situated fifteen minutes from the historic center and 10 minutes from Benito Juárez Airport.Fiesta Inn Oaxaca is an Eco-friendly hotel, so it is a 100% smoke free hotel.ABC Medical Center, our protocols ally. A leader in medical best practices for more than 130 years, ABC Medical Center, dedicated to caring for their patients' health, has assisted POSADAS in the development of prevention, hygiene, and disinfection protocols that allow the group to guarantee the safety of their staff and guests.We remind you that the check-in time is from 3:00 PM. Check-out is at 12:00 PM. We suggest you use our express check-out service.
Facilities
Services
The hotel has 145 rooms, a restaurant, a lobby bar open from 12:00 p.m. to 12:00 a.m., a outdoor swimming pool, gift shop and fitness center. Hotel services include:
Guide Dog
Gym
Free Outdoor Parking
Shuttle Service Extra Cost
Room Service
Outdoor Pool
Digital Check-in
My Stay
My Cast
Event and meeting rooms
The hotel has a Business Center with computers and high speed wireless Internet, it also has 2 meeting rooms with a screen, air conditioning and capacity for 8 people. It also features meeting rooms that can be adapted to host for up to 80 people in an auditorium; each room has a board, electric screen, flip charts, coffee service and personalized service. Our professional team will help with your groups and conventions.
HabitacionesMinisite
Rooms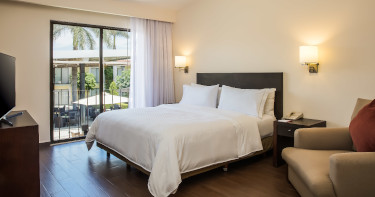 Superior Room, 1 King
Room with a king-size bed, 2 bedside tables, 32" TV, reading chair and spacious work desk, telephone, bathroom with tub, shower and toilet. With a pool or garden view.
Accessible Room
Room equipped to meet the needs of handicapped guests: 32" TV, desk, telephone, a bathroom equipped with a 1 meter high handrail, tub, shower and toilet with special safety bars.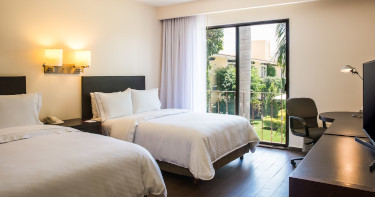 Superior Room, 2 Double
Equipped with 2 double beds, 32" TV, spacious work desk, telephone, credenza, bathroom with tub, shower and toilet.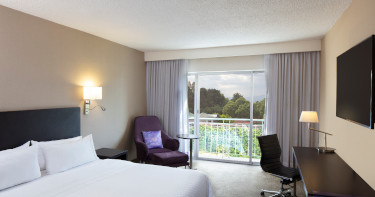 Executive Room, 1 King - FIO
Work and rest without interruptions in one of our nine Executive King guest rooms, which have been remodeled to offer you space and comfort. Each guest room features a King-size bed and a comfortable sofa where you can clear your mind or go over your to-do list. The room is equipped to offer you the best entertainment and features high speed WiFi and a 55'' Smart TV with cable and Chromecast, where you can stream your favorite content. You can also enjoy top services such as hair dryer, coffee maker, luggage rack, safe, and amenities worthy of a true Business Class experience.
Executive Room, 2 Double - FIO
Find a balance between work and rest at each of our 15 recently remodeled guest rooms. Featuring two double beds, these rooms are perfect for sharing. Your entertainment is guaranteed thanks to our high speed WiFi and a 55'' Smart TV with cable and Chromecast, where you can stream your favorite content. Find services such as hair dryer, coffee maker, luggage rack, safe, and top amenities that will allow you to live a Business Class experience, leave stress behind, and enjoy your work trip from beginning to end