Carousel Fiesta Inn Periférico Sur
AdressPosadas
Fiesta Inn Periférico Sur
ComPosadasCalificacionTripadvisor
Qualified:
ComPosadasTripadvisorModal
x
Fiesta Inn Periferico Sur
Location #83 of 448 hotels in Mexico City
GreenLeader Silver
Travelers Choice 2021
Summary of qualifications
Best comments
"Not a good option, there are a lot better"
Is a very basic hotel, simple. The room was big, the bed too old. Prepare to hear what's happening in the next room. The bathtub was stuck. You better eat outside the hotel, since the food is not good at all.
"Very good"
This is one of the many Business properties in Mexico City, they have huge rooms, free wifi, GYM, pool, bar and also a good buffet, the price is not really cheap but they have enough services than you get for the payment
"It might rate 4 stars instead of 3"
We usually stay with family in Mexico City, so I don't really have enough experience with hotels here to compare. My review is based on my personal opinions, desires, and thoughts. The staff here is really 5 star caliber. From the front desk to housekeeping they were great. The staff in the restaurant is there to serve and serve they do. All done with a smile. Our room was huge. It had a nice view (11th floor), a huge TV, and a large desk with coffee maker and plugs for laptops and chargers. On our return every day the room was cleaned and was spotless. Do I need to say I would recommend this hotel. I forgot to mention, as others have, the location of a very large mall right next door. For those looking for a negative, here is mine. I did not like the shower head at all. It could not be adjusted, it sprayed straight down, and I could not completely stop the water from coming out of it to adjust the temperature before I turned the shower on fully. It wasn't enough of a problem to complain or ask for another room. Also, the walls are a bit thin, but I'm a heavy sleeper. I guess you can tell we would recommend this hotel.
"Nice hotel and location...Front Desk staff not that great..."
We choose this hotel among others in the area and booked 10+ rooms for the bride and her party, the groom, and family coming from several areas and the US. We even got an extra room for the stylist to prepare for the wedding reception and because of that, coordinated with the hotel the specifics in terms of times and availability of rooms. Nice hotel, modern and with excellent food. Rooms are great and the ones overlooking the highway facing south have tremendous views. The communication was broken between management and the front desk and it was a chaos. They got a couple of rooms mixed up with another guest whose ended up coming back drunk to open the room where my son was staying...at 3 AM... Their Customer Service lacks the warm touch expected in any place when visiting Mexico.
"Excellent choice at the South of the city"
If you are planning to be in the South of the city - this is the right option. Rooms are clean and big, safe area and very near ( well, distance is relative in Mexico city) Xochimilco, San Angel, Coyoacan, etc. We might travel again end of year and we will definitely consider as part of our options.
Top-rated Attractions Nearby
Photos hotel and surroundings (148)
Tripadvisor_Fiesta_Inn_Periferico_Sur
ComPosadasDesWeb
Within one of the largest cities in the world, the hotel is strategically located close to Perisur, one of the top shopping centers in Mexico City, prestigious universities and specialized hospitals. The hotel is situated between Insurgentes Sur and Calzada de Tlalpan Avenues, nestled amongst the colonial charm that is characteristic of the southern part of the city and just minutes from Six Flags, the largest amusement park in Latin America.We remind you that the check-in time is from 3:00 PM. Check-out is at 12:00 PM. We suggest you use our express check-out service.ABC Medical Center, our protocols ally. A leader in medical best practices for more than 130 years, ABC Medical Center, dedicated to caring for their patients' health, has assisted POSADAS in the development of prevention, hygiene, and disinfection protocols that allow the group to guarantee the safety of their staff and guests.Fiesta Inn Periférico Sur is an Eco-friendly hotel, so it is a 100% smoke free hotel.
Facilities
Services
The hotel has 212 rooms, a restaurant, a lobby bar open from 1:00 p.m. to 11:00 p.m., indoor swimming pool, gift shop and fitness center. Hotel services include:
Guide Dog
Gym
Smoke Free Hotel
Indoor Parking Extra Cost
Room Service
Indoor Pool
My Stay
My Cast
Restaurant
The Fiesta Inn features a restaurant which opens from 6:00 a.m. until 11:00 p.m. and is an excellent choice for breakfast, lunch and dinner. Choose from buffet or menu dishes, Mexican appetizers and the best regional cuisine. Open to all public.
HabitacionesMinisite
Rooms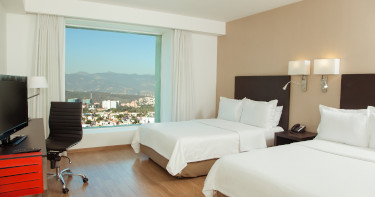 Executive Room, 2 Double
Whether traveling for work or pleasure, these spacious rooms offer a tranquil getaway. They feature warm colors and laminated floors, and are outfitted with a two double beds, large dresser, and bathroom with shower stall. Each room has a 32" LCD TV, two telephones, and work desk with high-speed wireless Internet access. They also have bottled water, a coffeemaker, teas, and a travelers kit.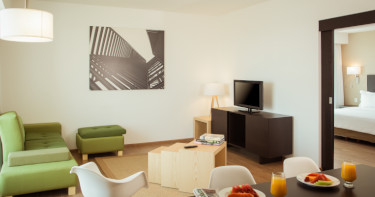 Junior Suite
The room includes 2 areas: a dining area for 4 people with coffee maker; living room with 2 sofas that each seat 3, 2 side tables, telephone, 32'' TV, bathroom with tub, shower and toilet and luxury toiletries.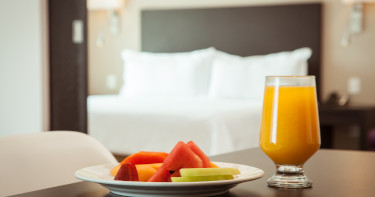 Accessible Room
The room is 30m 2 and is equipped to meet the needs of handicapped guests: 2 beds, 32" TV, desk, telephone, a bathroom equipped with a 1 meter high handrail, tub, shower and toilet with special safety bars.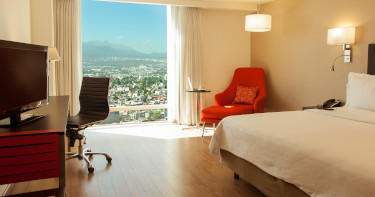 Superior Room, 1 king
The room is 30 m2 with a king-size bed, 2 bedside tables, 32" TV, reading chair and spacious work desk, telephone, bathroom with tub, shower and toilet. With a view of the city, except on the 1st floor.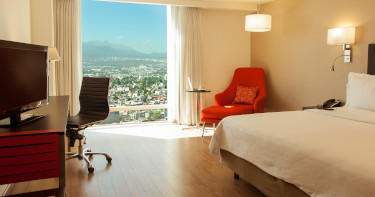 Deluxe Room, 1 king
A spacious and comfortable room. It features a sofa, king-sized bed and space for an additional bed or serving table for 2 people. Bathroom equipped with tub, shower and toilet. Ideal for extended stays.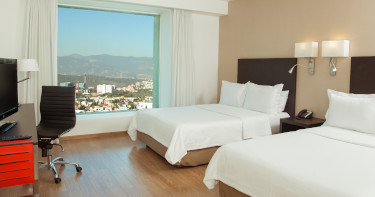 Superior Room, 2 double
Equipped with 2 double beds, 32" TV, spacious work desk, telephone, bathroom with tub, shower and toilet. With a view of the city.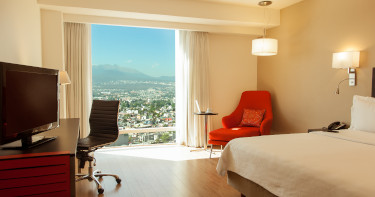 Executive Room, 1 King
These spacious guest rooms feature warm colors and laminated floors, making them ideal for relaxation. They are outfitted with a king bed, and bathroom with shower stall. Each room has a 32" LCD TV, two telephones, and work desk with high-speed wireless Internet access. They also have bottled water, a coffeemaker, selection of teas, and a travelers kit.