Carousel Fiesta Inn Perinorte
ComPosadasCalificacionTripadvisor
Qualified:
ComPosadasTripadvisorModal
x
Location #1 of 2 hotels in Tultitlan
GreenLeader Bronze
Summary of qualifications
Best comments
"Good hotel for business"
Good hotel for business, very located with the main services, kindness staff and good price. You can enjoy cozzy bedrooms and you can take a drink and play billiars in the bar if you need relax. Near the hotel is a shopping mall where you can go.
"Business short stay"
Booking is easy, staff friendly, relative clean but in the room there were dirty walls, noise from the plant nearby, noises from other rooms, humidity. Breakfast is good in principle, but you need patience that staff re-fill emptied choices, they are busy to take from the table the free water bottles and invoice instead of ensuring right service
"It was a really great place"
room and staff service was really great, room was very clean and bed was super comfortable. the location is really good. the process for reservation was easy and clear. the food was ok, its a very quiet place. you can have a great rest after a though day.
"Excellent"
We stayed in this hotel for one night before we had to go to the airport. It was for us a relaxing place not to far from the airport. It seems to be a hotel especially for business people but it is also very OK if you are just a toerist like us.
"Nice Hotel, Friendly Staff, Good Breakfast and Location."
The hotel has everithing that you need, the location is near the industrial zone. The bedrooms are confortable and modern, nice decoration at common areas and the friendly staff are good, also the price is good too.
Top-rated Attractions Nearby
Photos hotel and surroundings (110)
Tripadvisor_Fiesta_Inn_Perinorte
Fiesta Inn continues to evolve, transform, and innovate its Business Class hotel concept. With a fresh, modern image and new facilities, Fiesta Inn Perinorte is the perfect example of business accommodations done right. Designed to encourage creativity and productivity, the hotel's spaces are functional yet friendly, allowing guests to be connected while remaining independent. Today's Fiesta Inn is more than simply a hotel; it is a community of professionals who thrive on success.Fiesta Inn Perinorte is located north of Mexico City, in the heart of the industrial corridor comprised by the cities of Tultitlán, Cuautitlán and Tepotzotlán. It is across from the Perinorte shopping center and just 15 minutes away from the Mundo E and Plaza Satélite shopping centers.The hotel has 127 guest rooms, high-speed Internet, outdoor swimmin pool, fitness center, meeting rooms, event rooms, B-On business center and self-service area.Fiesta Inn Perinorte is an environmentally friendly hotel and is 100% smoke-free.ABC Medical Center, our protocols ally. A leader in medical best practices for more than 130 years, ABC Medical Center, dedicated to caring for their patients' health, has assisted POSADAS in the development of prevention, hygiene, and disinfection protocols that allow the group to guarantee the safety of their staff and guests.
Services
The hotel has 127 rooms, a restaurant, a lobby bar open from 12:00 p.m. to 11:00 p.m., outdoor swimming pool, gift shop and fitness center. Hotel services include:
Guide Dog
Gym
Smoke Free Hotel
Free Outdoor Parking
Shuttle Service Extra Cost
Room Service
Outdoor Pool
Digital Check-in
Dog Friendly-Extra cost
My Stay
My Cast
Event and meeting rooms
Guests are guaranteed to find a comfortable working area in the B-On Business Center, located in the 360° Lounge, which offers computers and office services along with fast, reliable Internet for staying connected to the business world. Also available are two fully equipped meeting rooms, each designed for up to six people. We also have rooms that accommodate up to 500 people, and our highly trained staff will provide personalized service guaranteed to make your event a success.
Rooms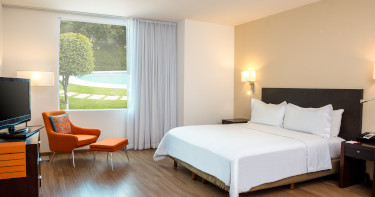 Superior Room, 1 king
Disfruta de un descanso pleno para cerrar buenos negocios en esta espaciosa habitación. Cuenta con una cama King Size, 2 burós, TV de 55", sillón de lectura y escritorio con amplio espacio para trabajo, internet inalámbrico, teléfono, regadera y WC.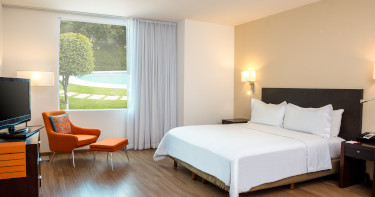 Superior Room Dog Friendly, 1 King
Trae de viaje a tu mejor amigo y disfruta la experiencia de compartir con él un lugar que se adapta a cada una de tus necesidades. Con nuestro programa Dog Friendly de Fiesta Inn Perinorte, por un costo adicional, podrás traer contigo a tu mascota de raza mediana o dos perritos pequeños y disfrutar de esta amplia y moderna habitación, equipada con cama King Size, escritorio, moderno sillón de lectura, pantalla de 55'', además de las mejores amenidades, como las que disfrutará con el Kit Especial que recibirán a su llegada que incluye una camita, tapete y plato para uso durante su estancia. Haz de tu visita una divertida experiencia con tu mejor compañía.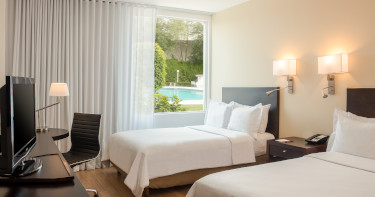 Superior Room, 2 double
En esta confortable habitación descubrirás que los negocios y el deleite sí se mezclan. Está equipada con 2 camas matrimoniales, TV de 55", escritorio con amplio espacio para trabajo, internet inalámbrico, teléfono, regadera y WC.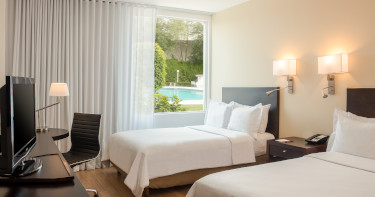 Superior Room Dog Friendly, 2 Double
Comodidad, amplio espacio y la posibilidad de estar acompañado por tu mascota, es uno de los mejores planes para tu viaje. Disfruta de tu estancia en esta habitación doble, con todos los servicios y amenidades, incluyendo un escritorio, silla y pantalla de 55'', ideal para compartir con tu familia y, por supuesto, el miembro más divertido de todos. Por un costo adicional, con nuestro programa Dog Friendly de Fiesta Inn Perinorte, le damos la bienvenida a tu perrito de raza mediana o, si la familia es más grande, dos de tamaño pequeño; aquí te daremos un Kit Especial para uso durante su visita, incluye camita, tapete y plato.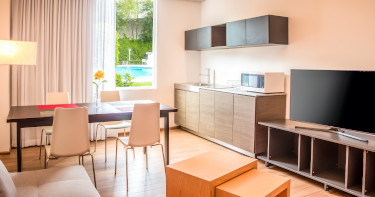 Junior Suite, 1 King
Para un viaje de negocios placentero, cuidamos tu descanso en esta formidable habitación. Está equipada con una cama King Size, TV de 55", amplio escritorio de trabajo con extensión telefónica, internet inalámbrico y baño completo.

Accessible Room
Habitación de 36 m2 equipada para atender las necesidades de las personas discapacitadas: 1 cama King Size y 1 cama matrimonial, TV de 55",escritorio, teléfono, cuarto de baño equipado con una barra de apoyo colocada a 1 metro de altura, regadera y WC con barras especiales de seguridad.