Carousel Fiesta Inn Puebla las Ánimas
Fiesta Inn Puebla Las Ánimas
ComPosadasCalificacionTripadvisor
Qualified:
ComPosadasTripadvisorModal
x
Fiesta Inn Puebla Las Animas
Location #10 of 133 hotels in Puebla
GreenLeader Platinum
Travelers Choice 2022
Summary of qualifications
Best comments
"Very recommended "
I spend a four day weekend to visit Puebla. Everything was perfect. Fiesta inn hotel has a very Comfortable and clean rooms. Also has an Excellent breakfast. The staff was very helpful and kind. For sure I'll back.
"good for business"
This hotel is a great place to park for a business trip. The personnel is very courteous and the services in general are good. Its proximity to the small mall behind hotel and restaurants is excellent since you can walk to many places and even do some shopping if needed. I recommend it to anyone traveling to Puebla on business.
"Centrally located outside of downtown area"
We stayed at this hotel because it was centrally located to our family and the downtown area. The hotel is connected to the mall which came in handy for last minute purchases. The room was a tight squeeze for 3 people. Small vanity/counter area but we made it work. We felt very safe as no one is allowed up past the lobby without a room key. I rated the room as average because the shower leaked water out onto the bathroom floor. We didn't have time to wait around for someone to show up to make repairs, so we were given extra towels to soak up the water on the floor. Otherwise, the room was clean and functional.
"Great Hotel-Terrific Experience"
I travel about 60% of the time. This hotel surpasses my expectations every single time. From start to finish, you can expect a genuinely warm and friendly staff; ready to welcome you and ready to assist in most any way. The rooms are clean, modern, roomy and you know you are safe and secure. The hotel expands and connects into a rather large mall; connected by a sliding glass door. Breakfast includes a variety of buffet choices but the staff will accommodate any specific special orders. Room service is really good. if you're looking to get away from hotel, the mall offers a few choices as well, including a Starbucks! The gym is clean and modern. This hotel made me feel at home and welcome. The price is very, very fair for the experience you get. The staff at this hotel makes it what it is. You won't get any better for the price!
"Very nice rooms, clean and very helpful staff"
Same as above, clean perfect location for us doing business in Puebla The staff was very helpful in telling us where and how to get there Will absolutely stay there again next time we are in Puebla That is all we have to say
Top-rated Attractions Nearby
Photos hotel and surroundings (188)
Tripadvisor_Puebla_Las_Animas
Fiesta Inn continues to evolve and transform as a leader in Business Class hotels with the Fiesta Inn Puebla las Ánimas. The hotel is designed to let visitors pass their time as they wish, with spaces that are functional and welcoming, so guests can work independently or socialize in groups. Today, the Fiesta Inn is more than just a hotel. It's a community of travelers all working to get ahead.Located in the Las Ánimas Triangle, one of the main plazas of the city, the hotel is adjacent to the John Paul II financial complex and is close to the Angelopolis shopping center and the University Cultural Center. It offers easy access to many of the most beautiful buildings in the city, which has been declared a UNESCO World Heritage Site.Fiesta Inn Puebla Las Ánimas is an Eco-friendly hotel, so it is a 100% smoke free hotel.ABC Medical Center, our protocols ally. A leader in medical best practices for more than 130 years, ABC Medical Center, dedicated to caring for their patients' health, has assisted POSADAS in the development of prevention, hygiene, and disinfection protocols that allow the group to guarantee the safety of their staff and guests.The hotel check-in time is 3pm. Check-out is 12pm. A convenient Express check-out service is available.
Services
There are 140 guest rooms, Restaurant, a lobby bar and gift shop. Other facilities include Lounge 360°, outdoor swimming pool and fitness center. Hotel services include:
Guide Dog
Gym
Smoke Free Hotel
Indoor Parking Extra Cost
Shuttle Service Extra Cost
Room Service
Outdoor Pool
My Stay
My Cast
Event and meeting rooms
The B-on Business Center offers computer workstations with high-speed Internet access and two meeting rooms with projection screen and air conditioning, accommodating up to 12 people. There are also eight meeting and event rooms accommodating up to 180 people with auditorium seating. Each room has whiteboard, video screen, flipchart and other amenities. The professional staff can assist with coffee breaks and other services.
Rooms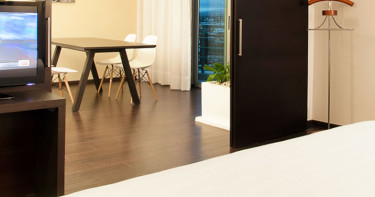 Junior Suite, 1 King
For guests wanting more space, there are 2 Junior Suites with king bed, work desk, closet, telephone, coffeemaker, wireless Internet, full bathroom, air-conditioning and flat-screen cable TV. These rooms also have a living and dining room, alarm clock and sofa.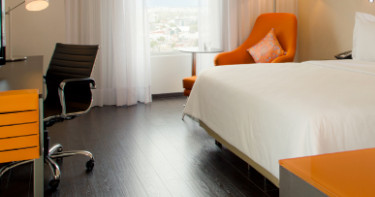 Deluxe Room, 1 King
This spacious suite with volcano view offers both the perfect place to rest and get your work done quietly and comfortably. There are 20 spacious rooms with king bed, equipped with terrace, work desk, closet, telephone, coffeemaker, high-speed wireless Internet access, full bathroom, air-conditioning and flat-screen cable TV.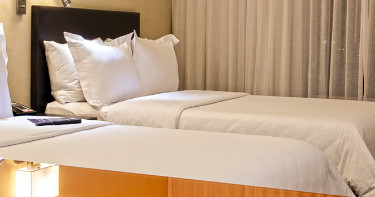 Superior Room, 2 double
The hotel offers 70 rooms with double bed, work desk, closet, telephone, coffeemaker, wireless Internet, full bathroom, air-conditioning and flat-screen cable TV.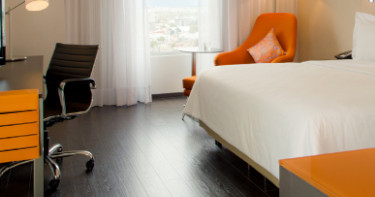 Accessible Room
This guest room is specially equipped for guests with special mobility needs. It has a Queen Size bed, work desk, closet, telephone, coffeemaker, wireless Internet, full bathroom, air-conditioning and flat-screen cable TV.