Carousel Fiesta Inn Queretaro
ComPosadasCalificacionTripadvisor
Qualified:
ComPosadasTripadvisorModal
x
Location #26 of 120 hotels in Queretaro City
GreenLeader Silver
Travelers Choice 2022
Summary of qualifications
Best comments
"MY CHOICE EN QUERETARO"
excellent place for work trips, very recommended. large room, good temperature, very clean bath, central garden with pool. The bar service is excellent and the staff is very attentive and friendly. I will try to visit it on my vacations
"Great Hotel But Avoid the High Priced Restaurant and its Dishonest Waiters"
Lovely hotel, relaxing grounds, excellent rooms with superior wifi. Most of the staff are very friendly and helpful except in the restaurant. Overpriced menu, lousy service and the sleazy waiter charged me for a breakfast that was not served! (To be fair, the food is OK)
"The hotel is good, but not the restaurant"
The hotel is not very near the city center. However, I was in a meeting and it was convenient for me. It was clean and the bed was great. The constructions is strange and if the neighbors shout at night or early in the morning you will wake up. That is a problem. Working people are great, and treat you well. The restaurant is not very good, always the same... and the coffee is like tea and the fruit is repetitive.
"NICE PLACE TO STAY"
Nice place, good food, good service. Excellent location, you can walk to downtown or take uber to shopping centers near the hotel. You can have buffet breakfast on sundays ... Our kids really love the pool
"Nice time in a nice place"
Staff suggestions about transportation and places to visit were accurate and really appropriate. I never been before that city, staff people word so kind with me , their suggestions were really valuable. The breakfast is great!
Top-rated Attractions Nearby
Photos hotel and surroundings (215)
Tripadvisor_Fiesta_Inn_Queretaro
Discover the modern and spacious Fiesta Inn Querétaro, where we've taken care of everything for you, so the only thing you have to worry about is being productive.This business-class hotel offers 225 comfortable rooms, including 50 lofts designed to satisfy the needs of extended-stay business travelers who want the comforts of home. The Fiesta Inn Querétaro is located near the historic center and just 10 minutes from the city's main industrial areasToday's Fiesta Inn is more than simply a hotel; it is a community of professionals who thrive on success.The hotel has a privileged location close to the historic downtown district and just 10 minutes from the city's main industrial areas.ABC Medical Center, our protocols ally. A leader in medical best practices for more than 130 years, ABC Medical Center, dedicated to caring for their patients' health, has assisted POSADAS in the development of prevention, hygiene, and disinfection protocols that allow the group to guarantee the safety of their staff and guests.Please note that check-in begins at 3pm. Check-out must be completed by 1pm. Express check-out is recommended.
Services
There are 225 guest rooms, restaurant, bar and a range of spacious and comfortable multi-use rooms for private work sessions, meetings and other group events. Other facilities include Lounge 360°, outdoor pool and fitness center.
Guide Dog
Gym
Smoke Free Hotel
Free Outdoor Parking
Room Service
Outdoor Pool
Digital Check-in
Dog Friendly-Extra cost
My Stay
My Cast
Event and meeting rooms
Guests can take advantage of B-on, Fiesta Inn's modern business workspace, outfitted with four computer workstations and business services. From here, you can keep in touch with the rest of the world, hold meetings in private boardrooms, participate in video conferences, and share documents and presentations online in real time at the center's two meeting rooms with space for up to eight people. There are also special event facilities located in front of the hotel with a private entrance. There are four rooms that can be combined to accommodate up to 500 people with auditorium seating.
La Isla
The Fiesta Inn Querétaro offers the La Isla multi-purpose space that gives you the freedom to recharge 24 hours a day. Guests can grab a delicious snack or pause to refresh and rejuvenate. Meals are available throughout the day in the manner best suited for the occasion, including a breakfast buffet, grab-and-go, a la carte lunch and dinner, and room service. The area has minimalist design, with bright colors, fresh décor, ambient music, making each visit as pleasant as possible.
Rooms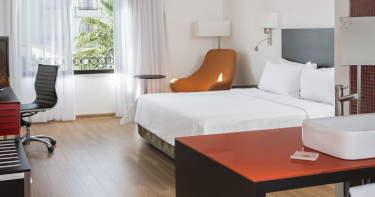 Superior Room, 1 king
Discover the perfect place to work and relax in this comfortable room, outfitted with a king bed, closet, bathroom, air conditioning, coffeemaker, executive work desk, two telephones, wireless high-speed Internet, hairdryer, luggage rack, closet, bathroom amenities, and cable TV with LCD screen. Each room has a view of the pool or hotel terrace.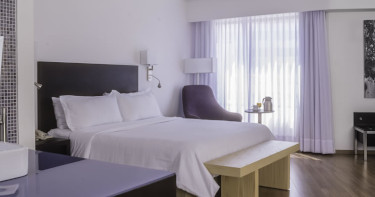 Junior Suite King
After a long day, you deserve this spacious room to work and relax. Each suite is outfitted with a king bed, sofa, closet, bathroom, air conditioning, coffeemaker, executive work desk, two telephones, wireless high-speed Internet, hairdryer, luggage rack, closet, special bathroom amenities, and cable TV with LCD screen.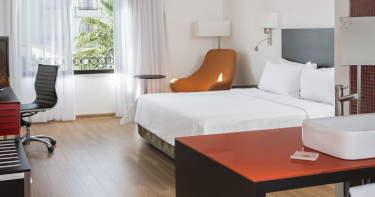 Superior Room Dog Friendly, 1 King
Some trips require special company, and now, thanks to our Fiesta Inn Querétaro Dog Friendly program, you can bring mid-sized dog with you (or two small dogs) at an additional cost. Enjoy a fully equipped room, featuring a King Size bed, a work desk with an executive ergonomic chair, and with everything you need to stay productive or to take a break when needed. For your best friend, we will have a Special Kit ready, featuring a bed, a mat, and a dish that can use during its stay. Do not think twice ¿you take better care of your dog than anyone, and we will make sure to pamper you both.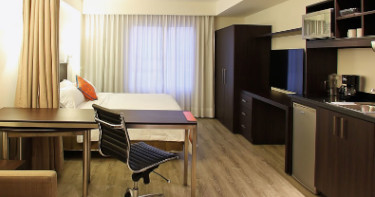 Loft
These larger guest suites are ideal for guests planning on staying for an extended period of time or hosting guests. Each suite has air conditioning, grill, kitchenette, mini-fridge, microwave oven, dining area, sitting room with satellite TV, work desk, executive chair, high-speed Internet access and telephone. Buffet Breakfast Included for 2 people.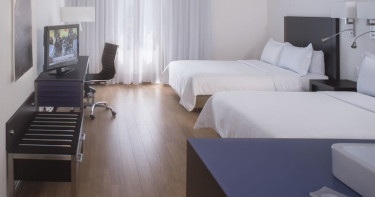 Superior Room Dog Friendly, 2 Double
The comfort of a shareable double room increases when you bring along your favorite travel mate: your dog. With our Fiesta Inn Querétaro Dog Friendly program, your best friend can now keep you company during your trip (at an additional cost) as you check off items on your to-do list. Enjoy this comfortable room, equipped with the best services and amenities. We have a Special Kit prepared for your dog, which includes a bed, a mat, and a dish that they can use throughout your stay, as it rests beside you while you work on your well-lit desk or relax while watching TV. If your dog is mid-sized (less than 20 kg) or if you have two small dogs, they are welcome to come along with you.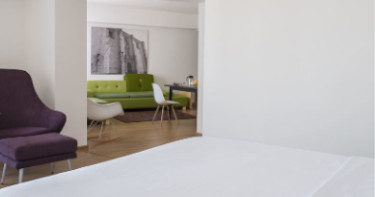 Master Suite, 1 King
These spacious and modern suites are the perfect home base for a successful trip. Each suite features a king bed, work desk, closet, telephone, coffeemaker, wireless Internet, full bathroom, ironing kit, hairdryer, air conditioning, LCD cable TV, and personal amenities. Each of these rooms also has a fridge and microwave, sitting room, dining room and views of the pool or hotel patio.
Flex Office
Thanks to the strictest safety and cleaning measures, you can relax and enjoy a pleasant atmosphere, as well as our excellent service and warm welcoming. With a room adapted for you and two more guests, you can achieve total privacy and enjoy amenities such as high-speed Wi-Fi, 55" TV, HDMI cable, private bathroom, and air conditioning. At an additional cost, you can have access to printing and copying services, meeting rooms, and room service delivered under social distancing measures. At Fiesta Inn, your rest matters, so we offer special areas, facilities, and comfortable furnishings for whenever you need a break. Relax, have a cup of coffee, and make new friends.
*This service includes work space only, not the room for the night.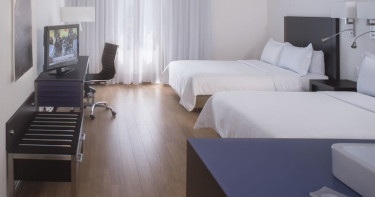 Superior Room, 2 double
After a long day full of activities, find comfort in this relaxing room equipped with two double beds, closet, bathroom with shower, air conditioning, coffeemaker, executive work desk, two telephones, wireless high-speed Internet, hairdryer, luggage rack, closet, bathroom amenities, and cable TV with LCD screen.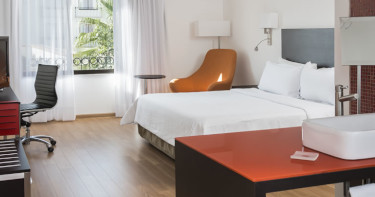 Accessible Room
Experience a comfortable stay in this specially equipped room with a two single beds, closet, bathroom, air conditioning, coffeemaker, executive work desk, two telephones, hairdryer wireless high-speed Internet, and cable TV with an LCD screen. In addition, you will find all standard facilities for people with special needs. The bathroom is outfitted with safety rails, shower bars, elevated toilet with grab bars, and a wide entry door.