ComPosadasCalificacionTripadvisor
Qualified:
ComPosadasTripadvisorModal
x
Location #6 of 36 hotels in Tampico
GreenLeader Silver
Summary of qualifications
Best comments
"Getting run down , poorly managed"
Room smells musty like it may have had water damaged at some point. Sheets while clean look like they've been in use for decades, white sheets that you can see the bleach spots in them. Food is ok. Food Service very slow but food staff very friendly. Day three, Management horrible, forced to stay in rooms . Everyone quarantined to their rooms, food to be ordered via phone even though we have tested negative. Believed to be so we do not disturb wedding party. Party music can be heard through the walls most of night two. While I don't mind it , it could be disturbing for others. Will not return.
"Stay Away From This Place"
Horrible experience from the start. I arrived on a Sunday night and was attended by a surly lady. For whatever reason she didn't want to go thru the trouble of leaving the voucher open in case we wanted to charge something to the room. Later I learned that the same thing happened to my 2 colleagues that checked in earlier that same day. After checking in I went to my room only to discover that the key didn't work. Instead of apologizing and giving me a new key she questioned whether I used it correctly – ridiculous. The room was not clean and I found hairs on the bed. The next day we went out for meetings and even though we didn't return till late afternoon the room was still not cleaned. That 2nd night we confirmed the shuttle to the airport for 6am the next day but next morning no sign of the shuttle. I went to the front desk and there was the same surly lady from when I checked in. I said that it was past 6 and no sign of the shuttle. She immediately assumed that we didn't reserve the shuttle until I corrected her. Turns out that the driver was running late. We'll be coming back to Tampico but not this hotel.
"not what we expected"
paid for a Suite and got a low class small room on a loud first floor. crying kids next door all night, did not sleep at all. Eventhough we paid for a Suite at Hotels.com the hotel could not accomlodate us nor pay ud the difference in room charge.
"Outstanding services"
Thanks for performing outstanding jobs for fiesta inn tampico. especially front desk team, cleaning team, and restaurant team. all of you are delivered excellent services to customers, as well as friendly. treating customer like a family.
"Fiesta inn Tampico"
Good food, beer and taxi service- internet is slow at night between 8-midnight- friendly staff and airport shuttle to and from. Nice pool by the lake and bar has TVs for sports teams. There are snacks for purchase at front desk
Top-rated Attractions Nearby
Photos hotel and surroundings (146)
Tripadvisor_Fiesta_Inn_Tampico
ComPosadasDesWeb
Located in one of the most attractive areas, in Tampico's "Zona Dorada" or Golden Zone, opposite the El Chairel lagoon and on the city's main avenue, the hotel is within easy reach of the historic center, Playa Miramar, the Metropolitan Theater and Altama City Center. Situated only 7 minutes from the airport.Fiesta Inn Tampico is a responsible hotel, so it is a 100% smoke free hotel.ABC Medical Center, our protocols ally. A leader in medical best practices for more than 130 years, ABC Medical Center, dedicated to caring for their patients' health, has assisted POSADAS in the development of prevention, hygiene, and disinfection protocols that allow the group to guarantee the safety of their staff and guests.We remind you that the check-in time is from 3:00 PM. Check-out is at 12:00 PM. We suggest you use our express check-out service.
Facilities
Services
The hotel has 124 rooms, a restaurant, a lobby bar open from 5:00 p.m. to 11:00 p.m., outdoor swimming pool, gift shop and fitness center. Hotel services include:
Guide Dog
Gym
Free Outdoor Parking
Free Shuttle Service
Room Service
Outdoor Pool
Event and meeting rooms
The hotel has a Business Center with computers and high speed wireless Internet, it also has 2 meeting rooms with a screen, air conditioning and capacity for 6 people. It also features meeting rooms that can be adapted to host for up to 180 people in an auditorium; each room has a board, electric screen, flip charts, coffee service and personalized service. Our professional team will help with your groups and conventions.
Servicios de reuniones
Meeting rooms have been designed to house meetings with medium-sized attendance. All our sober and elegant rooms are equipped to make your meetings an agile, pleasant, and highly productive experience. Offering whiteboards, electric screen, flipchart, coffee service during breaks, and customized attention during your entire event. These are only some of the reasons that make Fiesta Inn Tampico the perfect solution for all your meetings and social events needs. AUDIOVISUAL EQUIPMENT - DVD - Monitor - Screen - Slide projector - Video projector - Wireless microphone - Video recorder - Micrófonos con pie - Stand-up microphone - Video conference support - Tape recorder - Flipchart - Video camera - Simultaneous translation - Sound equipment DIVERSE EQUIPMENT - Lectern - Dance floor - CD burner
HabitacionesMinisite
Rooms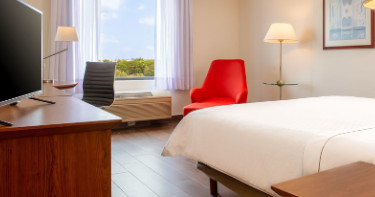 Superior Room, Lagoon View, 1 King
The room is 28 m2 with a king-size bed, 2 bedside tables, 32" TV, reading chair and spacious work desk, telephone, bathroom with tub. It features a spectacular view to the lagoon of the Chairel.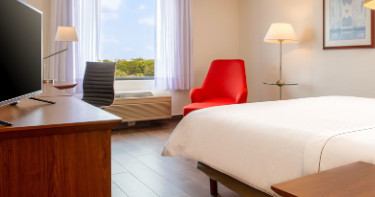 Accessible Room
The room is 28 m2 and is equipped to meet the needs of handicapped guests: 2 single beds, 32" TV, desk, telephone, a bathroom equipped with a 1 meter high handrail, tub, shower and toilet with special safety bars.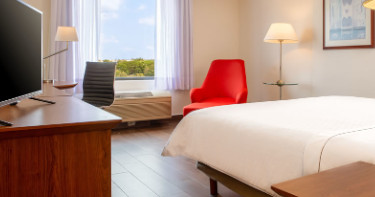 Superior Room, 1 king
The room is 28 m2 with a king-size bed, 2 bedside tables, 32" TV, reading chair and spacious work desk, telephone, bathroom with tub.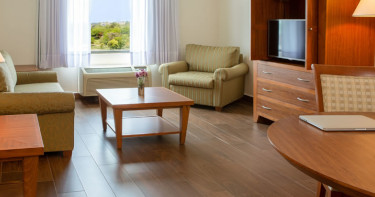 Junior Suite King
Luxury suite with a beautiful view of the city, excellent lighting and modern decoration; consisting of a bedroom and a living room. Equipped with king-size beds, a work desk and a small living room, a kitchenette with a microwave, 2 telephones, Internet connection, voicemail and wake-up calls; air-conditioning, coffee maker, 2 televisions, hair dryer, shower and bathtub in the bathroom. Personal care amenities are also provided.