Carousel Fiesta Inn Tepic
ComPosadasCalificacionTripadvisor
Qualified:
ComPosadasTripadvisorModal
x
Location #2 of 20 hotels in Tepic
Summary of qualifications
Best comments
"Great option to stay in Tepic!"
Stayed a night for business and felt surprised by the very attentive staff, room absolutely clean and comfortable, per de by pillows, comforting and pure white sheets. Needed toothpaste and brush, calls and was brought in less than 5 minutes. Besides this, is very well located, next to Forum Shops and 8 minutes drive distance from centro histórico.
"Sunday Buffet Very Disappointing"
We've enjoyed the buffet breakfast at Hotel Fiesta Inn many times, but this time it was not an enjoyable experience. We hadn't been there for a few months and to our surprise the quality of the buffet had seriously dropped. The personnnel were as obliging as always, but the four dishes that I tried were definitely a step down compared to what they used to be. Even the sweet bread which used to be prepared on the premises, was dry and stale. I truly would not recommend this restaurant. For us, it was not an enjoyable experience.
"Another decent hotel in Mexico "
Loved the breakfast buffet in the morning, fresh tortillas and a wide assortment of items to eat including some delicious fresh fruit. It's part of the local mall and you can rest assured you are very secure. The rooms are nice and the staff very professional. I would definitely stay again.
"Uncomfortable bed size"
Double Beds were small size, not as quoted. Pillows were uncomfortable needs to be with bed size. Checkin / out was comfortable with staff being knowledgeable and experienced. Based on nonof persons, water to be placed in rooms
"Great value"
This hotel is located in a large mall. We were here two nights in March and found the hotel to be very adequate - good shower, friendly staff, functional room and very good internet service. My only complaint, and one common to most hotels in North America now is the miserly ventilation the hotels call "air conditioning". The room's temperature hovered at 75 - too warm, in my opinion for comfort or sleeping.Nothing we did with the thermostat seemed to alter the setting, and we slept fitfully with a sheet on, or off. Come on hotels, let your lodgers have comfortable conditions - what's it going to cost???
Top-rated Attractions Nearby
Photos hotel and surroundings (52)
Tripadvisor_Fiesta_Inn_Tepic
Located in the Plaza Forum, at the entrance to the city and 10 minutes from the center, from where you can access attractions including the Cathedral, the Cruz de Zacate Temple and former Convent, the Regional Anthropology Museum, Cerro de la Cruz and the Bay of San Blas. Situated five minutes from the industrial zone and 20 minutes from the airport.ABC Medical Center, our protocols ally. A leader in medical best practices for more than 130 years, ABC Medical Center, dedicated to caring for their patients' health, has assisted POSADAS in the development of prevention, hygiene, and disinfection protocols that allow the group to guarantee the safety of their staff and guests.We remind you that the check-in time is from 3:00 PM. Check-out is at 12:00 PM. We suggest you use our express check-out service.
Services
The hotel has 139 rooms, a restaurant, a lobby bar open from 12:00 p.m. until 11:00 p.m. and fitness center. Hotel services include:
Guide Dog
Gym
Free Outdoor Parking
Room Service
My Stay
My Cast
Event and meeting rooms
The hotel has a Business Center with computers and high speed wireless Internet, it also has 2 meeting rooms with a 46" LEDS SCREEN able to connect HDMI and VGA direct from the table, air conditioning and capacity for 8 people. It also features meeting rooms that can be adapted to host for up to 280 people in an auditorium; each room has a board, electric screen, flip charts, coffee service and personalized service. Our professional team will help with your groups and conventions.
Rooms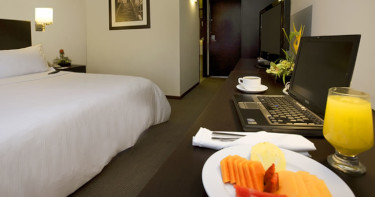 Accessible Room
The room is 30m 2 and is equipped to meet the needs of handicapped guests: 1 Queen Size bed, 32" TV, desk, telephone, a bathroom equipped with a 1 meter high handrail, hower and toilet with special safety bars.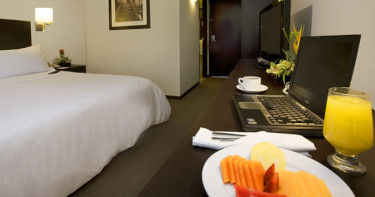 Superior Room, 1 king
The room is 30 m2 with a king-size bed, 2 bedside tables, 32" TV, reading chair and spacious work desk, telephone, bathroom with shower and toilet.

Superior Room, 2 double
Equipped with 2 double beds, 32" TV, spacious work desk, telephone, bathroom with shower and toilet.