Fiesta Inn Tijuana Otay Aeropuerto
ComPosadasCalificacionTripadvisor
Qualified:
ComPosadasTripadvisorModal
x
Location #4 of 74 hotels in Tijuana
GreenLeader Gold
Summary of qualifications
Best comments
"Average comfortable hotel near TJ airport"
Hotel is near Tijuana airport and next to a lot of shopping options making it pretty convenient. The staff were friendly. Rooms were clean, but average. The furniture and room itself seemed pretty dated. Overall a comfortable stay for one night.
"Great stay"
Easy access. Polite and friendly staff. Clean rooms. Great buffet selections. Good security. Huge secure parking lot. Room service available. Close to other places to eat. Pretty centrally located. Wonderful ambience!
"Excelente"
Excellent hotel, very clean excellent service, rooms very clean showers as well , nice location close to the airport and the border, sea food restaurant and shopping center, close to American Councel and more
"A good option"
Fiesta Inn Otay aeropuerto is a good option to stay when you visit Tijuana as I did last September 2019, for a quick stay and a solo trip, as long as the proximity to the airport is your main concern. Prices are a bit high for my taste, though.
"First and worst experience"
I had the worst experience at this hotel. For being the first time in Tijuana Mexico I felt as if they were just trying to take my money. I had reserved for 3 days and the first day for check in I had asked the receptionist if I can cancel one night since I won't be staying the 3 nights and keep in mind I told him ahead of time before even signing any papers. Well he told me I wasn't able to do that and even if I would've canceled they would still charge the same price.So me as the guest here I thought well he works here and he seemed sure of what he was saying. I called Expedia the second day in the afternoon and they told me they were going to talk to the hotel to see if they can refund me. When Expedia gave me the call back they told me the receptionist said they couldn't refund anything because I should've gone before 2 pm and then they would've been able too. I was mad because since the beginning I had let the guy know and then there telling me that it was possible if I told them ahead doesn't make sense! I don't know if they don't train there staff right or they just hire them just to. I even went down to talk to the receptionist and I told her what happened All she can say is sorry. To top it off the first morning I stood at this hotel I went down for breakfast, i had got the package with "free breakfast" at the end the women gave me the receipt and I asked her doesn't it come included and she said no. Ok so I asked her can I speak to the captain or someone who's in charge. So here comes the guy he doesn't greet he just comes loud enough that people hear him and says you can pay cash credit or however you can. He doesn't ask me what happened or anything. I felt embarrassed because he made me feel as I didn't want to pay . I had the money to pay but if it's included why would I. Then he leaves I call him later and I'm like look it comes included and that's when he says oh yeah it happens sometimes let me just take a picture of it. I just had the worst experience at this hotel. I do not recommend they need to train their employees right so they can all have the accurate information of there hotel!
Top-rated Attractions Nearby
Photos hotel and surroundings (118)
Tripadvisor_Fiesta_Inn_Tijuana_Otay_Aeropuerto
Located next to the American Consulate, 5 minutes from the bus station, providing easy access to the Tijuana Cultural Center, Parque Morelos and Parque de la Amistad Situated only 8 minutes from the airport and very close to the United States border checkpoint (Garita Otay).Fiesta Inn Tijuana Otay Aeropuerto is an Eco-friendly hotel, so it is a 100% smoke free hotel.ABC Medical Center, our protocols ally. A leader in medical best practices for more than 130 years, ABC Medical Center, dedicated to caring for their patients' health, has assisted POSADAS in the development of prevention, hygiene, and disinfection protocols that allow the group to guarantee the safety of their staff and guests.We remind you that the check-in time is from 3:00 PM. Check-out is at 12:00 PM. We suggest you use our express check-out service.
Services
Guide Dog
Gym
Smoke Free Hotel
Free Outdoor Parking
Room Service
Outdoor Pool
My Stay
My Cast
Tabachines Grill
Espacios más relajados para disfrutar de un antojo en la comida o la cena, los encontrarás en el área de albercas. Copa Grill es la continuidad de tu diversión, con una atmósfera casual, es el lugar perfecto para beber algo como un novedoso coctel y un menú con nuestros snacks, así que pide una hamburguesa o comparte con tus amigos las mejores alitas. Tabachines, bajo el mismo estilo, es un fresco refugio del cálido clima acapulqueño, aquí podrás darte un descanso y satisfacer ese antojo, con la más rica comida regional, y disfrutar la especialidad de toda la costa de Guerrero: pescado a la talla, con su delicioso marinado y adobo de chiles.
Acuario Restaurant
En la mañana o en la tarde, los sabores de la gastronomía mexicana están presentes en este restaurante y qué mejor razón para visitarlo e iniciar el día con un delicioso desayuno o pasar una gran tarde comiendo o cenando, con lo mejor de su carta y su amplia variedad de platillos de la cocina regional con ingredientes del mar y un toque internacional. Ubicado en el mezanine del hotel, es uno de los restaurantes más atractivos por su amplio espacio, grandes ventanales y una vista espectacular de la Bahía de Acapulco que podrás disfrutar desde cualquier punto.
Centro de Negocios y Salones para Eventos
Porque sabemos que Acapulco es un gran destino para celebrar, contamos con todo lo necesario para tus eventos: amplios salones, servicio de banquetes para grupos, convenciones, congresos y exposiciones de todos los tamaños, ya que contamos con instalaciones con capacidad para 700 personas. Ya sean negocios o una ocasión especial, tenemos un equipo especializado para planear, ejecutar y supervisar tus eventos corporativos, bodas frente al mar, cumpleaños, reuniones ejecutivas, etc. Nuestros paquetes incluyen cualquiera de los espacios abiertos o cerrados del hotel Gamma Copacabana Acapulco; contamos con un espacio independiente para mayor privacidad, así como con una terraza con vista a la bahía para una ocasión más íntima. Prueba nuestro menú de banquetes, coffee break, desayunos o cenas, así como distintos tipos de montaje a elegir. Contamos con distintas opciones de servicio a la carta donde podrás elegir las experiencias que quieras disfrutar en nuestro concepto de Plan Europeo. Es tiempo de disfrutar unas vacaciones memorables con el gran servicio que hace de Gamma Copacabana Acapulco un hotel inolvidable.
Bar Agave
Este lounge bar es ideal: Amplio, fresco, con un ambiente tranquilo para pasar el rato entre amigos, jugar billar y escuchar buena música; en él se capta toda la esencia de nuestro hotel y su espíritu renovado, ofreciendo un espacio de acogedor diseño, para celebrar la vida a la mexicana, con una variedad de cocteles creados con los mejores tequilas y mezcales de origen.
K'ffe Zucco
"El aroma a café recién hecho es la guía para llegar a este cómodo y tranquilo lugar, que se encuentra a un costado del lobby. Se trata de un rincón perfecto y muy acogedor, que se caracteriza por tener las mejores mezclas de granos para los amantes de esta bebida. Toma un descanso, bebe un delicioso café u otras bebidas frías y, si lo necesitas, usa las computadoras, trabaja con toda calma y tranquilidad".
Bar Margaritas, Bar Kontiki y Bar Tequila
Los escenarios más frescos y relajados, ideales para divertirse todo el día se encuentran alrededor de la alberca, el jacuzzi y, por supuesto, la playa. Vibra con estos tres oasis y lo mejor de nuestra mixología, así como todas las bebidas que más disfrutas mientras tomas el sol, te diviertes en la alberca y compartes el ambiente de la Perla del Pacífico con la mejor compañía.
Rooms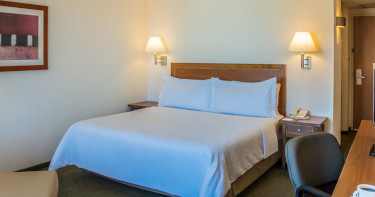 Superior Room, 1 king
The room is 30 m2 with a king-size bed, 2 bedside tables, 55" TV, reading chair and spacious work desk, telephone, bathroom with tub, shower and toilet.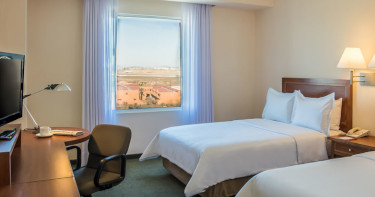 Superior Room, 2 double
Equipped with 2 double beds, 55" TV, spacious work desk, telephone, bathroom with tub, shower and toilet.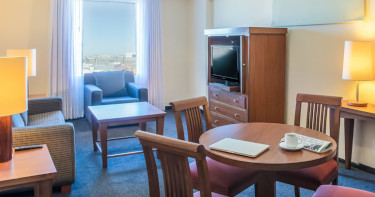 Junior Suite
A spacious, luxury room that includes a bedroom with a king-size bed, armchair with ottoman, vanity, full-length mirror, TV and work desk with a telephone, lamp and high-speed Internet connection. The living room features a small cupboard, microwave, mini bar, balcony and a beautiful panoramic view.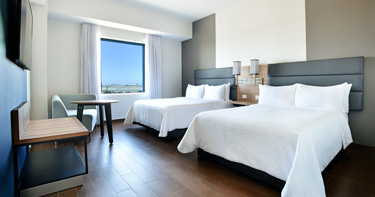 Double Plus Room
Feel free to travel with colleagues, friends, or family ¿because of its design and layout, this room is a space for hanging out, working, or resting in a practical and relaxing way. Its decoration is contemporary, with trendy, comfortable, adaptable, and ergonomic furniture that blends with the aesthetics of its colors and finishes, its great number of electric outlets, and two double beds. This creates a stimulating yet cozy atmosphere that lets you achieve whatever you desire during your trip. It has an innovative, multifunctional layout, thanks to its sliding doors and pieces system, which provides privacy all over the room, especially in the bathroom and vanity areas. These same spaces offer discreet corners for all of your belongings, as well as a service station where you can enjoy a snack or make yourself a nice cup of coffee.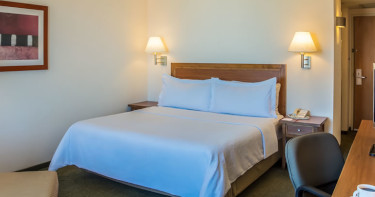 Accessible Room
The room is 30m 2 and is equipped to meet the needs of handicapped guests: 2 single beds, 55" TV, desk, telephone, a bathroom equipped with a 1 meter high handrail, tub, shower and toilet with special safety bars.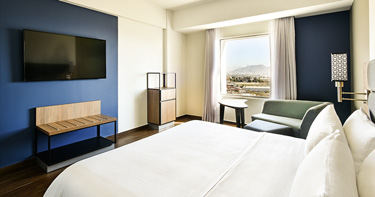 Single Plus Room
Bring balance into your life with this spacious room, carefully designed and decorated. The space features a renewed combination of styles and colors, as well as modern, ergonomic furniture, including a modular sofa, a work table, and portable accessories that you can adapt to your needs, and taste. As it is equipped with a great amount of electric outlets, it provides the comfortable, practical space you need. Through a dynamic structure built with sliding doors and pieces that allow you to modify the space ¿even visually¿, access to the bathroom, and vanity area can feel completely independent from the rest of the room, providing total privacy even as you make a cup of coffee or enjoy a snack. It is a comfortable, intuitive stay that brings safety, complete solutions, excellent attention, and services.