AdressPosadas
Fiesta Inn Tijuana Otay Aeropuerto
ComPosadasCalificacionTripadvisor
Qualified:
ComPosadasTripadvisorModal
x
Location #5 of 71 hotels in Tijuana
GreenLeader Gold
Travelers Choice 2021
Summary of qualifications
Best comments
"Average comfortable hotel near TJ airport"
Hotel is near Tijuana airport and next to a lot of shopping options making it pretty convenient. The staff were friendly. Rooms were clean, but average. The furniture and room itself seemed pretty dated. Overall a comfortable stay for one night.
"Great stay"
Easy access. Polite and friendly staff. Clean rooms. Great buffet selections. Good security. Huge secure parking lot. Room service available. Close to other places to eat. Pretty centrally located. Wonderful ambience!
"Excelente"
Excellent hotel, very clean excellent service, rooms very clean showers as well , nice location close to the airport and the border, sea food restaurant and shopping center, close to American Councel and more
"A good option"
Fiesta Inn Otay aeropuerto is a good option to stay when you visit Tijuana as I did last September 2019, for a quick stay and a solo trip, as long as the proximity to the airport is your main concern. Prices are a bit high for my taste, though.
"First and worst experience"
I had the worst experience at this hotel. For being the first time in Tijuana Mexico I felt as if they were just trying to take my money. I had reserved for 3 days and the first day for check in I had asked the receptionist if I can cancel one night since I won't be staying the 3 nights and keep in mind I told him ahead of time before even signing any papers. Well he told me I wasn't able to do that and even if I would've canceled they would still charge the same price.So me as the guest here I thought well he works here and he seemed sure of what he was saying. I called Expedia the second day in the afternoon and they told me they were going to talk to the hotel to see if they can refund me. When Expedia gave me the call back they told me the receptionist said they couldn't refund anything because I should've gone before 2 pm and then they would've been able too. I was mad because since the beginning I had let the guy know and then there telling me that it was possible if I told them ahead doesn't make sense! I don't know if they don't train there staff right or they just hire them just to. I even went down to talk to the receptionist and I told her what happened All she can say is sorry. To top it off the first morning I stood at this hotel I went down for breakfast, i had got the package with "free breakfast" at the end the women gave me the receipt and I asked her doesn't it come included and she said no. Ok so I asked her can I speak to the captain or someone who's in charge. So here comes the guy he doesn't greet he just comes loud enough that people hear him and says you can pay cash credit or however you can. He doesn't ask me what happened or anything. I felt embarrassed because he made me feel as I didn't want to pay . I had the money to pay but if it's included why would I. Then he leaves I call him later and I'm like look it comes included and that's when he says oh yeah it happens sometimes let me just take a picture of it. I just had the worst experience at this hotel. I do not recommend they need to train their employees right so they can all have the accurate information of there hotel!
Top-rated Attractions Nearby
Photos hotel and surroundings (108)
Tripadvisor_Fiesta_Inn_Tijuana_Otay_Aeropuerto
ComPosadasDesWeb
Located next to the American Consulate, 5 minutes from the bus station, providing easy access to the Tijuana Cultural Center, Parque Morelos and Parque de la Amistad Situated only 8 minutes from the airport and very close to the United States border checkpoint (Garita Otay).Fiesta Inn Tijuana Otay Aeropuerto is an Eco-friendly hotel, so it is a 100% smoke free hotel.ABC Medical Center, our protocols ally. A leader in medical best practices for more than 130 years, ABC Medical Center, dedicated to caring for their patients' health, has assisted POSADAS in the development of prevention, hygiene, and disinfection protocols that allow the group to guarantee the safety of their staff and guests.We remind you that the check-in time is from 3:00 PM. Check-out is at 12:00 PM. We suggest you use our express check-out service.
Facilities
Services
The hotel has 142 rooms, a restaurant, a lobby bar open from 12:00 p.m. to 11:00 p.m., outdoor swimming pool, tobacco shop and fitness center. Hotel services include:
Perro guía
Gimnasio
Hotel libre de humo
Estacionamiento al aire libre gratuito
Servicio al cuarto
Piscina al aire libre
My Stay
My Cast
Event and meeting rooms
The hotel has a Business Center with computers and high speed wireless Internet, it also has 2 meeting rooms with air conditioning and capacity for 6 people. It also features meeting rooms that can be adapted to host for up to 180 people in an auditorium; each room has a board, electric screen, flip charts, coffee service and personalized service. Our professional team will help with your groups and conventions.
HabitacionesMinisite
Rooms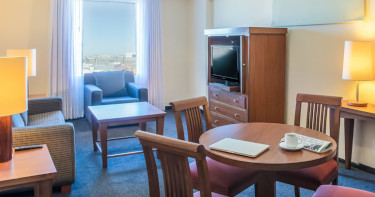 Junior Suite
A spacious, luxury room that includes a bedroom with a king-size bed, armchair with ottoman, vanity, full-length mirror, TV and work desk with a telephone, lamp and high-speed Internet connection. The living room features a small cupboard, microwave, mini bar, balcony and a beautiful panoramic view.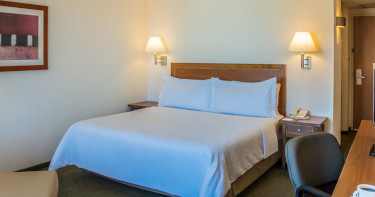 Superior Room, 1 king
The room is 30 m2 with a king-size bed, 2 bedside tables, 55" TV, reading chair and spacious work desk, telephone, bathroom with tub, shower and toilet.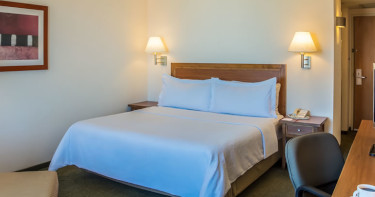 Accessible Room
The room is 30m 2 and is equipped to meet the needs of handicapped guests: 2 single beds, 55" TV, desk, telephone, a bathroom equipped with a 1 meter high handrail, tub, shower and toilet with special safety bars.