ComPosadasCalificacionTripadvisor
Qualified:
ComPosadasTripadvisorModal
x
Location #3 of 30 hotels in Toluca
Travelers Choice 2021
Summary of qualifications
Best comments
"Very comfortable stay"
We only stayed here one night so unfortunately our experience was limited as a result and we didn't get to make use of the facilities provided. Breakfast wasn't included so we decided before leaving (After checking out) we'd try somewhere nearby. There's a fantastic place across the road to the left which was delicious and very well priced. Pity we weren't staying longer as we loved to have tried there for dinner. The hotel was very clean and tidy, hand sanitizers were installed on walls and in the elevator. Check in was very swift and polite. The room itself was a little small but wasn't an issue. Our room faced to the front of the building onto the road but this also wasn't an issue at all, no noise throughout the night. The WiFi connection was decent and the tv service was good (huge tv). The bathroom was really nice and the shower was very good and hot. They have a car park under the hotel which is 50pesos a night, pretty good. It's a bit tight and small to get around and we had some difficulties being in a very long large older car. The ramps are very steep so the underneath got scraped going in and out unfortunately. Though being able to park the car there was very handy. There's also a car park across the road l, not connected to the hotel if you needed it. All in all, our short stay was good and comfortable. We didn't get to try the restaurant unfortunately so can't say if it's good value etc. But the hotel and its staff are warm and friendly.
"Excellent place to stay!"
Great hotel for the money! Very clean, very comfortable, delicious food and the nicest staff. Perfect location in downtown Toluca. Close to shopping, museums, beautiful botanical gardens, theatre and numerous downtown festivals and/or parades. Totally enjoyed my stay and plan on returning soon.
"A nice place to stay"
It's centric, good price, comfortable rooms, great breakfast. One complain: they don't change dollars but you can do that very close from the hotel (100 meters). It's not far to the Vitrales ( I think it's the most wonderful structure in the world of this kind) So, I recommend this hotel absolutely.
"Stay here..."
I was there on business trip 4 nights. Good choice to stay there in downtown Toluca. You find restaurants, bars and something for sightseeing in walking distance. The hotel got parking place. The rooms are clean and clear. The breakfast is amazing and the staff always friendly. I'll come back next trip. Greatz SFI
"Very comfortable. Minor issues"
The hotel.is nicely set, either an inner court with open corridors overlooking the lobby. Our two-bed room was spacious and clean and a coffeemaker was provided (some tea would make it even nicer). The beds are excellent and the bathroom large. The shower came apart and needed some reassembling and the sink was semi-clogged. Apart from this the experience was agreeable. Very happy to have chosen to add breakfast which was plentiful and way and above our expectations. Staff very friendly ( I have yet to encounter a surly Mexican!! Would definitely recommend.
Top-rated Attractions Nearby
Photos hotel and surroundings (57)
Tripadvisor_Fiesta_Inn_Toluca_Centro
ComPosadasDesWeb
Fiesta Inn Toluca Centro, the chain's only hotel in downtown Toluca, is proud to offer a business-class experience by providing services and tools to support you at every moment of your stay and make it as productive as possible.Work, relax, and enjoy the tourist attractions that Toluca has to offer, such as the Cosmovitral stained glass mural and botanical garden, the Los Portales arches, and Nevado de Toluca National Park, as well as other historic and cultural sights and activities.The hotel is conveniently located just two minutes away from the Historic District, state government offices, the Cathedral, and the city's most important museums. Other nearby attractions include the industrial area and La Bombonera Stadium, just 10 minutes away, and the airport and the ''Magical Town'' of Metepec, less than a half hour away.At Fiesta Inn, we take care of business travelers and do everything to ensure a successful stay.ABC Medical Center, our protocols ally. A leader in medical best practices for more than 130 years, ABC Medical Center, dedicated to caring for their patients' health, has assisted POSADAS in the development of prevention, hygiene, and disinfection protocols that allow the group to guarantee the safety of their staff and guests.Please note that check-in begins at 3pm. Check-out is at 12pm. Express check-out is recommended.
Facilities
Services
The hotel has 85 rooms, a restaurant, a lobby bar open from 2:00 p.m. until 11:00 p.m. and fitness center open from 6:00 p.m. until 11:00 p.m. Hotel services include:
Guide Dog
Gym
Smoke Free Hotel
Indoor Parking Extra Cost
Shuttle Service Extra Cost
Room Service
My Stay
My Cast
Event and meeting rooms
The hotel has a Business Center with computers and high speed wireless Internet, it also has 2 business rooms with a screen, air conditioning and capacity for 8 people. It also features meeting rooms that can be adapted to host for up to 210 people in an auditorium; each room has a flip charts, coffee service and personalized service. Our professional team will help with your groups and conventions.
HabitacionesMinisite
Rooms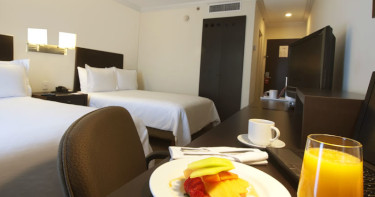 Accessible Room
The room is 30m2 and is equipped to meet the needs of handicapped guests: 2 beds, 55" TV, desk, telephone, a bathroom equipped with a 1 meter high handrail, shower and toilet with special safety bars.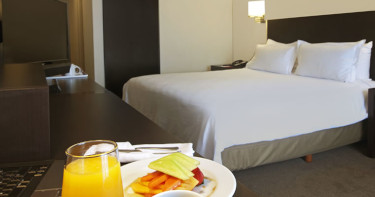 Superior Room, 1 king
The room is 30 m2 with a king-size bed, 2 bedside tables, 55" TV and spacious work desk, telephone, bathroom, shower and toilet.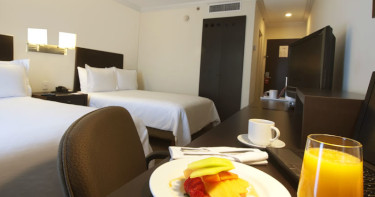 Superior Room, 2 double
Equipped with 2 double beds, 55" TV, spacious work desk, telephone, bathroom with shower and toilet.