Carousel_Fiesta_Inn_Toluca_Tollocan
AdressPosadas
Fiesta Inn Toluca Tollocan
ComPosadasCalificacionTripadvisor
Qualified:
ComPosadasTripadvisorModal
x
Fiesta Inn Toluca Tollocan
Location #4 of 30 hotels in Toluca
Summary of qualifications
Best comments
"Summerizing Fiesta Inn inToluca"
It has a beautiful hall with a large tree in the middle. The meals are fine, but spicy, as everywhere in Mexico. The staff is kind and gentle, and ready to help. You can bet the daily newspaper from the country, and the bar has large stock of many different drinks and coctails.
"Good quality/price balance"
We stayed only one night. I was looking for a Hotel in Tollocan because it was near to an event we were attending, and I choose it because of the price, which was very competitive. Staff is nice and friendly, check-in and check out were super fast. The room was clean, it would be nice to have more natural light (but, well, Toluca is very cloudy must of the year) I would definitely stayed here again. It has good location, very good quality for the price you paid, and great staff.
"Old fashioned hotel with some wear"
Very interesting building. Friendly staff. Room was not 100% clean (no carpet, sticky floor), and shower head was broken. Still pleasant conveniently located and nice breakfast choice. Business center with free printing.
"Such a great hotel in Toluca"
The service is the hotel is great!! The buffet is awesome!! Its location is perfect for either going to work (business travel) or visiting the city. If you are travelling with family, kids will enjoy the pool.
"Excellent front desk agents"
Good location, close to work and the mall. Front desk and staff are very friendly and kind. Willing to go beyond the expected to help out. Food from room service was excellent and the restaurant staff were also very helpful with good service.
Top-rated Attractions Nearby
Photos hotel and surroundings (41)
Tripadvisor_Fiesta_Inn_Toluca_Tollocan
ComPosadasDesWeb
Located in the industrial district, across from the Nestle building and a few meters from the Daimler Chrysler plant. Ideally situated just 5 minutes from the Metepec residential, business and financial area, with several routes out of the city toward Mexico City, Morelia and Queretaro. The hotel is 20 minutes from the Toluca 2000 Industrial Park and international airport, 40 minutes from Santa Fe and is located in front of the new "Galerias Toluca" mall.Fiesta Inn Toluca Tollocan is an Eco-friendly hotel, so it is a 100% smoke free hotel.ABC Medical Center, our protocols ally. A leader in medical best practices for more than 130 years, ABC Medical Center, dedicated to caring for their patients' health, has assisted POSADAS in the development of prevention, hygiene, and disinfection protocols that allow the group to guarantee the safety of their staff and guests.We remind you that the check-in time is from 3:00 PM. Check-out is at 12:00 PM. We suggest you use our express check-out service.
Facilities
Services
The hotel has 144 rooms, a restaurant, a lobby bar open from 2:00 p.m. to 12:00 a.m., indoor swimming pool, gift shop and fitness center. Hotel services include:
Guide Dog
Gym
Smoke Free Hotel
Free Outdoor Parking
Shuttle Service Extra Cost
Room Service
Indoor Pool
Digital Check-in
Event and meeting rooms
The hotel has a Business Center with computers and high speed wireless Internet, It also has 2 meeting rooms with a screen, air conditioning and capacity for 8 people. It also features meeting rooms that can be adapted to host up to 750 people in an auditorium; each room has a board, electric screen, flip charts, coffee service and personalized service. Our professional team will help with your groups and conventions.
HabitacionesMinisite
Rooms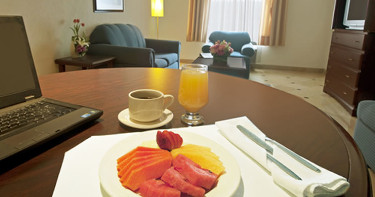 Junior Suite, 1 King
Each large suite offers two areas: a bedroom with king-size bed, bedside tables, bathroom, wardrobe and large work desk with telephone and lamp and a small, fully-equipped breakfast bar and TV lounge.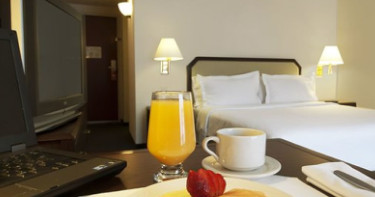 Accessible Room
The room is 30m2 and is equipped to meet the needs of handicapped guests: 2 beds, 32" TV, desk, telephone, a bathroom equipped with a 1 meter high handrail, tub, shower and toilet with special safety bars.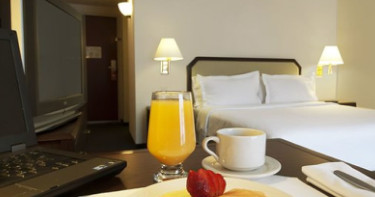 Superior Room, 1 King
The room is 25 m2 with a king-size bed, 2 bedside tables, 32" TV, reading chair and spacious work desk, telephone, bathroom with tub, shower and toilet.