Carousel Fiesta Inn Torreon Galerias
Fiesta Inn Torreón Galerías
ComPosadasCalificacionTripadvisor
Qualified:
ComPosadasTripadvisorModal
x
Fiesta Inn Torreon Galerias
Location #2 of 36 hotels in Torreon
GreenLeader Silver
Summary of qualifications
Best comments
"noisy as all hell"
THIS HOTEL FAILS IN EVERY POSSILE ASPECT ,ITS NOISY AS HELL , There is a concert venue on the other side of the highway ,its like their in your room ,regular shows till 3 am my god what a hole ,no hot water showers are cold ,doors that slam all night and the walls shake .Asked staff for change of room as you do and reply was basically go away , you get nothing for your hard earned money except the finger
"Always the same Issue"
Your room will either be very hot or very cold. They have issues with the way heating/cooling works in the building. Not worth the hassle. Van a tener problemas con el aire acondicionado en la habitación. Va a estar o muy caliente o muy frio. Tienen problemas en el edifico con la manera que funciona el clima. No vale la pena tanta incomodidad.
"Fiesta Inn Terronn Mexico"
Great Hotel, location was perfect, right next to a beautiful mall with a various of great resturants to choose from. Hotel was nice, clean and the staff was very friendly. The breakfast was good and a value for your money. The wine selection was not that great but, then again you are in Mexico and wine is not very popular like TEQULIA!!
"Best location in Torreón"
This is a good hotel for the price. It is attached to a mall that contains a movie theater, many shops as well as a decent food court. There's also a Starbucks nearby if you don't like the coffee served in the hotel restaurant. This hotel has great access to other parts of Torreón.
"Second Time Staying at Hotel"
Try and get a room in the back of the hotel, because the hotel is right on a busy road and the road noise is very loud. The hotel is attached to a mall, which is a very nice mall. There are no dedicated parking spaces to park for the hotel, so parking was a challenge each night. The hotel does validate your parking ticket one time each day, so the parking is normally free, unless you leave the hotel a lot. They have a gym with two treadmills, two bikes and some free weights. The breakfast is very good!
Top-rated Attractions Nearby
Photos hotel and surroundings (59)
Tripadvisor_Fiesta_Inn_Torreon_Galerias
Located within the Galerías Laguna shopping center, one of the largest in the city, where you can enjoy movie theaters, department stores and food courts. Situated five minutes from the airport, on the Periférico highway with immediate access to the highways to Matamoros, Saltillo, Durango and Chihuahua.Fiesta Inn Torreon Galerias is an Eco-friendly hotel, so it is a 100% smoke free hotel.ABC Medical Center, our protocols ally. A leader in medical best practices for more than 130 years, ABC Medical Center, dedicated to caring for their patients' health, has assisted POSADAS in the development of prevention, hygiene, and disinfection protocols that allow the group to guarantee the safety of their staff and guests.We remind you that the check-in time is from 3:00 PM. Check-out is at 12:00 PM. We suggest you use our express check-out service.
Services
The hotel has 146 rooms, a restaurant, a lobby bar open from 5:00 p.m. to 11:00 p.m., outdoor swimming pool, gift shop and fitness center. Hotel services include:
Gym
Smoke Free Hotel
Outdoor Parking extra Cost
Shuttle Service Extra Cost
Room Service
Outdoor Pool
My Stay
My Cast
Event and meeting rooms
The hotel has a Business Center with computers and high speed wireless Internet, it also has 2 meeting rooms with 55'' TV, air conditioning and capacity for 6 people. It also features meeting rooms that can be adapted to host for up to 200 people in an auditorium; each room has a board, electric screen, flip charts, coffee service and personalized service. Our professional team will help with your groups and conventions.
Rooms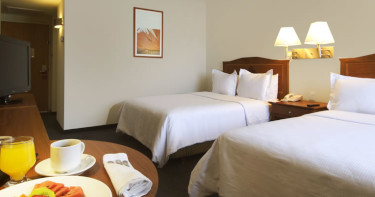 Superior Room, 2 double
Equipped with 2 double beds, 55" TV, spacious work desk, telephone, bathroom with tub, shower and toilet.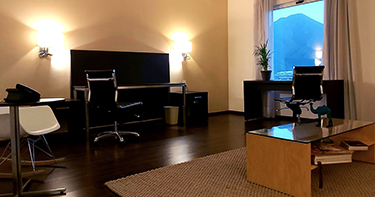 Flex Office
Thanks to the strictest safety and cleaning measures, you can relax and enjoy a pleasant atmosphere, as well as our excellent service and warm welcoming. With a room adapted for you and two more guests, you can achieve total privacy and enjoy amenities such as high-speed Wi-Fi, 55" TV, HDMI cable, private bathroom, and air conditioning. At an additional cost, you can have access to printing and copying services, meeting rooms, and room service delivered under social distancing measures. At Fiesta Inn, your rest matters, so we offer special areas, facilities, and comfortable furnishings for whenever you need a break. Relax, have a cup of coffee, and make new friends.
*This service includes work space only, not the room for the night.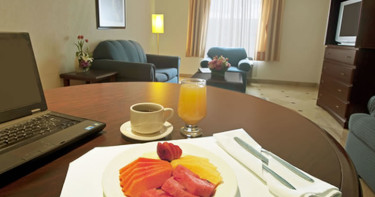 Junior Suite
Large, comfortable room with 2 areas: a bedroom with a king-size bed, 55" TV, 2 dressers and a work desk, and a living room with an area for relaxing and a fully-furnished dining area. Ideal for extended stays.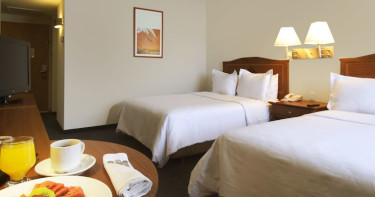 Accessible Room
The room is 30m 2 and is equipped to meet the needs of handicapped guests: 2 beds, 55" TV, desk, telephone, a bathroom equipped with a 1 meter high handrail, tub, shower and toilet with special safety bars.