AdressPosadas
Fiesta Inn Tuxtla Gutiérrez
ComPosadasCalificacionTripadvisor
Qualified:
ComPosadasTripadvisorModal
x
Fiesta Inn Tuxtla Gutierrez
Location #9 of 62 hotels in Tuxtla Gutierrez
GreenLeader Platinum
Summary of qualifications
Best comments
"A good place to relax in"
We stayed for one full day having arrived there from the overnight bus from Oaxaca. We were able to check in at 6 am and were provided with an excellent room near the top of the hotel. You are provided with one free bottle of water but there are others alongside, which are expensive! So, buy your own after you have drunk the free water. Breakfast is excellent in a bright, airy room on the ground floor. We spent our day in and around the hotel to recover from the long bus journey. The pool area is relaxing and was quiet when we were there. You can walk to a large shopping mall in around 15 minutes and there are plenty of convenience stores in the immediate locality.
"Business"
Check-in and check out at this hotel are nightmarish due to either poorly trained employees who don't know how to use the system or a poor system, or both. Took me over 30 minutes to not check-in (they could not register the Credit Card) and 15 minutes to check out with nobody at the counter but me. First night I had 2 light beers at the restaurant and they told me they were the last 2 beers in stock. Second night they were still out of light beer. I guess they replenish every week or so. Maintenance is also poor. Room door had some screws falling . As a frequent Fiesta Inn guest, this franchise is well below average.
"Find another hotel folks. High cost for moderate quality."
Hotel costs seemed high for the quality of the room. There are many options in Tuxtla, so keep looking around. Employees were great, but did not make up for the room's condition, etc. Appeared the rooms were not being maintained, no fridge, microwave, and a one coffee maker machine.
"A/C not working "
We were told A/C doesn't go below 25°C, I told them that was very hot, they replied "that's normal temperature" almost making fun of me because they are used to higher temperatures, that's not the way to treat your guests. The rooms end up being pretty hot. If you wanna rest from the hot weather of the zone, avoid this hotel, don't make my same mistake.
"Convenient Hotel"
This place is quiet, modern and with great customer service. It has free WiFi, cable tv, gym, outdoor pool, and business center. The 9th floor is the executive floor and has great clean spacious rooms, awesome comforters w great amenities. This floor offers free coffee and tea table. They also have free coffee in the room. Their restaurant is great, it offers a wide variety of delicious food. It's pricey but worth it. This hotel is so much better than the Fiesta Inn Mall because is way less complicated in parking, reservations and service in general.
Top-rated Attractions Nearby
Photos hotel and surroundings (110)
Tripadvisor_Fiesta_Inn_Tuxtla_Gutierrez
ComPosadasDesWeb
From now on, a 1% City lodging tax is effective in our hotels located in Tuxtla Gutiérrez, Chiapas. This tax is additional to the 2% State lodging tax that was already being applied.
Located in the newly developed business and hotel area, just 5 minutes from the Galerías Boulevard business park and with easy access to the area's tourist attractions, such as the San Marcos Cathedral, the Miguel Álvarez Zoo and 45 minutes from the Sumidero Canyon and Chiapa de Corzo. Situated thirty-five minutes from the airport and 10 minutes from the bus station.ABC Medical Center, our protocols ally. A leader in medical best practices for more than 130 years, ABC Medical Center, dedicated to caring for their patients' health, has assisted POSADAS in the development of prevention, hygiene, and disinfection protocols that allow the group to guarantee the safety of their staff and guests.We remind you that the check-in time is from 3:00 PM. Check-out is at 12:00 PM. We suggest you use our express check-out service.
Facilities
Services
The hotel has 120 rooms, a restaurant, a lobby bar open from 12:00 p.m. to 11:00 p.m., outdoor swimming pool and fitness center. Hotel services include:
Guide Dog
Gym
Smoke Free Hotel
Free Outdoor Parking
Room Service
Outdoor Pool
My Stay
My Cast
Event and meeting rooms
The hotel has a Business Center with computers and high speed wireless Internet, it also has 2 meeting rooms with a screen, air conditioning and capacity for 15 people. It also features 3 meeting rooms that can be adapted to host for up to 300 people in an auditorium; each room features air conditioning and board. Our professional team will help with your groups and conventions.
HabitacionesMinisite
Rooms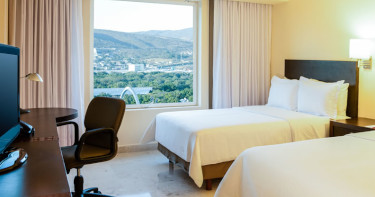 Superior Room, 2 double
Equipped with 2 double beds, 32'' TV, spacious work desk, telephone, bathroom, shower and toilet.
Junior Suite
Executive rooms with a king-size bed, work desk, individually controlled air-conditioning, telephones with data ports, cable TV, a security system and smoke detectors. Spacious bathrooms with a separate vanity unit.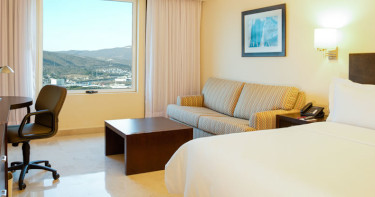 Accessible Room
The room is 27m 2 and is equipped to meet the needs of handicapped guests: 2 single beds, 32'' TV, desk, telephone, a bathroom equipped with a 1 meter high handrail, shower and toilet with special safety bars.