AdressPosadas
Fiesta Inn Veracruz Malecón
ComPosadasCalificacionTripadvisor
Qualified:
ComPosadasTripadvisorModal
x
Fiesta Inn Veracruz Malecon
Location #6 of 101 hotels in Veracruz
GreenLeader Bronze
Summary of qualifications
Best comments
"Locked in Room 404"
The friendliness, responsiveness and efforts of all the hotel staff to make your stay with the best comfort and coziness for you, so that you feel at home.Also I would like to say many thanks for support to all friends from front desk and special one to Erika.
"Fiesta Inn malecón"
Great location! Air conditioning too load and there's humidity smell, particularly on bedding. The shower had very little pressure. But the sunrise is spectacular! There is no air conditioning in general areas so that's propably why humidity has taken over!
"Marina"
What a cool hotel for those that love water and boats. Located right at the port in Veracruz free WiFi and a great restaurant. We watched container ship and cargo ships come and go along with other port boat traffic. Very relaxing would love to stay again.
"Great location, great staff. Common sense would help a little more"
Great spot near everything! Hotel is not as nice as I thought but still a great bargain. They can help you with tours and transportation as well. My only gripe was that I paid for an ocean view and they had a scaffold in front the whole time.
"nice hotel"
nice hotel , big rooms , clean floors , small service eg soap/champoo etc well provided small bottles of water (2) free of charge breakfast is nice and friendly service minus points: rooms have a humid smell , but thats normal for the klimat airco is very noisy
Top-rated Attractions Nearby
Photos hotel and surroundings (62)
Tripadvisor_Fiesta_Inn_Veracruz_Malecon
ComPosadasDesWeb
Located beside the Malecón or boardwalk, in front of the PEMEX tower and the Naval Casino, just 5 minutes from the historical center and very close to top attractions including the Aquarium, the Baluarte de Santiago military site, the Museum of Naval History and the fort of San Juan de Ulua. The hotel is 25 minutes from the airport and 15 minutes from the World Trade Center.Fiesta Inn Veracruz Malecón is an Eco-friendly hotel, so it is a 100% smoke free hotel.ABC Medical Center, our protocols ally. A leader in medical best practices for more than 130 years, ABC Medical Center, dedicated to caring for their patients' health, has assisted POSADAS in the development of prevention, hygiene, and disinfection protocols that allow the group to guarantee the safety of their staff and guests.We remind you that the check-in time is from 3:00 PM. Check-out is at 12:00 PM. We suggest you use our express check-out service.
Facilities
Services
The hotel has 92 rooms, restaurant, outdoor swimming pool, gift shop and fitness center. Hotel services include:
Guide Dog
Gym
Smoke Free Hotel
Free Indoor parking
Shuttle Service Extra Cost
Room Service
Outdoor Pool
My Stay
My Cast
Restaurant
The Fiesta Inn features a restaurant which opens from 6:00 a.m. until 11:00 p.m., an excellent choice for breakfast, lunch and dinner. Choose from our buffet or a la carte dining, Mexican appetizers and the finest regional cuisine in a setting that features warm colors, marble floors and Talavera ceramic details.
Event and meeting rooms
The hotel has a Business Center with computers and high speed wireless Internet, It also has 2 meeting rooms with a screen, air conditioning and capacity for 8 people. It also features meeting rooms that can be adapted to host up to 120 people in an auditorium; each room has a board, electric screen, flip charts, coffee service and personalized service. Our professional team will help with your groups and conventions.
HabitacionesMinisite
Rooms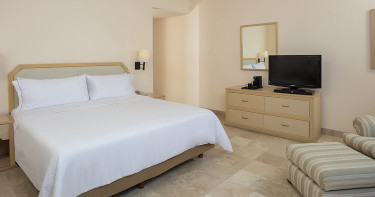 Accessible Room
The room is 30m2 and is equipped to meet the needs of handicapped guests: king-size bed, 32" LCD TV, desk, telephone, a bathroom equipped with a 1 meter high handrail, tub, shower and toilet with special safety bars.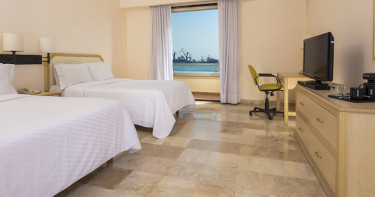 Superior Room, 2 double
Equipped with 2 double beds, 32" LCD TV, spacious work desk, telephone, bathroom with tub, shower and toilet. Available with balcony or patio, ocean or city views.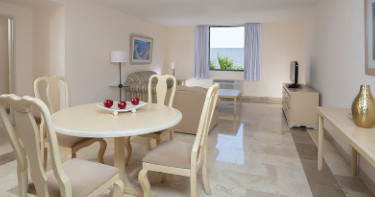 Junior Suite King
A beautiful 72 m2 suite, divided into two areas and furnished with a king-size bed, 37" LCD cable TV in the main room and a 32" TV in the living/dining area. Offers a kitchenette, mini bar, three telephones, work desk with telephone line and high-speed wireless Internet access, large dressing room and bathroom. Tastefully decorated with warm colors and marble floors. Available with balcony or patio, ocean or city views.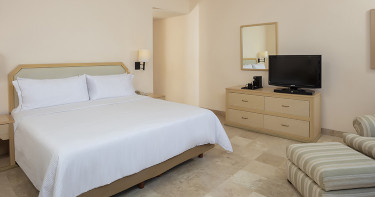 Superior Room,Ocean Front, 1 king
The room is 30 m2 with a king-size bed, 2 bedside tables, 32" LCD" TV, reading armchair and spacious work desk, telephone, bathroom with tub, shower and toilet. Available with balcony or terrace, and a spectacular ocean view.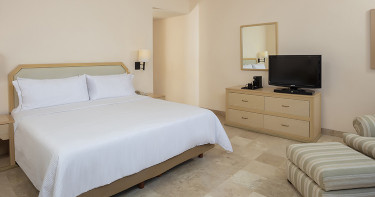 Superior Room, 1 king
The room is 30 m2 with a king-size bed, 2 bedside tables, 32" LCD TV, reading chair and spacious work desk, telephone, bathroom with tub, shower and toilet.