Fiesta Inn
Aeropuerto Ciudad de México
Fiesta Inn Aeropuerto Ciudad de México
Strategically located across from the Mexico City Airport, with shuttle service for guests during all year, this hotel is an excellent option for business travelers that need a central location and an agreeable setting. The hotel has gardens and an outdoor pool. The hotel is situated just 20 minutes from the Historic Center, the Zona Rosa neighborhood and 10 minutes from the Foro Sol stadium and the Palacio de los Deportes (sports arena). The hotel offers free airport-hotel-airport shuttle service every 30 minutes (At the number 4 door in the Terminal 1 and in front of national arrivals in Terminal 2)


Fiesta Inn Aeropuerto Ciudad de México is an Eco-friendly hotel, so it is a 100% smoke free hotel.

We remind you that the check-in time is from 3:00 PM. Check-out is at 12:00 PM. We suggest you use our express check-out service.

Services
The hotel has 327 rooms, a restaurant, a lobby bar open from 1:00 p.m. to 12:00 a.m., swimming pool and fitness center. Hotel services include:
Gym
Restaurant(s)
100% smoke free hotel
Guests access with guide dogs
Outdoor parking with cost
Shuttle service (subject to availability)
Pets are not allowed
Business center
Free Wi-Fi access
Laundry service
Bar(s)
24 hours room service
Outdoor pool
Restaurant

Restaurant
The Fiesta Inn features a restaurant which opens from 6:00 a.m. until 12:00 a.m. and is an excellent choice for breakfast, lunch and dinner. Try our breakfast, lunch or dinner buffets or order items from the menu. Different buffet styles are served Monday through Friday including Mexican, Italian and Seafood on Fridays. Open to all public.
Meeting Rooms

Event and meeting rooms
The hotel has a Business Center with computers and high speed wireless Internet, and 12 meeting rooms with a screen, air conditioning and capacity for 8 people.

It also features event rooms that can be adapted to host up to 500 people in an auditorium; each room has a board, electric screen, flip charts, coffee service and personalized service. Our professional team will help with your groups and conventions.
Qualified:
x
Fiesta Inn Aeropuerto Ciudad de Mexico
Location #71 of 367 hotels in Mexico City
GreenLeader Platinum
Certificate of Excellence 2019
Summary of qualifications
Best comments
"Glad I chose this hotel"
This was a great hotel in Mexico City. Keeping in mind it isn't as nice as some of the equivalent hotels there are in the US. The room was mostly clean, the staff was very nice and helpful and the food was delicious. In addition, the taxi drivers were also very nice and helpful.
"What a wonderful sanctuary in a busy city"
Arriving at 9pm with a group of us, we experienced true Mexican hospitality. Check in for all 10 of us was very uncomplicated. I immediately went to our room, got changed and hit the outdoor pool. Situated in a beautiful courtyard amongst lots of greenery. The small hexagon shaped pool with lovely cool water was such a treat. The dining room is expertly run by an amazing lady called Lou Lou. The buffet was expensive for Mexican standards but well worth it. Huge selection to cater to all tastes. Our room was spacious with veranda to the courtyard. Luxurious, high end sheets and two Queen sized beds made for the best sleep we had our entire stay in Mexico. Unique bathroom designer sink and huge shower. Had a lovely cold buffet for breakfast with extra special attention given to us by Lou Lou. I told her it is my friend's 82' nd birthday today. Next thing we knew we had a chocolate birthday cake and a beautiful chorus of " Happy Birthday " in Spanish sung to us. I again enjoyed my "private" pool this time in the sunshine. After a some quick rays on the chaise lounge, packed up and headed to shuttle. Well organized airport shuttles. Staff exceptional with great professionalism yet extremely personable and accommodating. Gratias amiga!
"Fiesta Inn Aeropuerto"
Great stay. Really glad I chose this hotel. No complaints at all. The staff was very friendly and efficient. The airport shuttle was extremely easy to use as long as you know to show up at Door 4. Very nice and peaceful atmosphere. Not a big high rise and very quiet at night. The king-sized bed was super.
"Airport Close with Free Transfer"
Booked though an airline flight recommendation. Freer transfer from MEX Intl Terminal 1 at exit #4. Easy check in (prepaid with the airline). Sprawling property in several 3 floor buildings. Not an outstanding room, but OK for one night. Good Wi-Fi, big TV, noisy air conditioning, safe, coffee maker, enough toy plug ins, two free water bottles, good shower, king bed OK. We experienced a quiet nights sleep. Hotel has a restaurant we used for breakfast - buffet or ala carte.
"Location good - quick overnight layover"
Stayed for an overnight layover. To get the shuttle: Found the Fiesta Inn "store/shop front" upon exiting the doors at terminal 2 which is like a little concierge desk ( in the same location as all the other shops outside, hertz car rental is right across from it.) The lady at the counter called the shuttle and we were offered complementary refreshments and snacks while we waited for it to arrive. Check in at the airport was easy. The room clean and quiet. The air conditioning in the room didn't seem to be able to cool the room past 24 degrees, even though we had it on the whole evening, but I didn't bother bringing it up with the front desk as having the fan running was good enough. Had a good sleep. Easy shuttle next morning - makes rounds to the airport. Restaurant on site is decent for dinner! Staff friendly. Wi-Fi good.
Top-rated Attractions Nearby
Museo Nacional de Antropologia
Eat Like a Local Mexico
Mexico Walking Tour
Bikes and Munchies
Sabores Mexico Food Tours
Mexico a Pie
Strawberry Tours
Journeys Beyond the Surface
Eat Mexico Culinary Tours
Casa Jacaranda
Photos hotel and surroundings (306)
Rooms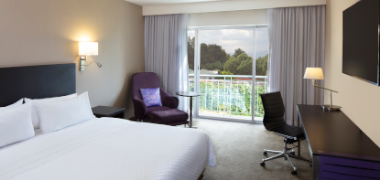 Executive Room, 1 King
Whether traveling for work or pleasure, you will feel instantly relaxed when entering these spacious rooms with minimalist design. Each room has a king bed, 32" LCD TV, two telephones, and work desk with high-speed wireless Internet. They also offer a bathroom with tub, air conditioning, security safe and ironing kit, and everything you need for an enjoyable stay, including 24-hour room service.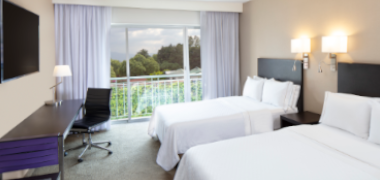 Executive Room, 2 Double
These spacious rooms feature minimalist design, making them ideal for rest and relaxation. Each room has two double beds, 32" LCD TV, two telephones, and work desk with high-speed wireless Internet. They also offer a bathroom with tub, air conditioning, security safe and ironing kit, and everything you need for an enjoyable stay, including 24-hour room service.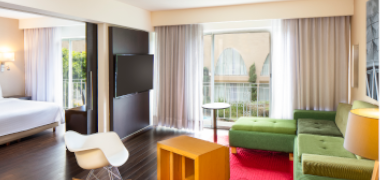 Junior Suite King
A spacious room with 2 areas: living room and bedroom; featuring 1 king-sized bed, two 32" LED screens (one in each room), 2 phone lines and a spacious desk.