Fiesta Inn
Aguascalientes
Fiesta Inn Aguascalientes
Located very close to the most important industrial area in the country, the Historic Center and the Plaza Vestir. The hotel is situated just 15 kilometers from the airport and is an excellent option for business trips or for enjoying the famous 3-week long Aguascalientes fair in April and May.

Fiesta Inn Aguascalientes is a responsible hotel, so it is a 100% smoke free hotel.


We remind you that the check-in time is from 3:00 PM. Check-out is at 12:00 PM. We suggest you use our express check-out service.
Services
The hotel has 125 rooms, restaurant, bar, outdoor pool, a range of spacious and comfortable multi-use rooms for private work sessions, meetings and other group events. Hotel Services include:
Shuttle service with cost
Gym
Restaurant(s)
100% smoke free hotel
Guests access with guide dogs
Pets are not allowed
Free Wi-Fi access
Business center
Laundry service
Bar(s)
24 hours room service
Outdoor pool
Outdoor parking
Restaurant

Restaurant
The Fiesta Inn features a restaurant which opens from 6:00 a.m. until 11:00 p.m. and is an excellent choice for breakfast, lunch and dinner. It features a choice of buffet or menu service; it also accepts reservations for large parties. Open to all public.
Meeting Rooms

Event and meeting rooms
The hotel has a Business Center with computers and high speed wireless Internet, and 2 meeting rooms with a screen, air conditioning and capacity for 8 people.
It also features 4 event rooms that can be adapted to host up to 100 people in an auditorium; each room has a board, electric screen, flip charts, coffee service and personalized service. Our professional team will help with your groups and conventions.
x
Fiesta Inn Aguascalientes
Location #7 of 55 hotels in Aguascalientes
GreenLeader Gold
Certificate of Excellence 2019
Summary of qualifications
Best comments
"Friendly and helpful staff"
The first evening were I placed in a smokers room (due to lack of non-smoking rooms). When I asked the following morning, I were able to swap the room a few hours later when I was back from my day at work. It was super that they let me keep my stuff in my original room during the day. I would say that the hotel itself has a high standard and the breakfast was good, but maybe a little bit pricey. What was good - Standard of the room - Rate What was average - Assortment of dishes for breakfast - Knowledge of English What was bad - Somewhat pricey breakfast
"lobby employee with an attitued"
A cab for 5 am booked for 4.30 am, despite reconfirmation of my 5 am departure, not a 4.30 am departure. Get a call from the lobby (Cristynne, if I remember her name well) at 4.38 am. Pick up the phone while showering. She tells me my cab waits outside the lobby. I tell her I will be right there asap, despite the fact that my cab request was for 5 am. I rush out of the shower, get dressed and leave the room, showing up at the lobby at 4.42 am. The cab was already gone! I inquired this woman as to why, upon hanging up with me, she had not walked 10 feet in the lobby area, to tell the cab to wait a few minutes further! With a frown and an attitude, she calls the cab company and, at about 5am, the cab shows up again by the motor lobby and I get onboard it. The 4.45 am heartburn ruined my day, thanks to this woman´s attitude. The hotel company must find a way to ensure its employees facing Clients, substantially improve their customer service attitudes and their customer service performance, geared for results (such as ensuring the cab waits there until the Client shows). The cab, by the way, was organized by the hotel. So, in my invoice, I noticed that the hotel makes a (hefty) mark-up on my taxi ride fee. Not a nice experience for a business person. Ricardo Zamora
"Nice large hotel, good location."
Very nice property, large rooms, excellent in-room wifi. I was traveling alone and just wanted a comfortable bed for the night. Will probably stay at a less expensive place next time since I do not need all the ammenities traveling alone. I would defenitely recommend the Fiesta Inn if I were not traveling alone and had more time to spend in Aguascalientes.
"Fiesta Inn Aguascalientes (Mohamed Ali)"
Very good hotel Great option to stay at, the facilities, personel treatment, meals, location, business center, everything was good at the hotel, this is the first time I stay on this one I have stayed in other one and they still keeping the same quiality.
"Overall comment"
There was a feeling of cleanliness. The facilities in the room were fulfilling. The breakfast was delicious. The staff was kind. He taught me about the surrounding shops. It also corresponded to Japanese.
Top-rated Attractions Nearby
Templo de San Antonio
Catedral Basilica de Nuestra Senora de la Asuncion
Jardin de San Marcos
Plaza Patria y Exedra
Parque Tres Centurias
Museo Posada
National Museum of Death
Enigma Rooms
Palacio de Gobierno
Isla San Marcos
Photos hotel and surroundings (116)
Qualified:
Rooms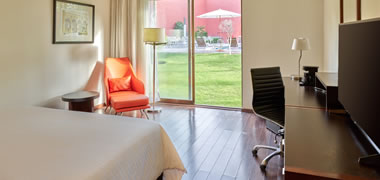 Superior Room, 1 king
The room is 30 m2 with a king-size bed, 2 bedside tables, 29" TV, reading chair and spacious work desk, telephone, bathroom with tub, shower and toilet. With a view of the city, except on the 1st floor.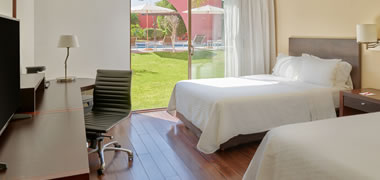 Superior Room, 2 double
Equipped with 2 double beds, 29" TV, spacious work desk, telephone, bathroom with tub, shower and toilet. With a view of the city.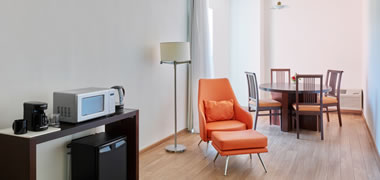 Junior Suite
Room with 1 king-size bed, living room, dining area and dressing room. An ideal place to rest and recharge after a day of activities.