Fiesta Inn
Cancún las Américas
Fiesta Inn Cancún las Américas
Fiesta Inn continues to evolve and transform as a leader in Business Class hotels with the Fiesta Inn Cancún Las Américas. The hotel is designed to let visitors pass their time as they wish, with spaces that are functional and welcoming, so guests can work independently or socialize in groups. Today, the Fiesta Inn is more than just a hotel. It's a community of travelers all working to get ahead.
The hotel is located at Avenida Bonampak in Cancun downtown, inside the most important shopping mall of the city, where you have access to the main attractions of this magnificent destination. Just 15 minutes from the airport.
Our 187 rooms offers an exclusive design, created for a productive and comfortable stay, equipped with what is necessary for the business traveler, such as work desk, reading chair, high-speed wireless internet, among other amenities designed to make your rest also perfect.
Amazing views to the Nichupte lagoon and from our pool views to the Caribbean sea.
Fiesta Inn Cancún Las Américas is an Eco-friendly hotel, so it is a 100% smoke free hotel.

We remind you that the check-in time is from 3:00 PM. Check-out is at 12:00 PM. We suggest you use our express check-out service.
Services
Fiesta Inn Cancún Las Américas has 187 rooms, restaurant, bar, a range of spacious and comfortable multi-use rooms for private work sessions, meetings and other group events. Other facilities include Lounge 360°, fitness center and outdoor swimming pool with lap lanes. Hotel services include:
Handicapped access
Gym
Restaurant(s)
100% smoke free hotel
Guests access with guide dogs
Pets are not allowed
Indoor parking with cost
Free Wi-Fi access
Business center
Laundry service
Bar(s)
24 hours room service
Outdoor pool
Restaurant

La Isla
The Fiesta Inn features La Isla, the perfect spot to relax and grab a bite to eat from 6am to 11pm. It offers a breakfast buffett, restaurant, grab-and-go refreshments and even room service. There's also a self-service bar with domestic and imported drinks.
Meeting Rooms

Event and meeting rooms
The B-on Business Center offers computer workstations with high-speed wireless Internet access and three meeting rooms, with projection screen and air conditioning, accommodating up to 12 guests.

There are also four meeting and event rooms accommodating up to 300 people with auditorium seating. Each room has whiteboard, video screen, flipchart and other amenities. The professional staff can assist with coffee breaks and other services.


Qualified:
x
Fiesta Inn Cancun Las Americas
Location #63 of 180 hotels in Cancun
GreenLeader Gold
Summary of qualifications
Best comments
"OK Basic Hotel"
This hotel is located in a commercial building near the Plaza Las Americas in the central Cancun area. The front desk personnel were very friendly but there were a lot of unexpected guests trying to check in all at the same time because of an airline flight cancellation. The room was tiny and the bath was very small.
"Great hotel in a prime location!!!"
Hotel is located at Plaza Las Americas (largest mall in Cancun.) Shopping, cafes, movie theatre, restaurants, buses, taxis, and tour shuttles are all located downstairs. It's located close enough to downtown (completely safe) where you can find parks, local markets, and places to get yummy tacos! The rooftop pool and gym is beautiful! Definitely going to visit and stay here again.
"Functional hotel"
High rise hotel with great views.Spacious room.Lobby is not on ground floor so you have to take a lift up.Location is downtown not beach .Cancun is beach,hotels and malls and upside of downtown location is that this hotel sits in one of the biggest.It's an absolutely vast mall so I didn't even bother to eat at hotel.Staff pleasant.
"Thank You"
Myself and my family were placed here during a flight cancellation on April 14th. We were told at the airport that we would be accommodated in 5 star luxury resorts but ended up here at the Fiesta Inn. No, it absolutely does not meet up to 5* standards, not even 2* but that is not their fault. The hotel itself is in downtown Cancun so yes it is extremely loud from the club atmosphere outside. The staff were completely overwhelmed with 100 people coming in around midnight but they handled it the best they could. We were given a room with two single beds and we kindly asked for an extra cot because we are 3 adults. They brought the cot in under 15 minutes which was great. The restaurant was essentially empty for breakfast but I ended up finding cereal which was fine. Honestly at this point of my trip I was tired of buffet food anyway so this was fine. The staff were really trying their best to help all of the Air Canada guests because I'm almost certain they've never seen a higher occupancy before. Overall, thank you for everything you did because it was better than sleeping on the floor at the airport.
"Nothing Remotely Like Fiesta Americana (thanks a lot Air Canada .. NOT!)"
When Air Canada cancelled our flight back to Toronto from Cancun April 14, 2018, the passengers were told they'd be put up in a 5-star, all-inclusive hotel overnight - either Moon Palace, Fiesta Americana, or Sido, Instead, we were driven to the Fiesta Inn - in downtown Cancun, no beach in sight by a long shot. It's a 3-star (at BEST), and pretty much appropriate for people on a shoestring budget wanting nothing more than a room with a bed. Hallways look like prison dormitories, lobby is so depressing we figured we would have had better accommodation sleeping on chairs at the airport. Nothing remotely resembling the 5-star we were duped into believing we were being sent to, and a disgrace on Air Canada's part for allowing this to happen. Shame on Air Canada. But hey, they are practically a monopoly in Canada, and we all know what happens to customers when monopolies are running the show. VERY disappointing. All that said, the staff were pleasant. Not their fault the place was low-end.
Top-rated Attractions Nearby
Photos hotel and surroundings (125)
Rooms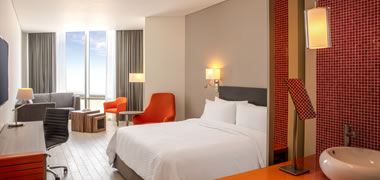 Superior Room, 1 king
There are 64 rooms with King bed, work desk, closet, telephone, coffeemaker, wireless Internet, full bathroom, air-conditioning and flat-screen cable TV.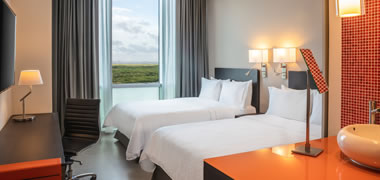 Superior Room, 2 double
The hotel offers 105 rooms with double bed, work desk, closet, telephone, coffeemaker, wireless Internet, full bathroom, air-conditioning and flat-screen cable TV.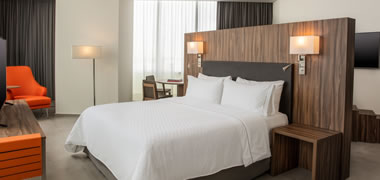 Junior Suite
For a more spacious experience, there are 17 Junior Suites with king bed, work desk, closet, telephone, coffeemaker, wireless internet, full bathroom, air conditioning, cable TV with LCD screen and alarm clock with ipod docking station, additionally feature a living room.
Junior Suite, Lagoon View, 1 King
These spacious and modern suites are the perfect home base for a successful trip. Each suite features a king bed, work desk, closet, telephone, coffeemaker, wireless Internet, full bathroom, ironing kit, hairdryer, air conditioning, LCD cable TV, and personal amenities. Each of these rooms also has a sitting room, dining room and views of the city and tropical lagoon.