Strategically located in Circuito Pronaf, an area of the city with the most business activity and many entertainment options nearby. The hotel is situated just minutes from few kilometers from the Texas border with El Paso and just 20 minutes from the Abraham Gonzalez International Airport.

Fiesta Inn Ciudad Juárez is an Eco-friendly hotel, so it is a 100% smoke free hotel.

We remind you that the check-in time is from 3:00 PM. Check-out is at 12:00 PM. We suggest you use our express check-out service.

Services
The hotel has 166 rooms, a restaurant, a lobby bar open from 1:00 p.m. to 11:00 p.m., indoor swimming pool and fitness center. Hotel services include:
Handicapped access
Gym
Restaurant(s)
100% smoke free hotel
Stores onsite/nearby
Guests access with guide dogs
Shuttle service (subject to availability)
Pets are not allowed
Indoor parking
Free Wi-Fi access
Business center
Indoor pool
Laundry service
Bar(s)
24 hours room service
Restaurant

Restaurant
The Fiesta Inn features a restaurant which opens from 6:00 a.m. until 11:00 p.m. and is an excellent choice for breakfast, lunch and dinner. Enjoy a comfortable setting with buffet or menu service featuring regional dishes and international cuisine. Open to all public.
Meeting Rooms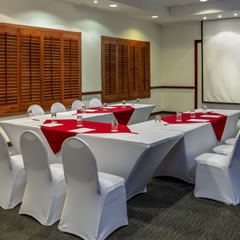 Event and meeting rooms
The hotel has a Business Center with computers and high speed wireless Internet, and 2 meeting rooms with a screen, air conditioning and capacity for 8 people.
It also features event rooms that can be adapted to host up to 400 people in an auditorium; each room has a board, electric screen, flip charts, coffee service and personalized service. Our professional team will help with your groups and conventions.
Qualified:
x
Location #4 of 37 hotels in Ciudad Juarez
Summary of qualifications
Best comments
"Marrufo Trip"
We always stay at the Fiesta Inn, it's close to the places we like to visit. Everyone is very friendly and helpful. The place is clean and housekeeping does an excellent job. The gentlemen who help with the luggage are very nice and very helpful. Will stay again, I always get a really good deal on rooms.
"Family vist"
The Inn was very clean, pleasant place to stay while I visited family in Juarez. It was close to where I needed to be. The staff was friendly and very helpful. The Inn provided secure under ground parking for my car. Very easy to find and get to coming over from the U.S
"Very good staff. The food is not good. The pool with low temperature. Good location."
We received good attention from the staff, particularly at the reception where Yesica Pérez, Raquel, Néstor, Daniel and Alejandra were always solicitous to attend to our needs as hotel guests. The only bad thing was the food for lunch and dinner: very poor preparation. However the staff that attended us daily at breakfast and sometimes at lunch and dinner, was very efficient and friendly. Their names: Miguel, Gerardo e Iván.
"Friendly but lacking comfort."
Apparently a formerly luxurious hotel fallen into some disrepair. No heat in common areas, broken room heaters. Very little English spoken, though staff made every effort to communicate. Wonderful breakfast buffet.
"WORST HOTEL OF FIESTA AMERICANA BRAND!!!! STAY OUT OF THIS PLACE!!"
Being a Fiesta Rewards Black Member and having several years enjoying the Fiesta Americana Hotels, I don't understand WHY this hotel Fiesta Inn is in such a BAD CONDITIONS!!. After staying several weeks and calling corporate number to report and no answer to these PROBLEMS: 1.- They took my stuff out of my room, WITHOUT CALLING ME, normally they were calling me to check if I would extend my stay. this time. NO PHONE CALL. 2.- They did not know where my stuff was. 3.- AND THE WORST, They gave me another key to go to my room!!!! Knowing the room was already occupied!!! That day, in the morning, there were 2 bodyguards by the elevator and 1 bodyguard at the lobby. CAN YOU imagine If that important person was the one in my suite!!!??? 4.- I had to ask every other day to replace my keys because of lack of programming. 5.- Restaurant food is awful 6.- Very low water pressure on the last floor 7.- When I asked the General Manager, WHAT She will do to correct these problems, ANSWER is just an apology!!!!. WHAT A POOR WAY FROM FIESTA AMERICANA TO ANALYZE AND CORRECT A POTENTIAL CRITICAL SITUATION !!!!
Top-rated Attractions Nearby
La Rodadora
Museo de la Revolucion en La Frontera
Monumento a la Mexicaneidad
Catedral de Nuestra Senora de Guadalupe
Parque El Chamizal
Las Misiones Mall
World Famous Kentucky Club
Museo de Arqueologia El Chamizal
Casa de Adobe
Parque Central
Photos hotel and surroundings (46)
Rooms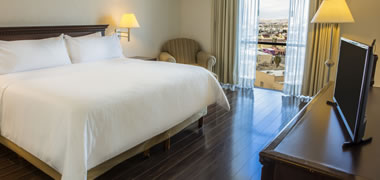 Superior Room, 1 king
The room is 30 m2 with a king-size bed, 2 bedside tables, 32'' TV, reading chair and spacious work desk, telephone, bathroom with tub, shower and toilet. With a view of the city, except on the 1st floor.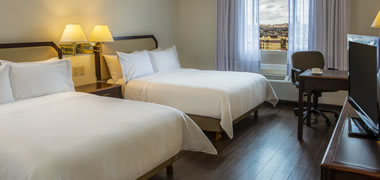 Superior Room, 2 double
Equipped with 2 double beds, 32'' TV, spacious work desk, telephone, bathroom with tub, shower and toilet. With a view of the city.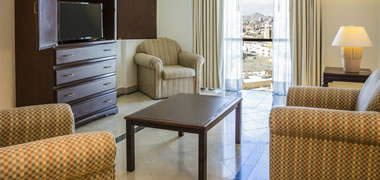 Junior Suite
A spacious bedroom and living room, both with 32'' TV. It features a king-size bed in the carpeted bedroom and marble flooring in the living room. The living room also offers a kitchenette, refrigerator and microwave, courtesy coffee maker, ottoman chair and sofa bed.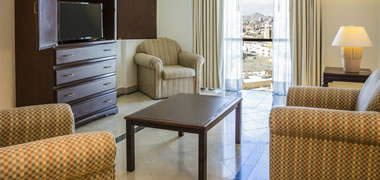 Deluxe Room, 1 king
A comfortable and spacious room, fully carpeted and with a king-size bed, work desk, 32'' TV, courtesy coffee maker and a receiving room or small living area.