Fiesta Inn continues to evolve, transform, and innovate its Business Class hotel concept. With a fresh, modern image and new facilities, Fiesta Inn Cuautitlán is the perfect example of business accommodations done right. Designed to encourage creativity and productivity, the hotel's spaces are functional yet friendly, allowing guests to be connected while remaining independent. Today's Fiesta Inn is more than simply a hotel; it is a community of professionals who thrive on success.
Located in the city of Cuautitlán Izcalli, in the northern region of the State of Mexico, the hotel is just 5 minutes from the most important shopping centers and industrial complexes in the area, such as O'Donnell, Tres Ríos, El Convento, La Luz, El Trébol and Cuamatla. It is strategically located to give you access to an endless number of options for business or recreational activities.
The hotel has 128 comfortable guest rooms and is also home to the Lounge 360°, where guests will find the B-On Business Center and the La Isla restaurant. Amenities include 24-hour room service, high-speed Internet access, swimming pool, fitness center, and event rooms.
Please note that check-in begins at 3pm, subject to availability. Check-out is at 1pm. Express check-out is recommended.
Services
The hotel has 128 rooms, a restaurant, a lobby bar open from 12:00 p.m. to 11:00 p.m., indoor swimming pool and fitness center. Hotel services include:
Shuttle service with cost
Handicapped access
Gym
Restaurant(s)
100% smoke free hotel
Stores onsite/nearby
Guests access with guide dogs
Pets are not allowed
Free Wi-Fi access
Business center
Indoor pool
Laundry service
Bar(s)
24 hours room service
Outdoor parking
Restaurant

Restaurant
Fiesta Inn Cuautitlán brings you the freedom and service of La Isla, a 24-hour restaurant that lets you choose what you want and when you want it. Offerings include a breakfast buffet, restaurant, grab and go, room service, or special items to take a break and relax.
The restaurant also offers buffet-style or a la carte breakfast options with a distinctly Mexican flavor. For lunch, guests can experience deliciously prepared cuts of meat and other tasty dishes inspired by the regional cuisine. On the dinner menu, guests will find a wide variety of antojitos, which are like typical Mexican appetizers, as well as other enticing entrees. La Isla makes it possible for guests to eat at any time of day while being surrounded by the sights and sounds of authentic Mexican culture. Open to all public
Meeting Rooms

Event and meeting rooms
Work is more enjoyable with our B-On Business Center, which is equipped with Internet access, computers, fax machine, copy machine, scanner, and black-and-white and color printer. Secretary services are also available. The business center has 5 meeting rooms that accommodate 6 people each and are perfect for hosting work-related meetings.
Qualified:
x
Location #1 of 4 hotels in Cuautitlan Izcalli
GreenLeader Silver
Certificate of Excellence 2018
Summary of qualifications
Best comments
"Nice stay"
I enjoyed breakfast and dinner every day. It is delicious and the people are very friendly and attentive.Room is very quiet and the rest is comfortable. Every day I have 2 bottles of water free and the wifi it worked fast and without problems.
"Comfortable Hotel Stay"
I had some business in the near by Industrial Area and by business associates recommended this Hotel to stay and it did not disappoint me a bit. I stayed at the Hotel for 7 nights and it was very comfortable stay. The Hotel location for nearby so daily conveying was also comfortable. The rooms are very spacious and clean. Amenities as also wifi were okay. Staff was very polite, cordial and eager to help. Restaurant staff was very nice and served with smile. Majority of the time I had breakfast and dinner at the Hotel only and they were very helpful in preparing dishes for dinner as I am vegetarian. Nearby as such lot of places are there were you can shop as also eat. Overall I was a pleasant stay and will surely stay in the same Hotel in case I have work nearby.
"Business in fiesta inn"
Very nice welcome from staff, People in restuarant very friendly. Rooms are good, not excellent but good. Staff freindly variates but overall good. I stay there for business and will be back in the future
"Good and safe hotel in Cuautitlan"
I was in Tepoztlan near Mexico City for business trip, my Mexican colleagues nominated this hotel for. The hotel was near to our plant, so the delay transfar was very quick. In general the hotel is located in a a Shopping park, with some restaurants around, also with 5-7 min walk distance there is a cinema with English filmes and premium seats (For about 5 USD) The staff are very helpful, and will try every thing to help you. The restaurant have buffet days, the Mexican day was the best. Over all this hotel is a very good compering to the value. If you look for a hotel in that area this one is a very good choice.
"Ordinary hotel, great staff"
This appears a fairly modern hotel roughly equivalent to a Holiday Inn. It's clean and bright but perhaps a little austere. The lobby is spacious but doesn't have much seating or any places to work. My room was a generous size and very clean but felt a little spartan. The lighting was okay. I couldn't find any English language channels on the TV but the WiFi was mostly pretty good. (It seemed to slow to a halt at times in the evening.) The bathroom was also clean although a little beat up around the edges. Two bottles of water are placed in the bathroom every day. The small one is complimentary, the larger one you pay $MX68 for. I suspect the freebie is for those who don't want to drink the tap water. There's a restaurant and bar on the ground/first floor. I found them too brightly lit to be places you'd linger in, but they functioned just fine. I had breakfast and dinner in the hotel most evenings and the food was okay. For me this hotel's strength is the staff. Without exception, everyone I interacted with was very polite yet also very friendly, helpful and never without a smile. They also switched into English quickly when the realized they were dealing with a non-Spanish speaker. (A little Spanglish is my limit.) When asked for restaurant recommendations the front desk staff came up with a number of ideas. (I only tried one but it was very good.) As for location, the hotel is in a strip mall, albeit one where entry and exit is somewhat controlled. It seemed pretty safe as best I could tell. There's a Walmart, a Starbucks and a Carls Jr burger joint within a few yards of the hotel. If you want to go further afield, ask the hotel for a cab. If you're getting a cab to/from the airport allow at least 90 minutes for the trip as traffic can be pretty bad.
Top-rated Attractions Nearby
Pocket's Billiards & Fun
Plaza Estado De Mexico
Parque de las Esculturas
Rockets
Dvar Club
Bol Perinorte
Perimagico
Photos hotel and surroundings (56)
Rooms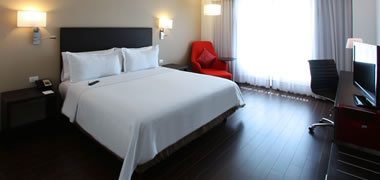 Superior Room, 1 king
Whether you are seeking rest and relaxation or a place to be productive, this inviting and comfortable suite has everything you need for a great stay. The suite is equipped with a closet, coffeemaker and laminated plank floor. Also included two end tables with minimalist-style lamps, 32'' TV, telephone and luxury accessories.
Superior Room, 2 double
This spacious room, subtly decorated with warm colors and laminate flooring, is the perfect place to work or relax away from home. It includes two double beds, a 32'' LCD TV, desk, wireless phone, high-speed Internet access and bathroom with tub. Also includes beverage service (bottled water, coffee).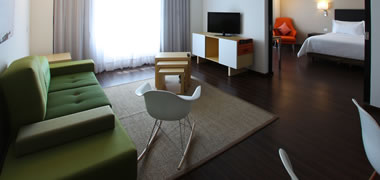 Junior Suite King
Experience your stay exactly how you imagined it with the freedom of this spacious room that features two parts: a bedroom with a king-size bed and a living room with a 4-person dining table, microwave and refrigerator. This room has a wireless phone, an executive work desk, 2 TVs, and a sofa.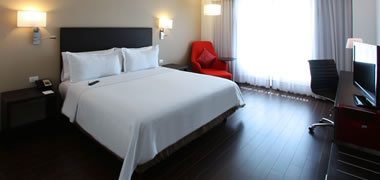 Accessible Room
This room is outfitted with safety rails, shower bars, an elevated toilet with grab bars, and a wide entry door, providing you with everything you require to meet your special needs. The room also includes two double beds, chest of drawers, two bedside lamps, 32'' TV, and a spacious work desk that includes a telephone and lamp.