Fiesta Inn
Guadalajara Aeropuerto
Fiesta Inn Guadalajara Aeropuerto
Creado especialmente para viajeros de negocio, Fiesta Inn Guadalajara Aeropuerto abre sus puertas y da la bienvenida a quienes buscan estadías placenteras, instalaciones funcionales y un ambiente tranquilo donde es posible trabajar y descansar cómodamente.
Aquí, la tecnología, los servicios integrales y la atención cálida permiten que cumplas tus objetivos y goces alcanzando el éxito, lo que convierte a Fiesta Inn en el mejor aliado para disfrutar los viajes de negocio.
Ubicado en Antigua carretera a Chapala 6502, dentro del Centro Comercial Montenegro, en Tlaquepaque, Jalisco, es ideal para viajes de negocio y de placer, ya que está a un costado del Parque Industrial Guadalajara, tiene fácil acceso a la zona industrial de El Salto, se encuentra a 5 minutos del aeropuerto internacional Miguel Hidalgo y está cerca de la vía rápida hacia el centro de Guadalajara, donde se pueden visitar lugares como el Hospicio Cabañas, Plaza de Armas y el Centro Comercial Plaza Forum.
Otras atracciones que puedes visitar, son las fábricas de artesanías de Tlaquepaque y Tonalá, el Estadio Jalisco, la Arena VFG, museo de cera, Catedral del Guadalajara y lago de Chapala.
Services
The hotel has 117 rooms, wireless Internet access, a meeting room and fitness center.
Indoor parking
Handicapped access
Free Wi-Fi access
Business center
Gym
Restaurant(s)
100% smoke free hotel
Guests access with guide dogs
24 hours room service
Pets are not allowed
Bar(s)
Meeting Rooms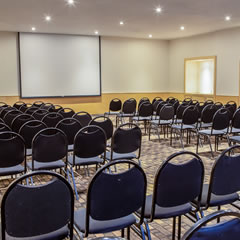 Meeting and Event Rooms
For your convenience, Fiesta Inn Guadalajara Aeropuerto has a ''B-On'' space, an open and modern area that provides access to computers, office services, and high-speed Wi-Fi.
If what you need is ample space for your work meetings, we have two meeting rooms that can be converted to one to accommodate from 15 to 200 people, depending on the set-up. They are equipped with an electric screen, coffee break service, and personalized attention by a team of experts.
For events or celebrations, the banquet service is offered in two rooms with a maximum capacity of 120 people in a banquet-type set-up.
Live the Business Class experience at Fiesta Inn Guadalajara Aeropuerto, and enjoy each space, such as the fitness center or pool, designed to ensure a comfortable trip.
Rooms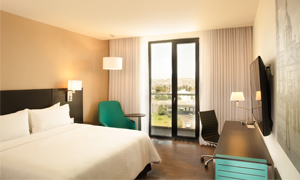 Superior Room, 1 King
Equipped with a king-size bed, this room offers you all the comforts you need to work and rest without interruptions or complications. Every moment in this space offers restorative energy, ensuring an unparalleled travel experience.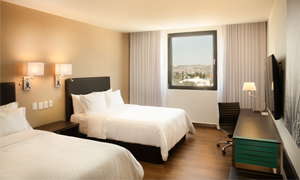 Superior Room, 2 Double
The perfect room to recharge before starting the day or after a long day at work. With two double beds, it¿s the ideal space to share and meet your goals in a functional and comfortable setting.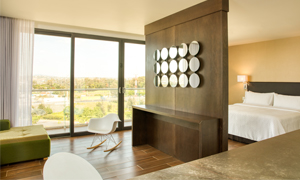 Junior Suite
Equipped with a king-size bed and everything you need to finish up pending tasks, or just disconnect, clear your mind, and rest, this spacious room is just what you deserve after a long day¿s work.