Fiesta Inn continues to evolve, transform and innovate its Business Class hotel concept. With a fresh, modern image and new facilities, Fiesta Inn Los Mochis is the perfect example of business accommodations done right. Designed to encourage creativity and productivity, the hotel's spaces are functional yet friendly, allowing guests to be connected while remaining independent. Today's Fiesta Inn is more than simply a hotel; it is a community of professionals who thrive on success.
The hotel is located on the corner of Antonio Rosales Boulevard and Centenario Boulevard, in the Paseo Mochis shopping center in the city's downtown area.
In addition to its 125 guest rooms, the hotel is home to the 360° Lounge, where guests will find the B-On business center, La Isla restaurant, convenience store and self-service area. Amenities include 24-hour room service, high-speed wireless Internet, dry cleaning service, covered parking, and access for guests with service dogs.
Please note that check-in begins at 3pm. Check-out is at 1pm. Express check-out is recommended.
Services
In addition to its 125 guest rooms, the hotel is home to the 360° Lounge, where guests will find the B-On business center, La Isla restaurant, convenience store and self-service area.
Hotel services include:
Handicapped access
Gym
Restaurant(s)
100% smoke free hotel
Guests access with guide dogs
Outdoor parking with cost
Pets are not allowed
Indoor parking with cost
Free Wi-Fi access
Business center
Laundry service
Bar(s)
24 hours room service
Outdoor pool
Restaurant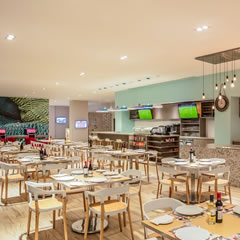 Restaurant
Fiesta Inn Los Mochis has something for every palate at La Isla, a 24-hour restaurant concept that lets you choose what you want and when. Offerings include a breakfast buffet, restaurant, grab-and-go, room service, or special items to take a break and relax.
Try out our breakfast buffet or order off the menu at lunch or dinner, where you can choose from a variety of healthy yet practical options: salads, pastas, sandwiches, fish and more. Enjoy your meal in a modern ambience decorated in bright and fresh colors for a pleasant dining experience.
Meeting Rooms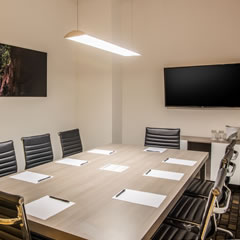 Meeting Rooms
Executive Services Overview
Guests are guaranteed to find a comfortable, modern working area in the B-On business center, located in the 360° Lounge, which offers computers and office services along with fast, reliable Internet access for staying connected to the business world. Private meeting rooms are available for guests who need to host videoconferences, conference calls, or presentations.
Meeting Room Overview
Fiesta Inn Los Mochis is the perfect venue for a meeting or event. It has three rooms equipped with high-speed Internet, white-boards, projector and screen, audio system, flip charts, and coffee break service.
Combined with the personalized service offered by our trained staff, we have everything you need for a successful and productive event.
Qualified:
x
Location #1 of 21 hotels in Los Mochis
Certificate of Excellence 2019
Summary of qualifications
Best comments
"Excellent Value and Enjoyable Stay"
The Hotel and Restaurant Staff were very friendly, helpful and professional. The restaurant offered a reasonably diverse, very tasty and healthy selection of food. The rooms are clean and spacious. The Front Desk was very accommodating of my limited Spanish.
"Pleasant room in good location"
All was well except for the room attendant who does not seem to understand that 2 people in the room need one coffee pouch EACH. This happened every day. The same with the face cloths. We had to ask, then they would bring ONE. One day. They left us with NO towels. This is a minor annoyance, since everything else was fine.
"The best hotel in town"
I had a very good time in this hotel, the attention was very god and nice, i recomended this!Overall the deal was very friendly and the rest also, the buffet service is very complete and very rich, there is a lot of variety and changes every day
"Best in town"
Honestly is the best hotel you can stay in town, but there aren't many good options in this small town. The staff is very helpful, they will check you in and out very quickly and really are there to help. Rooms are good, little weird to have the vanity outside the bathroom but they have everything you need there (except for a fridge), they even serve Starbucks at the bar! Only hope will be the bar prices to be a little bit more fair.
"Good for price, with minor details"
Good hotel, very good service, nice structure (pool and gym), good restaurant. Rooms could be less noisy (you can hear whatever is happening in the rooms next door and above), vanity sink should be inside and not outside the bathroom, there should be an option daily rate with breakfast included.
Top-rated Attractions Nearby
Parque Sinaloa
Jardin Botanico Benjamin Francis Johnston
Plazuela 27 de Septiembre
Iglesia Sagrado Corazon de Jesus
Plaza Paseo Los Mochis
Museo Regional del Valle del Fuerte
Cerro de la Memoria
La Locomotora
San Miguel Zapotitlan
Estadio Emilio Ibarra Almada
Photos hotel and surroundings (75)
Rooms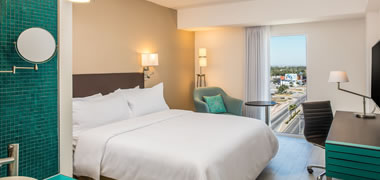 Superior Room, 1 King
This room is the perfect place to work or relax. Indulge yourself with a king bed, closet, telephone, coffeemaker, full bathroom, air conditioning, cable LCD TV, wireless Internet and an executive workdesk and chair.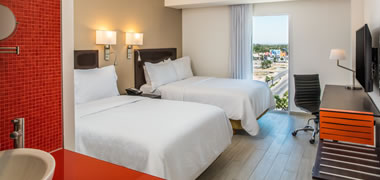 Superior Room, 2 Double
Nuestra misión es brindarte una estancia productiva y placentera. Disfrútala en esta habitación equipada con 2 camas matrimoniales, clóset, teléfono, cafetera, internet inalámbrico, escritorio con silla y lámpara, aire acondicionado, TV por cable con pantalla LCD, baño completo y artículos para tu arreglo personal.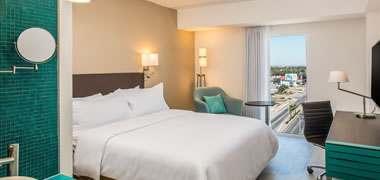 Accessible Room
This room has been carefully designed to provide our special needs guests with the comfort they need and deserve. The bathroom is equipped with an extra-wide door, raised toilet, and safety handrails in the shower and toilet areas. It also includes a single bed, work desk, closet, telephone, wireless Internet, air conditioning, and cable LCD TV.