Fiesta Inn
Monterrey La Fe
Fiesta Inn Monterrey La Fe
(Hotel & Loft)
Fiesta Inn is transforming the Business Class concept and the Fiesta Inn Monterrey La Fe shows how the design and facilities of a hotel can really make a difference in the quality of your stay. The hotel features 209 rooms, including 48 lofts designed to meet the needs of the business traveler who wants the comforts of home.
The hotel is strategically located five minutes from the city's four most important industrial parks, next to Paseo La Fe shopping center and adjacent to the Citadel and Plaza La Fe. It is 10 minutes from Cintermex, the city center, and 15 minutes from the international airport.
The Fiesta Inn Loft Monterrey La Fe offers the 360º Lounge, where the B-On business center, La Isla restaurant, self-service area, and a mini-shop are located. In addition to 24-hour room service, there is high-speed wireless Internet, laundry and dry cleaning services, event rooms, parking, a swimming pool and fitness center.
The hotel 100% smoke-free.
Please note that check-in is 3pm. Check-out is 1 pm. Express Check-out is recommended.
Services
The hotel has 161 rooms, a restaurant, a lobby bar open from 3:00 p.m. to 12:00 a.m., outdoor swimming pool and fitness center.
Handicapped access
Gym
Restaurant(s)
100% smoke free hotel
Guests access with guide dogs
Pets are not allowed
Indoor parking
Business center
Free Wi-Fi access
Laundry service
Bar(s)
24 hours room service
Outdoor pool
Restaurant

Restaurant
Fiesta Inn Monterrey La Fe brings you the freedom and service of La Isla, a 24-hour restaurant that lets you choose what you want and when. Offerings include a breakfast buffet, restaurant, grab-and-go, room service, plus relaxing areas to take a break.
The hotel also boasts a restaurant, open from 6am to 11pm, which serves breakfast, lunch and dinner. Whether you opt for the buffet or à la carte option, you can choose from tasty regional, national and international dishes.
In the Lobby Bar, enjoy international drinks, wines, liquors, cocktails and snacks in a discreet and elegant atmosphere with music and a giant screen TV.
Meeting Rooms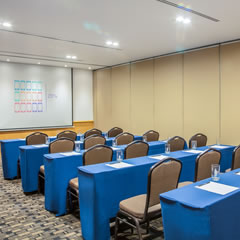 Event and meeting rooms
Executive Services Overview
Work is more enjoyable with B-On, a modern business center featuring computers, office services, and high-speed Internet access.
It has three meeting rooms that can accommodate 6 to 8 people and comes with high-speed Internet access, secretarial service, coffee, and water.
Event Services Overview
For a successful event, Fiesta Inn Monterrey La Fe hotel offers 5 event rooms that can accommodate auditorium seating for 300 guests and banquet seating for 150.
All are equipped with wireless high-speed Internet, and are equipped to handle presentations. You can count on the support of experts who will take care of every detail to make your event effective.
Qualified:
x
Fiesta Inn Monterrey La Fe
Location #12 of 120 hotels in Monterrey
Summary of qualifications
Best comments
"Awsome stay in Fiesta Inn"
Very nice place to stay. Value for money. All facilities are really good. One of the best experience in my life with the staff, food and facilities. Re command to stay in Fiesta Inn. Rally good. Just need to improve in keeping the breakfast more warm..
"Good value"
The staff was friendly, spoke good english, and was responsive to my request. The facilities are clean and well maintained. Sometimes the staff needs to be reminded of a request, or alerted to a condition, but they are responsive.
"Decent stay. Check in time is not flexible. Breakfast not included."
Decent stay. Check in time is not flexible. Most hotels allow me to check in before actual check in time but fiesta inn wouldn't allow us to check in before 3. Breakfast not included with stay. Okay in cleanliness. Hotel is close to everything.
"Not worth it's price"
I just checked outand stayed 2 nights. I fell down the bath tub cause it's slippery and they don't have the safety mat. I complained to the front desk and they just told me "sorry to hear that". I should really sue them. Since we arrive to the room there was no electricity, don't know why and we called to the front desk and got no answer for about 10 mins, so we had to go there. The room is noisy, you can hear the adjacent's room toilet. At 8:30 am they decided to get the grass trimed and my room was on a first floor. I think I would never stay there again, the hotel right besides is about the same price and is really neat.
"Very good business hotel"
The location of this hotel is excellent. close to shopping centres and good dining options. The loft room accommodations are spacious and excellent with cooking facility. Shuttles are provided to the nearby industrial park and to the airport. A great option if you are travelling to Monterrey on Business.
Top-rated Attractions Nearby
Photos hotel and surroundings (80)
Rooms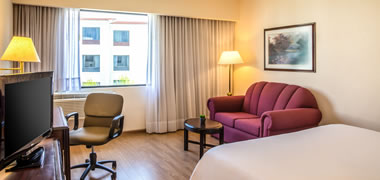 Superior Room, 1 king
Your stay will be more productive and comfortable in this room with king bed, 2 night stands, 32'' TV, spacious work desk, telephone and bathroom with shower, tub and toilet.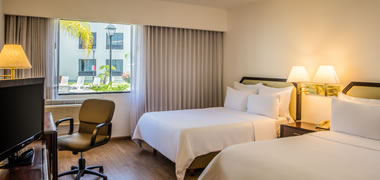 Superior Room, 2 double
A full day of activities requires a good night¿s rest. Rooms are equipped with 2 double beds, 32'' TV, spacious work desk, high-speed Internet access, telephone, air conditioning, heating and bathroom with bathtub, shower and toilet.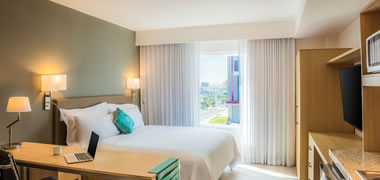 Loft
Feel at home with everything you need to work, eat, relax and sleep comfortably. Our spacious loft is equipped with minibar, kitchenette, microwave, 50'' TV, dining area, spacious work desk, telephone, high-speed Internet, bathroom, AC and heating.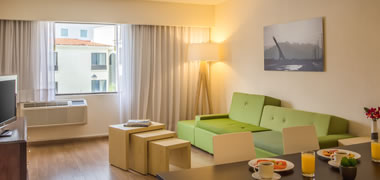 Junior Suite
Be productive in this spacious room with king bed, armoire, ample work desk, 32'' TV, 2 telephones, ironing board and iron. It comes with a refrigerator, microwave, dining area, and kitchen.