Fiesta Inn continues to evolve, transform, and innovate its Business Class hotel concept. With a fresh, modern image and new facilities, Fiesta Inn Naucalpan is the perfect example of business accommodations done right. Designed to encourage creativity and productivity, the hotel's spaces are functional yet friendly, allowing guests to be connected while remaining independent. Today's Fiesta Inn is more than simply a hotel; it is a community of professionals who thrive on success.
The hotel is located in the heart of the Naucalpan industrial district on the northern edge of Mexico City, just 10 minutes from Banamex Center, 15 minutes from Polanco and 20 minutes from the Azcapotzalco industrial zone. The location is convenient to a variety of sites that will make your stay more enjoyable, restful and productive.
Fiesta Inn Naucalpan is an Eco-friendly hotel, so it is a 100% smoke free hotel.
Please note that check-in begins at 3pm and check-out is 12pm. Express check-out is recommended.
Services
There are 119 guest rooms, restaurant, and a range of spacious and comfortable multi-use rooms for private work sessions, meetings and other group events. Other facilities include Lounge 360°, and fitness center. Hotel services include:
Handicapped access
Shuttle service with cost
Gym
Restaurant(s)
100% smoke free hotel
Guests access with guide dogs
Pets are not allowed
Indoor parking
Business center
Free Wi-Fi access
Laundry service
Bar(s)
24 hours room service
Restaurant

La Isla
The Fiesta Inn Naucalpan offers the La Isla multi-purpose space that gives you the freedom to recharge 24 hours a day. Guests can grab a delicious snack or pause to refresh and rejuvenate. Meals are available throughout the day in the manner best suited for the occasion, including a breakfast buffet, restaurant table service, grab-and-go, or room service. La Isla full-service restaurant offers tranquil music, an exquisite buffet breakfast, lunch, and international cuisine for dinner. Open to all public.
Meeting Rooms

Event and meeting rooms
Guests can take advantage of B-on, Fiesta Inn¿s modern business workspace, outfitted with computers, color printers and business concierge services, plus secretarial service available for a fee. From here, you can keep in touch with the rest of the world, hold meetings in private boardrooms and share documents and presentations online in real time. There are 2 meeting rooms accommodating up to 6 people each, plus work/lounge rooms and a 24-hour self-service deli-bar.
There are also 4 special event rooms accommodating up to 180 people with auditorium seating and 140 in a banquet setup. One of the rooms is totally isolated from the others and seats 90 people in auditorium seating, with a large foyer at the entrance.
Qualified:
x
Location #1 of 7 hotels in Naucalpan
GreenLeader Silver
Certificate of Excellence 2019
Summary of qualifications
Best comments
"Perfect"
Everything was Ok for me during my stay in this hotel. People are very friendly. The room is very big and clean. The breakfast is very nice, the dinner is perfect. I just recomend Fiesta Inn for my friends and everyone!
"Room ok and food horrible"
Waited 10 min for check in, they were only one person in front of me, can't imagine rush hour... The room is ok, but with no view at all, they a metal wall in front of the window, at that point, they should close it, so i least it block the sound. The food is horrible, the service was bad, the food was infect. AH almost forget the blood stain on the sheets...
"A hotel where I felt like home"
I came across with such a kind and helpful service people ! Besides, they offer me a room completely suited for a person with legs disability. I Since my arrival I was attended and made me feel confortable.Thank you very much.
"trainingGrupoModelo"
the rate was good the hotel rooms was clean and the hotel staffers were great the bar and restaurant are clean and the food was ok i left early morning so didn't have the chance to taste desayuno only thing is that its a business hotel and not a lot speaks english otherwise it's a good place to stay oh and the surrounding areas don't have any thing to offer
"Made me feel welcome and more than just a guest."
This was my first trip to Mexico, to visit friends who live there. I chose the Fiesta Inn, Naucalpan due to it's proximity to my friend's location. From the moment I arrived the staff made me feel welcome. They were polite, courteous and extremely helpful. The hotel was clean and well maintained. The food and drink on offer were very good. The location was good for my purposes, though it's proximity to the main one way system, may not suit everyone. I don't speak any Spanish, but this was rarely a problem. A first class service at a reasonable price.
Top-rated Attractions Nearby
Desafio Escape Rooms
Centro Citibanamex
La Granja de los Ninos
Chido Tours
Toreo Parque Central
Sky Zone Indoor Trampoline Park
Foto Museo Cuatro Caminos
Parque Naucalli
Time Zone
Recorridos y Guias Xochitec
Photos hotel and surroundings (82)
Rooms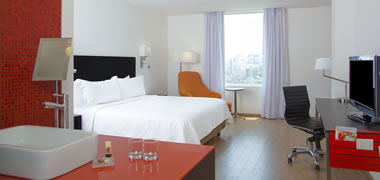 Superior Room, 1 king
Discover the perfect place to work and relax in this comfortable room, outfitted with a king bed, closet, bathroom, climate control, coffeemaker, telephone, wireless high-speed Internet, cable TV and bath amenities. Some rooms have a sofa or sofa-bed.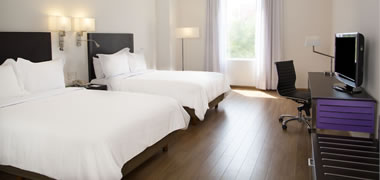 Superior Room, 2 double
After a long day full of activities, find comfort in this relaxing room equipped with two double beds, closet, bathroom, climate control, coffeemaker, wireless Internet access, ironing kit, cable TV and bath amenities.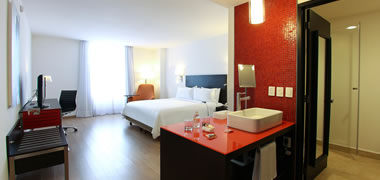 Deluxe Room, 1 King
Discover the perfect place to work and relax in this comfortable room, outfitted with a king bed, closet, bathroom, climate control, coffeemaker, telephone, wireless high-speed Internet, microwave, mini-fridge, stuffed chair, cable TV and special amenities.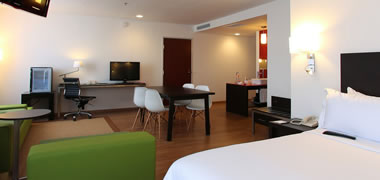 Junior Suite
Whether you want to finish some last-minute work or simply get away from it all, the Junior Suite is the perfect choice. It is equipped with modern décor, king bed, closet, climate control, coffeemaker, mini-fridge, microwave, bathroom scale, stuffed chair, telephone, wireless high-speed Internet, cable TV and special amenities.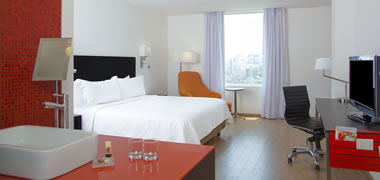 Accessible Room
Experience a comfortable stay in this specially equipped room with a King bed, closet, bathroom, climate control, coffeemaker, telephone, wireless high-speed Internet, stuffed chair, ironing kit, and cable TV. In addition, you will find all standard facilities for people with special needs. The bathroom is outfitted with safety rails, shower bars, and elevated toilet with grab bars.