Fiesta Inn
Plaza Central Aeropuerto
Fiesta Inn Plaza Central Aeropuerto
Fiesta Inn continues to evolve, transform, and innovate its Business Class hotel concept. With a fresh, modern image and new facilities, Fiesta Inn Plaza Central Aeropuerto in Mexico City is the perfect example of business accommodations done right. Designed to encourage creativity and productivity, the hotel's spaces are functional yet friendly, allowing guests to be connected while remaining independent. Today's Fiesta Inn is more than simply a hotel; it is a community of professionals who thrive on success.
The hotel has a privileged location, it is located inside the Plaza Central Shopping Mall, 12 minutes away from the International Airport of Mexico City, 5 minutes from the Palacio de los Deportes, Hermanos Rodríguez autodrome and the Foro Sol; 20 minutes from the TAPO bus central and 25 minutes from the Historic downtown.
The hotel offers free 24 hours airport-hotel-airport shuttle service every hour (At the number 4 door in the Terminal 1 and in front of national arrivals in Terminal 2).
Please note that check-in begins at 3pm. Check-out must be completed by 12pm. Express check-out is recommended.
Services
The hotel has 169 rooms, restaurant, bar, a range of spacious and comfortable multi-use rooms for private work sessions, meetings and other group events. Other facilities include Lounge 360°, and fitness center. Hotel services include:
Handicapped access
Gym
Restaurant(s)
100% smoke free hotel
Guests access with guide dogs
Outdoor parking with cost
Shuttle service (subject to availability)
Pets are not allowed
Indoor parking with cost
Free Wi-Fi access
Business center
Laundry service
Bar(s)
24 hours room service
Restaurant

La Isla
The Fiesta Inn Plaza Central Aeropuerto offers the La Isla multi-purpose space that gives you the freedom to recharge 24 hours a day. Guests can grab a delicious snack or pause to refresh and rejuvenate. Meals are available throughout the day in the manner best suited for the occasion, including a breakfast buffet, Grab & Go, a la carte lunch and dinner, and room service. Healthy options include fresh salads, pasta, sandwiches, fish and more. The area has minimalist design, with bright colors, fresh décor, and ambient music, making each visit as pleasant as possible. Open to all public.
Meeting Rooms

Event and meeting rooms
Guests can take advantage of B-On, Fiesta Inn's modern business workspace located in the 360º Lounge. It is outfitted with computer workstations and business services. From here, you can keep in touch with the rest of the world, hold meetings in three private meeting rooms with LCD screens, use the video conference facilities, and find everything you need to stay productive during your stay.
Qualified:
x
Fiesta Inn Plaza Central Aeropuerto
Location #63 of 325 hotels in Mexico City
GreenLeader Gold
Summary of qualifications
Best comments
"Very nice hotel."
Nice hotel, service to and from airport departs every hour. Location next to a mall. Close to the airport. Rooms and areas where clean. Staff was friendly and helpfull. Access to computers and internet are available. Cable TV in rooms..
"It is good."
The good things: The rooms are very comfortable, the hotel is nice and close to the airport. Food is good too.The bad things: The room service is bad; they don't pick the phone up, and even if you go downstairs to place your order, they don't deliver.
"Excellent and convienant"
Very clean for the most part. Bathroom and shower and the bed. Also its connected right next to the mall (my room was on the 2nd floor but next to the elevator and so it was really convienant to go to the mall and parking garage). The mall is basically outside the lobby and so its great for people who love shopping, but also it gets packed during shopping seasons like black fridays and other special occassions. Note: they also have a 7-11 if you need anything although its not really open 24/7, but closes around 9pm.Also if you are driving, you should always pay at the front desk because its a flat fee per day (cheaper than the hourly parking at the mall)THe only issue that I have with the mall is that its next to a police station, busy street and highway, so you will hear sirens and cars honking early in the morning (so you will need to bring ear plugs)
"Bed at the end of a long day. "
After DELTA airlines both failed to get us to our final destination and lost our luggage we were offered this accommodation. It has the look of an upscale boutique American hotel. The room was small by American standards and the handicapped shower was so poorly designed that the entire bathroom floor turned into a wading pool. The bed was comfortable and it served its purpose.
"Nice little hotel with a mall attached to it!"
We stayed there for the Mexican Formula 1 Grand Prix, it is close to both the airport and the track (Autodromo Hermanos Rodriguez), the area is definitely not the best, it is very sketchy but the hotel is inside a mall and it is fenced in. The hotel is modern and clean, recently renovated I imagine since everything looked new, we were welcomed at the aiport by the hotel shuttle, the guy was very polite and carried our bags all the way to the front desk. Check in was very simple, our room was immediately available however we immediately found a lot of hair on the bathroom floor and inside the shower, it was a lot and very visible so I don't understand how the cleaning staff missed it, we told the girl at the front desk that our bathroom was dirty and they said she would send someone out to clean it, they never did. There is a bar, a lobby area and a restaurant right by the front desk, the food was good and Fernanda at the restaurant was very very nice, she was very attentive and polite! Definitely try the food at the hotel, you won't be disappointed. We took one of the hotel's taxis to the race track, the driver (Arturo) was excellent, he really made our trip A LOT BETTER, he took us to the track, picked us up as we requested and then took us to the city at night after the race, he took us to a flower market on Jamaica and then took us to a restaurant to eat dinner, he was amazing and definitely completed our experience. Overall our experience at the hotel was great, well located if you need to be close to the airport and in our case the race track (we will be back next year). The entire staff was very attentive and polite, the room was of nice size, modern and overall clean except for the bathroom floor, you also have the convenience of the mall which has a lot of different stores, arcades for the kids, a movie theater and some restaurants, we felt totally safe within the hotel and the mall.
Top-rated Attractions Nearby
National Museum of Anthropology
Mexico Walking Tour
Journeys Beyond the Surface Popular Culture Tours
Sabores Mexico Food Tours
Eat Mexico Culinary Tours
Bikes and Munchies
Mexico a Pie
Estacion Mexico Free Tours
Museo del Tiempo Tlalpan
Eat Like a Local Mexico
Photos hotel and surroundings (89)
Rooms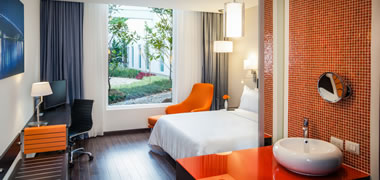 Accessible Room
Experience a comfortable stay in this specially equipped room with a two single beds, closet, bathroom, air conditioning, coffeemaker, executive work desk, two telephones, hairdryer wireless high-speed Internet, and cable TV with an LCD screen. In addition, you will find all standard facilities for people with special needs. The bathroom is outfitted with safety rails, shower bars, elevated toilet with grab bars, and a wide entry door.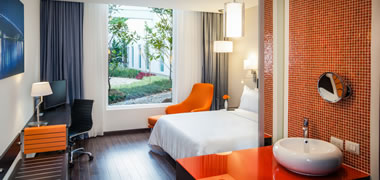 Superior Room, 1 King
Discover the perfect place to work and relax in this comfortable room, outfitted with a king bed, closet, bathroom, air conditioning, coffeemaker, executive work desk, two telephones, wireless high-speed Internet, hairdryer, closet, and cable TV with LCD screen.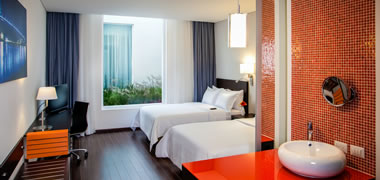 Superior Room, 2 Double
After a long day full of activities, find comfort in this relaxing room equipped with two double beds, closet, bathroom with shower, air conditioning, coffeemaker, two telephones, wireless high-speed Internet, hairdryer, closet, and cable TV with LCD screen. Set up your working area with an executive desk, comfy chair and lamp.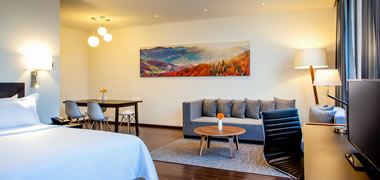 Junior Suite, 1 King
After a long day, you deserve this spacious room to work and relax. Each suite is outfitted with a separate bedroom with king bed, sofa, closet, bathroom, air conditioning, coffeemaker, executive work desk, two telephones, alarm clock, wireless high-speed Internet, hairdryer, closet, and cable TV with LCD screen. Rooms have a sitting room with sofa bed, dining room and kitchen area with microwave.