Fiesta Inn
Plaza Central Aeropuerto
Fiesta Inn Plaza Central Aeropuerto
Fiesta Inn continues to evolve, transform, and innovate its Business Class hotel concept. With a fresh, modern image and new facilities, Fiesta Inn Plaza Central Aeropuerto in Mexico City is the perfect example of business accommodations done right. Designed to encourage creativity and productivity, the hotel's spaces are functional yet friendly, allowing guests to be connected while remaining independent. Today's Fiesta Inn is more than simply a hotel; it is a community of professionals who thrive on success.
The hotel has a privileged location, it is located inside the Plaza Central Shopping Mall, 12 minutes away from the International Airport of Mexico City, 5 minutes from the Palacio de los Deportes, Hermanos Rodríguez autodrome and the Foro Sol; 20 minutes from the TAPO bus central and 25 minutes from the Historic downtown.
The hotel offers free 24 hours airport-hotel-airport shuttle service every hour (At the number 4 door in the Terminal 1 and in front of national arrivals in Terminal 2).
Please note that check-in begins at 3pm. Check-out must be completed by 12pm. Express check-out is recommended.
Services
The hotel has 169 rooms, restaurant, bar, a range of spacious and comfortable multi-use rooms for private work sessions, meetings and other group events. Other facilities include Lounge 360°, and fitness center. Hotel services include:
Handicapped access
Gym
Restaurant(s)
100% smoke free hotel
Guests access with guide dogs
Outdoor parking with cost
Shuttle service (subject to availability)
Pets are not allowed
Indoor parking with cost
Free Wi-Fi access
Business center
Laundry service
Bar(s)
24 hours room service
Restaurant

La Isla
The Fiesta Inn Plaza Central Aeropuerto offers the La Isla multi-purpose space that gives you the freedom to recharge 24 hours a day. Guests can grab a delicious snack or pause to refresh and rejuvenate. Meals are available throughout the day in the manner best suited for the occasion, including a breakfast buffet, Grab & Go, a la carte lunch and dinner, and room service. Healthy options include fresh salads, pasta, sandwiches, fish and more. The area has minimalist design, with bright colors, fresh décor, and ambient music, making each visit as pleasant as possible. Open to all public.
Meeting Rooms

Event and meeting rooms
Guests can take advantage of B-On, Fiesta Inn's modern business workspace located in the 360º Lounge. It is outfitted with computer workstations and business services. From here, you can keep in touch with the rest of the world, hold meetings in three private meeting rooms with LCD screens, use the video conference facilities, and find everything you need to stay productive during your stay.
Qualified:
x
Fiesta Inn Plaza Central Aeropuerto
Location #58 of 360 hotels in Mexico City
GreenLeader Gold
Certificate of Excellence 2019
Summary of qualifications
Best comments
"Great Experience"
Good Service in all ways, attention in all details to the host, I love the fact of clean place, always good coming back from work to rest in a clean place, the different areas such the Gym also in perfect conditions
"Very good place"
This place very clean and I felt safe, we could do some shopping and have great food in the same area,it provide water and coffee in the room that was a plus, the room was excellent , like also the free shuttle to the airport
"Excellent place to stay"
We had a very pleasant time, all at the hotel were very kind and humble and that what makes the best of a place to stay.. food was good it needed to be hotter but it was good. the location was place excellent and pretty cool. the kindness and help that the driver gave us was excellent, very hamable and it seen that he loves to treat his people very well and does his work very well done .. Thank you for your services .. The Rivera Family
"What is this supposed to be"
Who cares about my opinion well, regarding the fact that my comment must contain at least 200 characters, I want to say that prices per night should not be that high. And bottled water must be lower in price too.
"Not an airport hotel"
Not an airport hotel, therefore shouldn't be advertised as an airport hotel. It's convenient to be in a mall, but when you select an airport hotel, you really want to stay close to avoid any stress in your commutes.
Top-rated Attractions Nearby
Museo Nacional de Antropologia
Mexico Walking Tour
Bikes and Munchies
Eat Like a Local Mexico
Journeys Beyond the Surface Popular Culture Tours
Sabores Mexico Food Tours
Mexico a Pie
Eat Mexico Culinary Tours
Casa Jacaranda
Strawberry Tours
Photos hotel and surroundings (94)
Rooms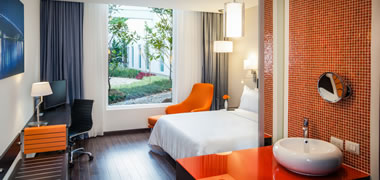 Accessible Room
Experience a comfortable stay in this specially equipped room with a two single beds, closet, bathroom, air conditioning, coffeemaker, executive work desk, two telephones, hairdryer wireless high-speed Internet, and cable TV with an LCD screen. In addition, you will find all standard facilities for people with special needs. The bathroom is outfitted with safety rails, shower bars, elevated toilet with grab bars, and a wide entry door.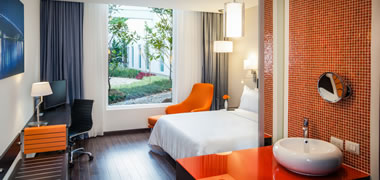 Superior Room, 1 King
Discover the perfect place to work and relax in this comfortable room, outfitted with a king bed, closet, bathroom, air conditioning, coffeemaker, executive work desk, two telephones, wireless high-speed Internet, hairdryer, closet, and cable TV with LCD screen.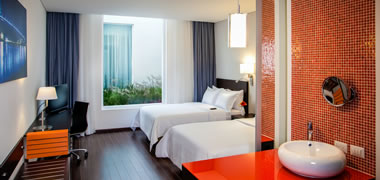 Superior Room, 2 Double
After a long day full of activities, find comfort in this relaxing room equipped with two double beds, closet, bathroom with shower, air conditioning, coffeemaker, two telephones, wireless high-speed Internet, hairdryer, closet, and cable TV with LCD screen. Set up your working area with an executive desk, comfy chair and lamp.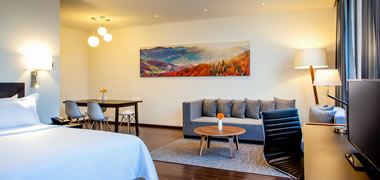 Junior Suite, 1 King
After a long day, you deserve this spacious room to work and relax. Each suite is outfitted with a separate bedroom with king bed, sofa, closet, bathroom, air conditioning, coffeemaker, executive work desk, two telephones, alarm clock, wireless high-speed Internet, hairdryer, closet, and cable TV with LCD screen. Rooms have a sitting room with sofa bed, dining room and kitchen area with microwave.