Fiesta Inn
Puerto Vallarta Isla
Fiesta Inn Puerto Vallarta Isla
Fiesta Inn continues to evolve, transform and innovate its Business Class hotel concept. With a fresh, modern image and new facilities, Fiesta Inn Puerto Vallarta is the perfect example of business accommodations done right. Designed to encourage creativity and productivity, the hotel's spaces are functional yet friendly, allowing guests to be connected while remaining independent. Today's Fiesta Inn is more than simply a hotel; it is a community of professionals who thrive on success.
The hotel is located in the La Isla shopping center. In addition to its 144 guest rooms, the hotel is home to the 360° Lounge, where guests will find the B-On business center, La Isla restaurant, and a convenience store and self-service area. Amenities include 24-hour room service, high-speed wireless Internet, fitness center,two outdoor jacuzzis, laundry and dry cleaning service.
Please note that check-in begins at 3pm. Check-out is at 12 pm. Express check-out is recommended.
Services
Enjoy the best in business accommodations at Fiesta Inn Puerto Vallarta, where guests can choose from 144 rooms and enjoy the 360° Lounge and the B-On business center, La Isla restaurant, and a convenience store and self-service area. Hotel services include:
Handicapped access
Gym
Restaurant(s)
100% smoke free hotel
Guests access with guide dogs
Pets are not allowed
Indoor parking
Business center
Free Wi-Fi access
Laundry service
Bar(s)
24 hours room service
Outdoor pool
Restaurant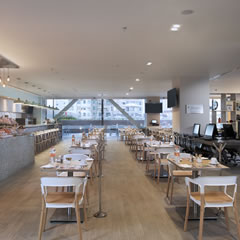 Restaurant
Fiesta Inn Puerto Vallarta has something for every palate at La Isla, a 24-hour restaurant concept that lets you choose what you want and when. Offerings include a breakfast buffet, restaurant, grab-and-go, room service, or special items to take a break and relax.
Try out our breakfast buffet or order off the menu at lunch or dinner, where you can choose from a variety of healthy yet practical options: salads, pasta, sandwiches, fish and more. Enjoy your meal in a modern ambiance decorated in bright and fresh colors for a pleasant dining experience.
Meeting Rooms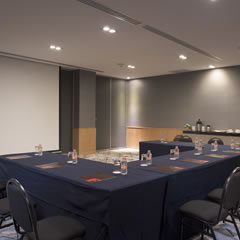 Meeting Rooms
Executive Services
Guests are guaranteed to find a comfortable, modern working area in the B-On business center, located in the 360° Lounge, which offers computers and office services along with fast, reliable Internet access for staying connected to the business world. Private meeting rooms are also available for guests who need to host videoconferences, conference calls, or presentations.
Meeting Room
Fiesta Inn Puerto Vallarta is the perfect venue for a meeting or event. It has two rooms equipped with high-speed Internet, white-boards, projector and screen, audio system, flip charts, and coffee break service.
Combined with the personalized service offered by our trained staff, we have everything you need for a successful and productive event.
Qualified:
x
Fiesta Inn Puerto Vallarta Isla
Location #24 of 122 hotels in Puerto Vallarta
GreenLeader Platinum
Certificate of Excellence 2018
Summary of qualifications
Best comments
"Nice surprise in PV"
My husband and I had never visited La Isla and were not even aware of the Fiesta Inn. It is a great place for a break with access to the public beach right around the corner and all of the shopping you can imagine.
"Great value, but bare necessities"
Over all, this is a good hotel, great price and location. Very friendly and helpful staff. Fairly new, very clean and modern but no frills. No fridge or microwave. Saw several tourists check in, like ourselves, but doesn't seem to be geared toward tourists / vacationers. Beach access could have been designed into the mall a bit better, particularly the northwest corner. Would stay there again, mainly based on price.
"Fiesta Inn Puerto Vallarta"
Very efficient staff. The cleanliness of the room was outstanding! This is a very modern hotel. Unfortunately, I didn't stay long enough here to try all the amenities of this modern hotel. I would recommend the Fiesta Inn to anyone. -J
"5 stars for the stay, but only because we knew what to expect. Read the whole review."
Do your research! If you know the location and know this is what you're looking for, it is a great fit! Pros: Very clean, modern, newer hotel in very safe and friendly location. Staff is wonderful. Pool and lounge area are very clean and modern. Excellent choice for low cost and ultra modern/clean facility. Located in a very upscale shopping mall. Cons: Hotel is low cost due to location and room amenities. Sink is outside bathroom. Bathrooms do not have exhaust fans. Rooms do not have alarm clocks. Hotel is off the ocean behind big resorts. No great views. Have to take a bus or a cab to get anywhere. Have to walk through a mall to get to the entrance. Not a big deal without many bags. Just odd. If you are looking for really great, really affordable accommodations and a place to sleep, not hang out, this is it!
"Great hotel!"
First time visiting PV and this hotel was great! It's connected to a nice outdoor mall. I highly recommend this hotel. For some reason though, taxi drivers are not familiar with this place and will always ask "Fiesta Americana"? which is a more upscale hotel even though you tell them "Fiesta Inn". I guess it's because it's pretty new. Just tell them "Fiesta Inn La Isla Shopping Centre". Staff were very friendly, especially Hugo. Can't really think of any negatives other than no mini fridge in our room and the showers being shut off in the pool area for some reason.
Top-rated Attractions Nearby
El Malecon Boardwalk
Vallarta Eats Food Tours
Vallarta Food Tours
PV Ocean Tours
Estigo Tours
Outdoor Adventure by Vallarta Adventures
Los Veranos Canopy Tour
Banderas Scuba Republic
AirGo
Jet's Private Boat Tours & Charters
Photos hotel and surroundings (168)
Rooms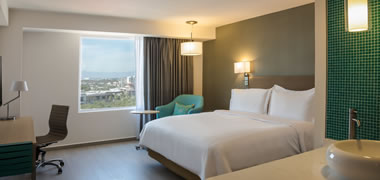 Superior Room, 1 King
Distraction-free relaxation or productivity is exactly what this room was designed for. Guests will find everything they need for a stress-free stay, including a king bed, closet, telephone, coffeemaker, full bathroom, air conditioning, cable LCD TV, wireless Internet, and executive work desk and chair.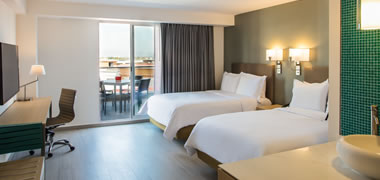 Superior Room, 2 Double
This functional room meets the needs of business and leisure travelers alike with its two double beds, closet, telephone, coffeemaker, wireless Internet, air conditioning, cable LCD TV, full bathroom and complimentary personal care items. Guests who wish to work on the road will find a comfortable place to do so at the work desk that also includes a lamp and chair.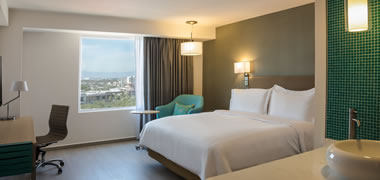 Accessible Room
We go above and beyond to meet the needs of all guests. This room is equipped with a single bed, work desk, closet, telephone, coffeemaker, wireless Internet, air conditioning, and a cable LCD TV. The bathroom includes a shower and a raised toilet with safety handrails, as well as an extra-wide door.