Fiesta Inn
Puerto Vallarta Isla
Fiesta Inn Puerto Vallarta Isla
Fiesta Inn continues to evolve, transform and innovate its Business Class hotel concept. With a fresh, modern image and new facilities, Fiesta Inn Puerto Vallarta is the perfect example of business accommodations done right. Designed to encourage creativity and productivity, the hotel's spaces are functional yet friendly, allowing guests to be connected while remaining independent. Today's Fiesta Inn is more than simply a hotel; it is a community of professionals who thrive on success.
The hotel is located in the La Isla shopping center. In addition to its 144 guest rooms, the hotel is home to the 360° Lounge, where guests will find the B-On business center, La Isla restaurant, and a convenience store and self-service area. Amenities include 24-hour room service, high-speed wireless Internet, fitness center,two outdoor jacuzzis, laundry and dry cleaning service.
Please note that check-in begins at 3pm. Check-out is at 12 pm. Express check-out is recommended.
Services
Enjoy the best in business accommodations at Fiesta Inn Puerto Vallarta, where guests can choose from 144 rooms and enjoy the 360° Lounge and the B-On business center, La Isla restaurant, and a convenience store and self-service area. Hotel services include:
Handicapped access
Gym
Restaurant(s)
100% smoke free hotel
Guests access with guide dogs
Pets are not allowed
Indoor parking
Business center
Free Wi-Fi access
Laundry service
Bar(s)
24 hours room service
Outdoor pool
Restaurant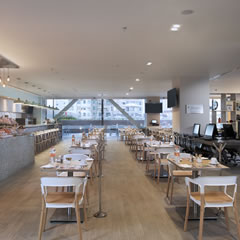 Restaurant
Fiesta Inn Puerto Vallarta has something for every palate at La Isla, a 24-hour restaurant concept that lets you choose what you want and when. Offerings include a breakfast buffet, restaurant, grab-and-go, room service, or special items to take a break and relax.
Try out our breakfast buffet or order off the menu at lunch or dinner, where you can choose from a variety of healthy yet practical options: salads, pasta, sandwiches, fish and more. Enjoy your meal in a modern ambiance decorated in bright and fresh colors for a pleasant dining experience.
Meeting Rooms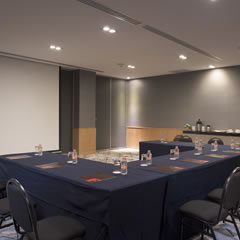 Meeting Rooms
Executive Services
Guests are guaranteed to find a comfortable, modern working area in the B-On business center, located in the 360° Lounge, which offers computers and office services along with fast, reliable Internet access for staying connected to the business world. Private meeting rooms are also available for guests who need to host videoconferences, conference calls, or presentations.
Meeting Room
Fiesta Inn Puerto Vallarta is the perfect venue for a meeting or event. It has two rooms equipped with high-speed Internet, white-boards, projector and screen, audio system, flip charts, and coffee break service.
Combined with the personalized service offered by our trained staff, we have everything you need for a successful and productive event.
Qualified:
x
Fiesta Inn Puerto Vallarta Isla
Location #35 of 122 hotels in Puerto Vallarta
GreenLeader Platinum
Certificate of Excellence 2018
Summary of qualifications
Best comments
"Nice Hotel"
Hotel was very clean and modern. It's also in a unique location, by shops and restaurants, and not too far from the beach. Taxis are right out front, as are buses. We took both around the city. Staff was extremely helpful and nice. I do not speak Spanish, but did not have a problem communicating with the staff. I would just say that the room is set up different. The sink is outside of the bathroom, which can make it hard to use in the middle of the night without waking everyone else in the room up. And there is not a lot of storage for clothes, so keep that in mind when staying for longer than a day or two as you will not be able to put clothes in dresser drawers. The beds were pretty hard too, but I've found that to be standard in many Mexico hotels. Overall, a good experience and I would not have a problem staying here again. Great value for a nice hotel.
"Clean Hotel, 15 minutes from Malecon"
The hotel seems new, just like the high end shopping center it is in. It is one property away from the beach, and has a rooftop pool with semi okay views (view from the room was better). It is a 5-10 minute walk to the beach, through the shopping center (tell your Uber's/taxis to drop you off at La Isla shopping center because the property is slightly back off the street). Room service was good, and each member of the staff was so nice! Hugo greeted us as soon as we got there and was a great resource during our stay. I didn't get everyone else's names, but multiple members of the staff gave us recommendations as we tried to speak English and Spanish to each other. If you want to save a little bit of money, stay here and take $3-5 Uber's to the Malecon/Altas area.
"Exceeded Our Expectations --- a few little blips."
We love this place. We knew what we were getting into --- it's a Mexican chain hotel, mostly for business travelers and week-ends, and we watched it being built. We toured it in December. Decided to stay there for a few days in our recent trip, to be close to the other place we were staying, and go to movies in the La Isla Mall. We had FUN there, living in the mall for 4 nights. It was extremely loud and busy in the first couple of days, with the pool being totally packed and the kids/families staying there for the huge national cheerleading competition next door. First night ---- hard to sleep with all the noise. After the week-end, it was peaceful. The pool is nice. Not large, but soothing. Enjoyed it a couple of days. Good view all around. They have a pool bar with very friendly servers. We were in room 125. The room had a balcony facing north. I got lucky, as I did not book a King Superior room, but got one. There were only four balconies. Floors 2 through 5 do not have them. We were able to watch everything going on down below at the Mall, as well as watching the Norwegian Bliss (biggest cruise ship in the world) arrive at the Puerto Vallarta port, on it's maiden voyage from England. The bedding was very comfortable. Best in our 3 hotels this trip. Pillows were wonderful. As others have reviewed, the sink is between the bathroom area and the room. There is a little coffee pot, with pods for one cup, in that area also. Everything is new and modern and super clean --- grey-ish in tone. Toiletries are small ones --- shampoo and lotion. No hair-dryer. On the lobby level (not the CC level --- which is a floor below, accessing the mall), there is a good restaurant (packed on week-end mornings) and four new computers and a sitting area, with magazines and books. Bottom-line, we loved the place. Small room but so comfortable, the friendliest staff we've had in any hotel in a couple of years (one of the bartenders used to live up the highway from us in California). Everyone aimed to please. We also enjoyed "living in the mall" for a few days, wandering and going to the movies and sampling several restaurants. We were very impressed and will return soon.
"Great hotel within walking distance to great shopping and restaurants"
Great hotel located within a brand name shopping outlet. Many restaurants to choose from. Hotel is very comfortable and quiet. Has all the amenities one would need. The hotel has underground parking, security pass elevators, and personelle on most floors ready to assist. Beach is within walking distance.
"A great hotel in the middle of a shopping mall!!"
My wife and I just returned on June 9th from a week stay at this hotel. Although small in stature, I would put it up against many of the other larger hotels we have stayed in on BOTH sides of Mexico. The check- in staff were great. We were checked in and in our room in under 15 minutes!!! We went down to the restaurant for a late night bite and the service was top notch. Our waiter, I believe his name was Edgar, explained everything to us. The food was fantastic. Fresh, flavourful, and generous portions. We couldn`t ask for any better. The young lady who was working there in the morning was equally attentive and focused on our every need. OUTSTANDING!!!!. I wish I could remember her name to give her a great shoot out. The concierge Marco was always on hand to help us with whatever we needed to make our stay more pleasurable. The cleaning staff also did a wonderful job everyday. I would be remiss if I didn`t mention Hugo. This gentleman was there to make sure everything ran as smoothly as possible. Thanks for running up to our room with that bucket of ice Amigo!!! All in all, for the price, and the time of year, The Fiesta Inn was top shelf in our books. Thanks to all!!!!
Top-rated Attractions Nearby
Puerto Vallarta's El Malecon Boardwalk
Vallarta Eats Food Tours
Los Veranos Canopy Tour
PV Ocean Tours
Vallarta Food Tours
Estigo Tours
Outdoor Adventure by Vallarta Adventures
Vallarta Transfers and Incentives
Canopy River
International Friendship Club Tours
Photos hotel and surroundings (159)
Rooms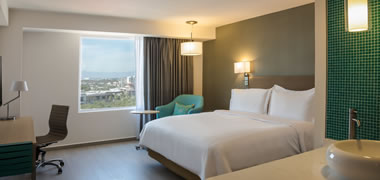 Superior Room, 1 King
Distraction-free relaxation or productivity is exactly what this room was designed for. Guests will find everything they need for a stress-free stay, including a king bed, closet, telephone, coffeemaker, full bathroom, air conditioning, cable LCD TV, wireless Internet, and executive work desk and chair.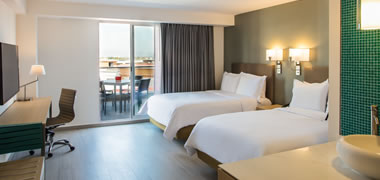 Superior Room, 2 Double
This functional room meets the needs of business and leisure travelers alike with its two double beds, closet, telephone, coffeemaker, wireless Internet, air conditioning, cable LCD TV, full bathroom and complimentary personal care items. Guests who wish to work on the road will find a comfortable place to do so at the work desk that also includes a lamp and chair.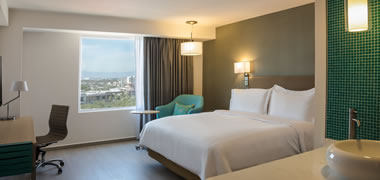 Accessible Room
We go above and beyond to meet the needs of all guests. This room is equipped with a single bed, work desk, closet, telephone, coffeemaker, wireless Internet, air conditioning, and a cable LCD TV. The bathroom includes a shower and a raised toilet with safety handrails, as well as an extra-wide door.