Fiesta Inn
Puerto Vallarta Isla
Fiesta Inn Puerto Vallarta Isla
Fiesta Inn continues to evolve, transform and innovate its Business Class hotel concept. With a fresh, modern image and new facilities, Fiesta Inn Puerto Vallarta is the perfect example of business accommodations done right. Designed to encourage creativity and productivity, the hotel's spaces are functional yet friendly, allowing guests to be connected while remaining independent. Today's Fiesta Inn is more than simply a hotel; it is a community of professionals who thrive on success.
The hotel is located in the La Isla shopping center. In addition to its 144 guest rooms, the hotel is home to the 360° Lounge, where guests will find the B-On business center, La Isla restaurant, and a convenience store and self-service area. Amenities include 24-hour room service, high-speed wireless Internet, fitness center,two outdoor jacuzzis, laundry and dry cleaning service.
Please note that check-in begins at 3pm. Check-out is at 12 pm. Express check-out is recommended.
Services
Enjoy the best in business accommodations at Fiesta Inn Puerto Vallarta, where guests can choose from 144 rooms and enjoy the 360° Lounge and the B-On business center, La Isla restaurant, and a convenience store and self-service area. Hotel services include:
Handicapped access
Gym
Restaurant(s)
100% smoke free hotel
Guests access with guide dogs
Pets are not allowed
Indoor parking
Business center
Free Wi-Fi access
Laundry service
Bar(s)
24 hours room service
Outdoor pool
Restaurant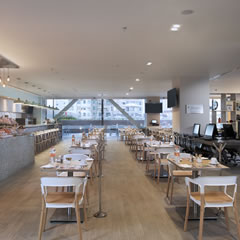 Restaurant
Fiesta Inn Puerto Vallarta has something for every palate at La Isla, a 24-hour restaurant concept that lets you choose what you want and when. Offerings include a breakfast buffet, restaurant, grab-and-go, room service, or special items to take a break and relax.
Try out our breakfast buffet or order off the menu at lunch or dinner, where you can choose from a variety of healthy yet practical options: salads, pasta, sandwiches, fish and more. Enjoy your meal in a modern ambiance decorated in bright and fresh colors for a pleasant dining experience.
Meeting Rooms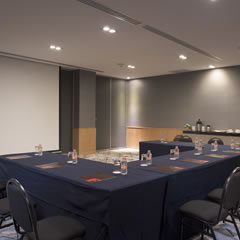 Meeting Rooms
Executive Services
Guests are guaranteed to find a comfortable, modern working area in the B-On business center, located in the 360° Lounge, which offers computers and office services along with fast, reliable Internet access for staying connected to the business world. Private meeting rooms are also available for guests who need to host videoconferences, conference calls, or presentations.
Meeting Room
Fiesta Inn Puerto Vallarta is the perfect venue for a meeting or event. It has two rooms equipped with high-speed Internet, white-boards, projector and screen, audio system, flip charts, and coffee break service.
Combined with the personalized service offered by our trained staff, we have everything you need for a successful and productive event.
Qualified:
x
Fiesta Inn Puerto Vallarta Isla
Location #24 of 139 hotels in Puerto Vallarta
GreenLeader Platinum
Certificate of Excellence 2019
Summary of qualifications
Best comments
"I love this place!!"
What a great place to stay! The moment I stepped foot onto the property everything was great. Clean, reasonably priced, great location, staff helpful and Raphael (helped with my bags) IS AWESOME! What a great employee, every hotel should have a Raphael...kind, helpful, so pleasant, customer oriented and great spirit. Highly recommend and would stay here again. Good job.
"Brand new hotel"
If you don't mind staying by the beach in Puerto Vallarta, the Fiesta Inn is a great option. Located inside a open mall, it is a brand new hotel with pretty good amenities and a fair rate. Large and clean rooms with wood floors, good shower and large comfy bed. There are lots of places to eat in the area. If you want to go to the beach you have to walk outside the mall and take a side street at the north entrance of the mall - it takes 5 minutes by foot. Unfortunately they don't have a beach club - you're on your own. The pool area, however is nice. If you want to visit the old town you should take a cab or walk about 40 minutes. Overall I had a great time at the hotel but, if your main goal is to enjoy the beach, stay somewhere else.
"Couldn't Ask for Much More — Nice hotel Nice Price"
I wanted to stay in a zone I hadn't stayed in before I returned to Old Town. I feel that I lucked out when I booked the Fiesta Inn Isla. The friendly staff was always helpful, smiling & asking if all was okay. Gerardo was full of useful information about the hotel, taxis, area, etc. The pristine rooms are spacious, the beds are the most comfortable I have ever had in PV, the best Wifi anywhere even by pool. Having a coffee maker in the room and the safe was appreciated. Food was great, mixed drinks were tasty and even snack menu poolside was awesome as was room service. I liked being able to walk around the beautiful La Isla mall too and check out the area like the Food Park, Plaza Caracol and a self laundromat within a few minutes walk. A nice change for a bit! 😊
"Utter incompetence"
Managers can't get anything done there. Another guest entered my room at 2am because they gave them my room. I was sleeping and freaked out who the heck is trying to enter my room in the middle of the night. Next morning, Mayra, the manager confirmed that 50% of the cost for that night would be refunded but they never did! Even after hotels.com tried to call them multiple times, they apparently are negating it now, what a joke of a hotel! I'm a hotels.com Gold Status member (so stay in a lot of hotels around the world) but something this unprofessional I haven't had for a long time happen.
"Great location"
Spent a week in Puerto Vallarta staying at the Fiesta Inn. It's more of a businessman's hotel but works well for tourists as well. It's part of La Isla mall with basement parking but a car isnt needed. Taxi from airport is $150 pesos if you cross the bridge $250 if you take one outside the doors and return trip was only $125. The lobby is on the 2nd level as is the restaurant and pool. Pool was warm and drinks and food served poolside. There's a exercise room on 3rd floor is is ice machine which was a bit inconvenient. Lots of restaurants in area close enough to walk to but favorite was Food Park across the street(see separate review) Access to beach is convoluted as you have to walk out past front of mall and down the side of a couple hotels before getting to the ocean. We really enjoyed our time at the Fiesta Inn and will gladly return.
Top-rated Attractions Nearby
Photos hotel and surroundings (200)
Rooms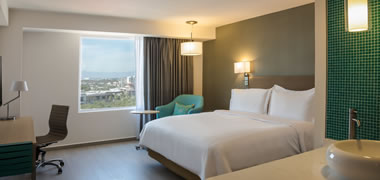 Superior Room, 1 King
Distraction-free relaxation or productivity is exactly what this room was designed for. Guests will find everything they need for a stress-free stay, including a king bed, closet, telephone, coffeemaker, full bathroom, air conditioning, cable LCD TV, wireless Internet, and executive work desk and chair.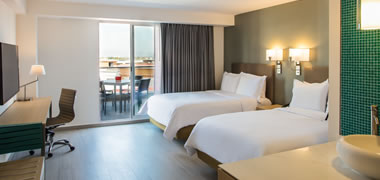 Superior Room, 2 Double
This functional room meets the needs of business and leisure travelers alike with its two double beds, closet, telephone, coffeemaker, wireless Internet, air conditioning, cable LCD TV, full bathroom and complimentary personal care items. Guests who wish to work on the road will find a comfortable place to do so at the work desk that also includes a lamp and chair.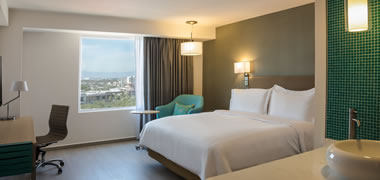 Accessible Room
We go above and beyond to meet the needs of all guests. This room is equipped with a single bed, work desk, closet, telephone, coffeemaker, wireless Internet, air conditioning, and a cable LCD TV. The bathroom includes a shower and a raised toilet with safety handrails, as well as an extra-wide door.