Fiesta Inn
Puerto Vallarta Isla
Fiesta Inn Puerto Vallarta Isla
Fiesta Inn continues to evolve, transform and innovate its Business Class hotel concept. With a fresh, modern image and new facilities, Fiesta Inn Puerto Vallarta is the perfect example of business accommodations done right. Designed to encourage creativity and productivity, the hotel's spaces are functional yet friendly, allowing guests to be connected while remaining independent. Today's Fiesta Inn is more than simply a hotel; it is a community of professionals who thrive on success.
The hotel is located in the La Isla shopping center. In addition to its 144 guest rooms, the hotel is home to the 360° Lounge, where guests will find the B-On business center, La Isla restaurant, and a convenience store and self-service area. Amenities include 24-hour room service, high-speed wireless Internet, fitness center,two outdoor jacuzzis, laundry and dry cleaning service.
Please note that check-in begins at 3pm. Check-out is at 12 pm. Express check-out is recommended.
Services
Enjoy the best in business accommodations at Fiesta Inn Puerto Vallarta, where guests can choose from 144 rooms and enjoy the 360° Lounge and the B-On business center, La Isla restaurant, and a convenience store and self-service area. Hotel services include:
Handicapped access
Gym
Restaurant(s)
100% smoke free hotel
Guests access with guide dogs
Pets are not allowed
Indoor parking
Business center
Free Wi-Fi access
Laundry service
Bar(s)
24 hours room service
Outdoor pool
Restaurant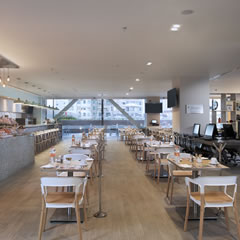 Restaurant
Fiesta Inn Puerto Vallarta has something for every palate at La Isla, a 24-hour restaurant concept that lets you choose what you want and when. Offerings include a breakfast buffet, restaurant, grab-and-go, room service, or special items to take a break and relax.
Try out our breakfast buffet or order off the menu at lunch or dinner, where you can choose from a variety of healthy yet practical options: salads, pasta, sandwiches, fish and more. Enjoy your meal in a modern ambiance decorated in bright and fresh colors for a pleasant dining experience.
Meeting Rooms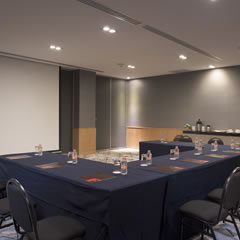 Meeting Rooms
Executive Services
Guests are guaranteed to find a comfortable, modern working area in the B-On business center, located in the 360° Lounge, which offers computers and office services along with fast, reliable Internet access for staying connected to the business world. Private meeting rooms are also available for guests who need to host videoconferences, conference calls, or presentations.
Meeting Room
Fiesta Inn Puerto Vallarta is the perfect venue for a meeting or event. It has two rooms equipped with high-speed Internet, white-boards, projector and screen, audio system, flip charts, and coffee break service.
Combined with the personalized service offered by our trained staff, we have everything you need for a successful and productive event.
Qualified:
x
Fiesta Inn Puerto Vallarta Isla
Location #21 of 133 hotels in Puerto Vallarta
GreenLeader Platinum
Certificate of Excellence 2019
Summary of qualifications
Best comments
"Excellent location"
This hotel is located within walking distance to many amenities and the Isla shopping centre. Close to beach access and steps from bus stop/taxi service. Our room was spacious and clean and we had a view of the ocean.
"Ok, but a few details"
Strong sewer smell coming from the sink. The pool is alright, but the sun doesnt hit it after 3pm (tall building close to the hotel). It is a 5min to 10min walk to the beach. This is ok for couples, but not for families with babies. The beach is not that nice, anyway.
"Three days in Puerto Vallarta"
A clean modern hotel with all the conveniences. Friendly and efficient staff took the kinks out of an eventful business trip. For a first travel experience in Mexcited, staying at the Fiesta Inn soothed any anxiety.
"Great facility, awesome location."
Located in a mall, friendly staff, quite a few places to eat within walking distance. Beach was a short walk. Only downside was walking through the mall with people trying to sell you things constantly. Security always on site at the mall. Clean and safe. Recommend.
"The Best place to stay in Puerto Vallarta is the Fiesta Inn"
The staff here are more than happy to get you any help that you require, I required special meal food items purchased, cooked, packed and weighted and they did that effortlessly. When anything else was required they always got what I needed, I'd recommend this hotel to everyone because of the service and the food here is good too. I had the Salmon Pesto with Mash for Lunch it was so tasty. The rooms are big, modern and they are very clean.
Top-rated Attractions Nearby
Malecon Boardwalk
Vallarta Food Tours
Vallarta Eats Food Tours
PV Ocean Tours
Estigo Tours
Outdoor Adventure by Vallarta Adventures
Acqua Spa
Holistic Bio Spa
Los Veranos Canopy Tour
Banderas Scuba Republic
Photos hotel and surroundings (187)
Rooms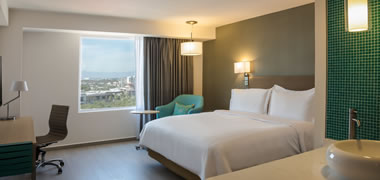 Superior Room, 1 King
Distraction-free relaxation or productivity is exactly what this room was designed for. Guests will find everything they need for a stress-free stay, including a king bed, closet, telephone, coffeemaker, full bathroom, air conditioning, cable LCD TV, wireless Internet, and executive work desk and chair.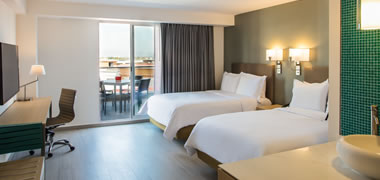 Superior Room, 2 Double
This functional room meets the needs of business and leisure travelers alike with its two double beds, closet, telephone, coffeemaker, wireless Internet, air conditioning, cable LCD TV, full bathroom and complimentary personal care items. Guests who wish to work on the road will find a comfortable place to do so at the work desk that also includes a lamp and chair.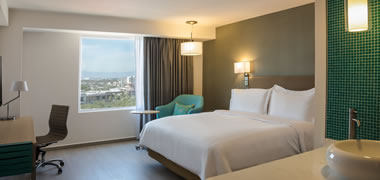 Accessible Room
We go above and beyond to meet the needs of all guests. This room is equipped with a single bed, work desk, closet, telephone, coffeemaker, wireless Internet, air conditioning, and a cable LCD TV. The bathroom includes a shower and a raised toilet with safety handrails, as well as an extra-wide door.