Fiesta Inn
Silao Puerto Interior
Fiesta Inn Silao Puerto Interior
Fiesta Inn is the perfect Business Class hotel for today's travelers and understands the needs of guests who need to be productive while on the road. Fiesta Inn Silao Puerto Interior is the ideal place to stay for any business traveler who cannot sacrifice comfort or productivity during their time away from the office or home. The hotel's spaces are functional yet friendly, allowing guests to be connected while remaining independent. Today's Fiesta Inn is more than simply a hotel; it is a community of professionals who thrive on success.
The hotel is located at kilometer 124 on the Leon-Silao highway at the entrance to the Guanajuato Inland Port, just 5 minutes from Del Bajio International Airport and 10 minutes from the city's major industrial parks.
Fiesta Inn features 142 rooms and offers guests access to the 360 Lounge, where they will find the B-On business center and La Isla restaurant. Amenities include 24-hour room service, high-speed wireless Internet, restaurant, fitness center, sun deck and pool, dry-cleaning service, and covered parking.
Please note that check-in begins at 3pm. Check out is at 12pm. Express check-out is recommended.
Services
The hotel boasts 142 guest rooms, as well as the 360° Lounge, with the B-On business center and La Isla restaurant. Hotel services include:
Handicapped access
Gym
Restaurant(s)
100% smoke free hotel
Guests access with guide dogs
Pets are not allowed
Business center
Free Wi-Fi access
Laundry service
Bar(s)
24 hours room service
Outdoor parking
Outdoor pool
Restaurant
Restaurant
Fiesta Inn Silao Puerto Interior offers authentic dining options at La Isla, a 24-hour on-site restaurant that gives guests the flexibility to order a full meal or a quick snack or drink at any time of day or night.
Start the day off right with our amazing breakfast buffet, or stop by for lunch and dinner and order from our à la carte menu where you can choose from a variety of healthy yet practical options: salads, pasta, sandwiches, fish and more. Enjoy your meal in a modern ambiance decorated in bright and fresh colors for a pleasant dining experience.
Meeting Rooms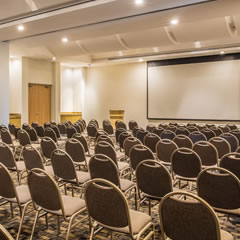 Meeting and Event Rooms
Guests are guaranteed to find a comfortable working area in the B-On business center, located in the 360° Lounge, which offers computers and office services along with fast, reliable Internet for staying connected to the business world. Also available are 5 meeting rooms, each of which can accommodate up to 12 people, perfect for hosting video conferences or in-person presentations. All rooms are equipped with a projector screen, sound system, flip chart, and coffee break service.
Fiesta Inn Silao Puerto Interior is the perfect venue for a successful and memorable event. Three fully equipped rooms are available for reservation, each holding up to 65 people. Our trained staff members provide personalized service to ensure that everything goes exactly as planned while allowing you to focus on what you do best.
Qualified:
x
Fiesta Inn Silao Puerto Interior
Location #8 of 15 hotels in Silao
Certificate of Excellence 2018
Summary of qualifications
Best comments
"Very clean and modern"
The amaenties are modern and the bed is nice and temperature in the room is regulated perfectly. The shower is fully closed in by glass, created a steam rain shower. The staff is so quick and kind. The gym is really nice and has an amazing view.
"Awesome Hotel"
They are extremely nice and professional. The van driver greets you at the airport with great customer service and breakfast is amazing. Very clean and well kept inside and outside. I would definately recommend your stay at this hotel.
"A disaster"
The service at this hotel is a disaster: I was supposed to be picked up from the airport but nobody shown up. At the reception I've been explained that the plane was late therefore they went back home without waiting me. I asked for the wakeup call but they didn't call me. The english of the receptionists (If they talk any english) is very poor. One morning the shower was cold, I called the reception and they told me that they would fix it immediately and let me know. After 10 minutes I caled again and they hang up on me. The hotel rooms are nice, the breakfast is pretty good, but the service is awful and I would never book this hotel again.
"exeptional staff,"
Honest and courtesy staff, enjoyable stay. Small story: I forgot my jacket in the room the day I check out, I called later to claim it and they confirmed they found it, they keep for me the following week of my visit. How many hotel you can expect that ???
"Great at Hotel for the Price."
Great stay. Restaurants and stores nearby. Friendly and attentive staff. Close to airport but not shuttle service to and from hotel. Therefore, I had to check in to another hotel for my final night in Silao so I could take advantage of their shuttle service. Also, a great deal of road noise but once asleep, I slept through the traffic noise.
Top-rated Attractions Nearby
Cerro del cubilete
Parque Bicentenario Guanajuato
Templo de Maria Reina
Ce Kalli Temazcal Spa
Photos hotel and surroundings (118)
Rooms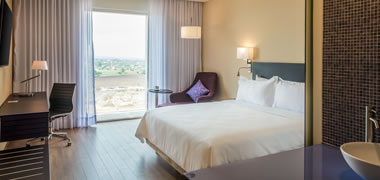 Superior Room, 1 King
This room has everything you need for a successful business trip and a relaxing stay, and offers a king bed, closet, telephone, coffeemaker, full bathroom, air conditioning, cable LCD TV, wireless Internet, and an executive work desk and chair.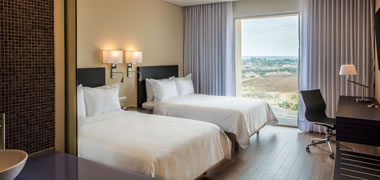 Superior Room, 2 Double
This functional room gives guests a relaxing environment to rest or work as they please. It comes equipped with 2 double beds, a closet, telephone, coffeemaker, wireless Internet, air conditioning, cable LCD TV, full bathroom, and complimentary toiletries. A work desk, chair and lamp are also included so that you can work free from distractions in the comfort of your room.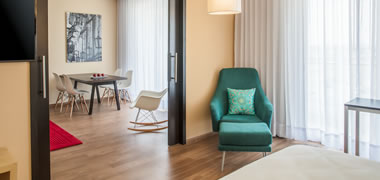 Junior Suite, 1 King
This inviting space was specifically designed to guarantee guests a memorable and productive stay. Guests will love the spaciousness of the suite as they move about the bedroom, living room, dining room, and kitchen area. Furnishings include a king bed as well as a sofa bed, closet, telephone, coffeemaker, microwave, full bathroom, air conditioning, cable LCD TV, wireless Internet, and a work desk.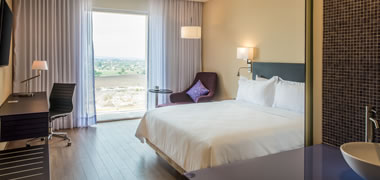 Accessible Room
We meet the needs of all guests to ensure that they have everything they need for a pleasant stay. This room comes with a single bed, work desk, closet, telephone, coffeemaker, wireless Internet, air conditioning, and cable LCD TV. The bathroom is equipped with safety rails in the shower, a raised toilet with safety rails, and extra-wide doors.