Located very close to the Tlalnepantla Executive Center and the Convention Center, and surrounded by the largest industrial zones such as Atizapán and Vallejo, and next to the Mundo E, Plaza Satélite and Punta Norte shopping centers. Situated sixty minutes from the Mexico City Airport and 30 minutes from the bus station.

We remind you that the check-in time is from 3:00 PM. Check-out is at 1:00 PM. We suggest you use our express check-out service.

Services
The hotel has 131 rooms, a restaurant, a lobby bar open from 2:00 p.m. until 12:00 a.m., gift shop and fitness center. Hotel services include:
Restaurant

Restaurant
The Fiesta Inn features a restaurant which opens from 6:00 a.m. until 11:00 p.m. and is an excellent choice for breakfast, lunch and dinner. Enjoy flavors with traditional Mexican flair and informal international dishes under the umbrellas of this terrace-style restaurant.
Meeting Rooms

Event and meeting rooms
The hotel has a Business Center with computers and high speed wireless Internet, it also has 1 meeting room with a screen, air conditioning and capacity for 6 people.
It also features meeting rooms that can be adapted to host for up to 150 people in an auditorium; each room has a board, electric screen, flip charts, coffee service and personalized service. Our professional team will help with your groups and conventions.

Qualified:
x
Location #1 of 11 hotels in Tlalnepantla
Certificate of Excellence 2019
Summary of qualifications
Best comments
"Be alert , I believe its unsafe:-/"
It's a decent hotel, I stayed for the first time to evaluate it for a business seminar. We got some cases of rude treatment for our guests, I faced a funny situation, I went down for breakfast and to got to the gym, the front desk told me that was necessary to pay the breakfast and could not charge to my room, all good to here, then I told them, I'm going to the gym an then I go to my room and I will be here in 1 hr, in 1 hr they went for me in the gym , they called my room 3 times and I were in n the shower there were a guy knocking my door with credit card machine.... just funny, I looked all my belongs this day because if they think that I would run away without paying 5 dollars for the coffee is because it must be a dangerous place. Tried to speak with the manager with no success
"Average Hotel, Decent Price"
Clean rooms, average to good customer service. A few things that I didn't like: sometimes the shower water smelled funny; the sink was outside of the bathroom (that's right); AC was too noisy; I had an issue with the corporate rate that at checkout and received no help. If you are looking for a budget hotel, its a good option.
"Average Hotel"
Average hotel with clean spacious rooms, but the bathroom was very small and washbasin was outside in the room was not the best design. A big mall is near within walking distance, but far from mexico city.
"A good option in Tlalnepantla"
I had stayed at this hotel in October from 21th to 28th and the stay was absolutely amazing. All the services are really good, the food, the cleaning and the bed are wonderful and the front desk is always ready to help us. Thanks for all. Best regards, Daniel Marinho
"Great value"
Good prices, new hotel, fresh rooms, nice room service and fast, comfortable bed and linens. Business type hotel. Front desk personal were friendly, helpful. There is nothing to do around but hotel is good.
Top-rated Attractions Nearby
Plaza Tlalne Fashion Mall
Parque Tematico Mini Mundos
Go Kart Mania
Santa Cecilia Acatitlan
Zona Arqueologica Tenayuca
Cameron Balloon Flights
Monument Abbey Road NW8 The Beatles
Gran Salon Victoria
CE Venue
Bacano
Photos hotel and surroundings (119)
Rooms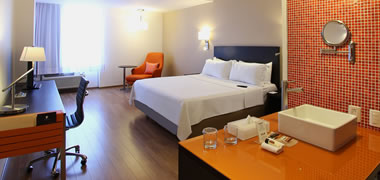 Superior Room, 1 king
32 m2 room with a king-size bed and some with a sofa and/or sofa bed, air-conditioning and heating, private bathroom, closet, ironing board and iron. Two telephones, one TV with remote control, and Wi-Fi capabilities.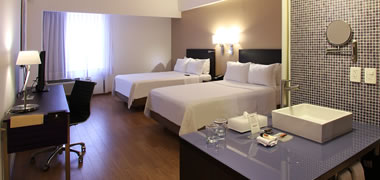 Superior Room, 2 double
32 m2 room equipped with 2 double beds, 29" TV, spacious work desk, telephone, bathroom with shower and toilet.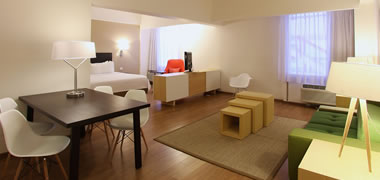 Junior Suite
50 m2 room with a king-size bed, air-conditioning and heating, private bathroom, closet, ironing board and iron. Two telephones, two TVs with remote control, microwave, bathroom scale, small refrigerator and special amenities.