Fiesta Inn
Tuxtla Gutiérrez
FIesta Inn Tuxtla Gutiérrez
From now on, a 1% City lodging tax is effective in our hotels located in Tuxtla Gutiérrez, Chiapas. This tax is additional to the 2% State lodging tax that was already being applied.
Located in the newly developed business and hotel area, just 5 minutes from the Galerías Boulevard business park and with easy access to the area's tourist attractions, such as the San Marcos Cathedral, the Miguel Álvarez Zoo and 45 minutes from the Sumidero Canyon and Chiapa de Corzo. Situated thirty-five minutes from the airport and 10 minutes from the bus station.

We remind you that the check-in time is from 3:00 PM. Check-out is at 12:00 PM. We suggest you use our express check-out service.

Services
The hotel has 120 rooms, a restaurant, a lobby bar open from 12:00 p.m. to 11:00 p.m., outdoor swimming pool and fitness center. Hotel services include:
Handicapped access
Free Wi-Fi access
Business center
Gym
Restaurant(s)
Guests access with guide dogs
Laundry service
24 hours room service
Pets are not allowed
Bar(s)
Outdoor parking
Outdoor pool
Restaurant

Restaurant
The Fiesta Inn features a restaurant which opens from 6:00 a.m. until 11:00 p.m. and is an excellent choice for breakfast, lunch and dinner. Enjoy national and international dishes from the buffet or menu, in a family setting with music and plenty of light.
Meeting Rooms

Event and meeting rooms
The hotel has a Business Center with computers and high speed wireless Internet, it also has 2 meeting rooms with a screen, air conditioning and capacity for 8 people.
It also features meeting rooms that can be adapted to host for up to 300 people in an auditorium; each room has a board, electric screen, flip charts, coffee service and personalized service. Our professional team will help with your groups and conventions.

Qualified:
x
Fiesta Inn Tuxtla Gutierrez
Location #9 of 46 hotels in Tuxtla Gutierrez
GreenLeader Platinum
Certificate of Excellence 2019
Summary of qualifications
Best comments
"Find another hotel folks. High cost for moderate quality."
Hotel costs seemed high for the quality of the room. There are many options in Tuxtla, so keep looking around. Employees were great, but did not make up for the room's condition, etc. Appeared the rooms were not being maintained, no fridge, microwave, and a one coffee maker machine.
"A/C not working "
We were told A/C doesn't go below 25°C, I told them that was very hot, they replied "that's normal temperature" almost making fun of me because they are used to higher temperatures, that's not the way to treat your guests. The rooms end up being pretty hot. If you wanna rest from the hot weather of the zone, avoid this hotel, don't make my same mistake.
"Convenient Hotel"
This place is quiet, modern and with great customer service. It has free WiFi, cable tv, gym, outdoor pool, and business center. The 9th floor is the executive floor and has great clean spacious rooms, awesome comforters w great amenities. This floor offers free coffee and tea table. They also have free coffee in the room. Their restaurant is great, it offers a wide variety of delicious food. It's pricey but worth it. This hotel is so much better than the Fiesta Inn Mall because is way less complicated in parking, reservations and service in general.
"Clean, modern hotel with comfortable rooms and good facilities"
I was here on business, but had the family with me. The room was clean and comfortable and had really efficient non-intrusive air-con. My wife and son enjoyed the pool deck while I was at the office. I used the car hire facilities based in the hotel. Breakfast was fine and service was good. My only beef is the absence of pest control in the lobby area. Mosquitoes hunting in packs!
"Like a Castle Fortress in the sky !!!"
This beautiful brand new Hotel stands atop the Ambar Fashion Mall and it offers stunning views of the surrounding hills of Tuxtla. In fact, it looks like Hong Kong at night with all the twinkling lights dripping down the sides of the hills. Even the view in the gym was nice. Once you arrive just get in the Mall elevator and press floor 3. You will step out into the lobby and be greeted by a friendly staff and security. They made us feel really welcome by giving us good tourist advice and answering all our questions, and yes, although I speak fluent Spanish, there is always someone who can speak English. You can shop at the Mall or take a bus, (only 7 pesos each), to the main plaza and see the white stucco St Marks Cathedral, complete with a winged lion just like in Venice. A taxi to the heart of the city is only about 40 pesos. From the street in front, you can even take a micro bus to San Cristobal de Las Casas, (only about 60 pesos one way) and enjoy the cool mountain weather for a few days. Yes, this is the hotel for you !!!
Top-rated Attractions Nearby
Miradores Canon del Sumidero
Zoologico Miguel Alvarez del Toro
Parque de la Marimba
Chiapa de Corzo
Chiflon Cascades
Museo del Cafe de Chiapas
Ecoexperiencias
Museo de la Marimba
Mirador Manos Que Imploran
Museo Regional de Chiapas
Photos hotel and surroundings (108)
Rooms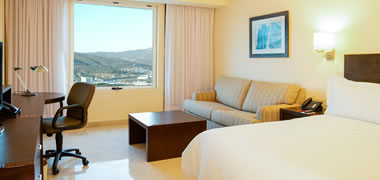 Superior Room, 1 king
The room is 30 m2 with a king-size bed, 2 bedside tables, 32'' TV, reading chair and spacious work desk, telephone, bathroom, shower and toilet.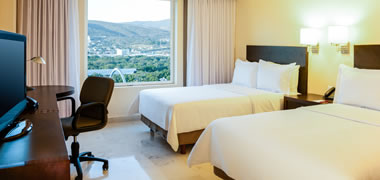 Superior Room, 2 double
Equipped with 2 double beds, 32'' TV, spacious work desk, telephone, bathroom, shower and toilet.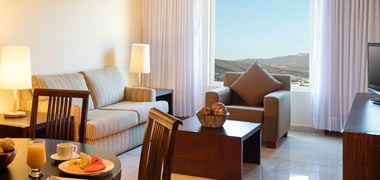 Junior Suite
Executive rooms with a king-size bed, work desk, individually controlled air-conditioning, telephones with data ports, cable TV, a security system and smoke detectors. Spacious bathrooms with a separate vanity unit.