Fiesta Inn Villahermosa
Cencali
Fiesta Inn Villahermosa Cencali
Fiesta Inn Villahermosa offers guests everything they need for a successful stay, with modern and functional facilities, personalized customer service, and a warm, low-key atmosphere.

The hotel has been a symbol of Villahermosa for more than 30 years and is strategically located in the city's most important hotel and business district, just 20 minutes from the airport and five minutes from downtown. It offers easy access to Galerías Tabasco shopping center, the Pirámide PEMEX building, Torre Empresarial, Convention Center, Tabasco Park, and Tomás Garrido Park.

The hotel offers 159 comfortable guest rooms, plus a restaurant, high-speed Internet access, swimming pool, four meeting rooms, and 24-hour room service. On display in the hotel lobby is an intriguing Mayan mural called ''The Creation of the Universe.'' The hotel's green spaces are home to flora and fauna typical of the state of Tabasco, and visitors can find cacao plants and small man-made lagoons that are home to a variety of species of turtles. The spacious rooms provide a gorgeous view of the nearby Laguna de las Ilusiones.

We know how business works and we are ready to provide you with a uniquely welcoming and productive stay.

Please note that check-in begins at 3pm, subject to availability. Check-out is at 12pm. Express check-out is recommended.

Services
The hotel has 159 rooms, restaurant, bar, a range of spacious and comfortable multi-use rooms for private work sessions, meetings and other group events. Other facilities include Lounge 360°, and fitness center. Hotel services include:
Handicapped access
Gym
Restaurant(s)
100% smoke free hotel
Guests access with guide dogs
Pets are not allowed
Indoor parking
Free Wi-Fi access
Business center
Laundry service
Bar(s)
24 hours room service
Outdoor pool
Outdoor parking
Meeting Rooms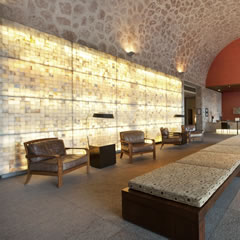 Event and meeting rooms
With our comfortable and modern meeting rooms and expert service, we offer the perfect venue for a business meeting away from the office. Our four rooms, each with its own theme and name (Lago, Tucán, Sol, and Montuy), come fully equipped with projector screens, audio, high-speed Internet and everything else you need to work productively and efficiently.
Qualified:
x
Fiesta Inn Villahermosa Cencali
Location #8 of 42 hotels in Villahermosa
Summary of qualifications
Best comments
"Air Conditioning"
The Hotel is clean, excellent food when it comes to breakfast and dinner the 2 rooms I stayed in were clean and smell good. The only thing I would say and recommend is that the need to better their Air conditioning in their rooms, the area itself is very hot so excellent Air conditioning in rooms is most important and its a big necessity.
"Terrible restaurant"
Automatic gratuity which is completely illegal in Mexico, cold food, overcharged for drinks (oh, you should have told us you wanted the promo drinks... What??) , ac didn't work. Absolutely horrible restaurant staff.
"Sent me to a horrible hotel in the middle of the night"
I made a reservation nearly a month and a half in advance. On the day of my arrival, around 23:30, after waiting 10 minutes for two other guests to be attended before me, I was told that there was a problem with my reservation, and there were no available rooms. The woman at front desk asked me if I had not received an email notifying me this situation, but of course I had not, otherwise I would not be there asking for my room. She offered to get me a cab to another hotel of the same group, some Hotel One. They did the least they could, pay the cab for me, but besides that, nothing else was offered for the inconvenience of having to go to another hotel near midnight and coming right from the airport, I even was given the regular price at the second hotel, even though it is a cheap hotel in a dirty street. This is a short trip (two nights), and I chose Fiesta Inn because I thought that, as a major reliable chain, I would get a good night's sleep. Instead, I am laying in a small bed, in a hotel room that smells like old cigarettes, and next to some kind of dancing club, where the music is so loud I decided to write this review instead of trying to sleep. Additionally, the location of the Fiesta Inn was very convenient for the place I have to go tomorrow, now I am farther away, which means leaving earlier and not being able to come to the hotel room during the day. Also I was expecting to have room service and probably have at least one meal at the hotel, but here at Hotel One the room service is Subway. I am very disappointed of the service, this has been one of the worst experiences I have had, and the hotel staff did not even made a little effort to find a better solution to a situation that is entirely their fault.
"Worst hotel of all our stays during a trip of 21 days"
Room is big and pool is nice but that's all there is to say. The airco is old and not sufficient to cool down the room. Towels disappeared when we went for breakfast while check out is at 12 o'clock. We asked for newones but did not get them. Breakfast is very expensive compared to what is available. Service in general is poor. We would not recommend this hotel.
"Better than expected"
Traveling with 4 coworkers, I anticipated issues and confusion, or at least some sort of frustration about the cleanliness of the hotel. We experienced nothing but excellent service, helpful staff, and fairly good food at the hotel restaurant. It took about 18 minutes to get to the airport when it wasn't rush hour, so it would be convenient for a stop over as well. I was not impressed with the hotel bar because it was way too loud, however the happy hour 2 for 1 was hard to miss. The staff spoke little english, but they did everything possible to facilitate our stay. The place was very secure, with police stationed on site, and even a few were staying at the hotel as well. I would recommend this place for standard business travel, or family vacations.
Top-rated Attractions Nearby
Parque Museo La Venta
Museo Regional de Antropologia Carlos Pellicer Camara
Parque Tomas Garrido Canabal
Yumka
Museo de Historia de Tabasco (Casa de los Azulejos)
Parque La Choca
Catedral del Senor de Tabasco
Museo de Historia Natural
Casa Museo Carlos Pellicer
Museo Interactivo Papagayo
Photos hotel and surroundings (143)
Rooms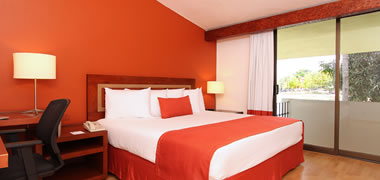 Superior Room 1 King
Whether traveling for work or pleasure, guests will find a home-away-from-home in this spacious room decorated with contemporary, warm themes. The room comes equipped with a security safe, air conditioning, coffeemaker, cable TV, and high-speed Internet. It also features a gorgeous view of the Lago de las Ilusiones or the hotel¿s courtyard.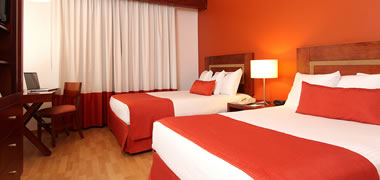 Superior Room 2 Double
This room offers a break from the stress of the outside world, where the contemporary decorations and warm colors create the perfect atmosphere for a relaxing and productive stay. The room has 2 double beds, a security safe, air conditioning, cable TV, and high-speed Internet. The view of the Lago de las Ilusiones, a spectacular example of Mexico¿s natural beauty, or the hotel¿s courtyard area is sure to brighten any traveler¿s stay.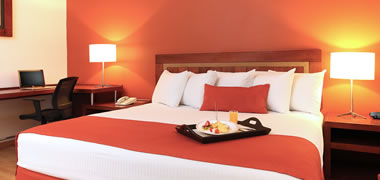 Junior Suite 1 King
This suite is designed to ensure a comfortable and productive stay by combining a spacious layout with warm color schemes to create a relaxing atmosphere. It includes a security safe, air conditioning, coffeemaker, cable TV, and high-speed Internet.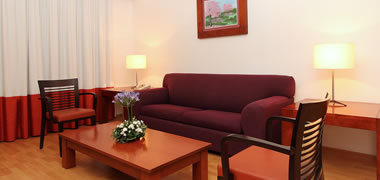 Master Suite 1 King
A warm, inviting retreat from the outside world awaits guests in this modern, comfortable room. The suite features a security safe, air conditioning, coffeemaker, cable TV and high-speed Internet. The magnificent view of the Laguna de las Ilusiones makes this a unique place to stay while traveling.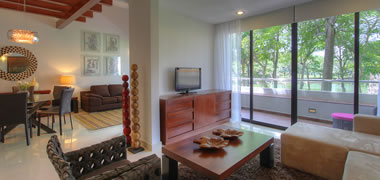 Presidential Suite
A special suite makes for a special experience. The warmth and comfort of this room are perfect for guests looking to work, rest or relax comfortably in a spacious suite. It is the only room type that features two stories and includes a living room, dining room, kitchen, air conditioning, two bathrooms, 32¿ cable TV and whirlpool bathtub.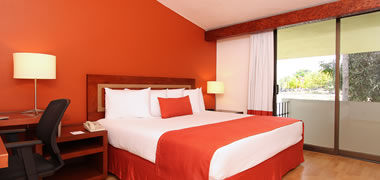 Accessible Room
Special needs guests will find the comfort and functionality they need in this room, which is wheelchair-accessible and designed for maximum ease of use. Extra features include safety rails in the shower and bathroom, in addition to the amenities found in all other guest rooms, such as a security safe, air conditioning, coffeemaker, cable TV, and high-speed Internet. It also offers a magnificent view of the Laguna de las Ilusiones.