Fiesta Inn Villahermosa
Cencali
Fiesta Inn Villahermosa Cencali
Fiesta Inn Villahermosa offers guests everything they need for a successful stay, with modern and functional facilities, personalized customer service, and a warm, low-key atmosphere.

The hotel has been a symbol of Villahermosa for more than 30 years and is strategically located in the city's most important hotel and business district, just 20 minutes from the airport and five minutes from downtown. It offers easy access to Galerías Tabasco shopping center, the Pirámide PEMEX building, Torre Empresarial, Convention Center, Tabasco Park, and Tomás Garrido Park.

The hotel offers 159 comfortable guest rooms, plus a restaurant, high-speed Internet access, swimming pool, four meeting rooms, and 24-hour room service. On display in the hotel lobby is an intriguing Mayan mural called ''The Creation of the Universe.'' The hotel's green spaces are home to flora and fauna typical of the state of Tabasco, and visitors can find cacao plants and small man-made lagoons that are home to a variety of species of turtles. The spacious rooms provide a gorgeous view of the nearby Laguna de las Ilusiones.

We know how business works and we are ready to provide you with a uniquely welcoming and productive stay.

Please note that check-in begins at 3pm, subject to availability. Check-out is at 12pm. Express check-out is recommended.

Services
The hotel has 159 rooms, restaurant, bar, a range of spacious and comfortable multi-use rooms for private work sessions, meetings and other group events. Other facilities include Lounge 360°, and fitness center. Hotel services include:
Handicapped access
Gym
Restaurant(s)
100% smoke free hotel
Guests access with guide dogs
Pets are not allowed
Indoor parking
Free Wi-Fi access
Business center
Laundry service
Bar(s)
24 hours room service
Outdoor pool
Outdoor parking
Meeting Rooms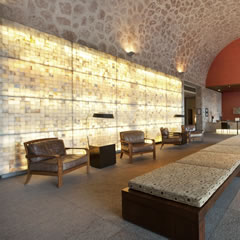 Event and meeting rooms
With our comfortable and modern meeting rooms and expert service, we offer the perfect venue for a business meeting away from the office. Our four rooms, each with its own theme and name (Lago, Tucán, Sol, and Montuy), come fully equipped with projector screens, audio, high-speed Internet and everything else you need to work productively and efficiently.
Qualified:
x
Fiesta Inn Villahermosa Cencali
Location #9 of 35 hotels in Villahermosa
Certificate of Excellence 2018
Summary of qualifications
Best comments
"Better than expected"
Traveling with 4 coworkers, I anticipated issues and confusion, or at least some sort of frustration about the cleanliness of the hotel. We experienced nothing but excellent service, helpful staff, and fairly good food at the hotel restaurant. It took about 18 minutes to get to the airport when it wasn't rush hour, so it would be convenient for a stop over as well. I was not impressed with the hotel bar because it was way too loud, however the happy hour 2 for 1 was hard to miss. The staff spoke little english, but they did everything possible to facilitate our stay. The place was very secure, with police stationed on site, and even a few were staying at the hotel as well. I would recommend this place for standard business travel, or family vacations.
"Villahermosa Fiesta Inn Cencali worth staying again"
Mural in lobby worth a photo. Secure, clean facility. VERY affordable and centrally located. Staff very helpful. Clean and secure facility. Riparian views with urban amenities. 24-hour room service always a help and prices very equitable on the menus.
"Nice Modern Hotel Next to Crocodile Lake"
We (a family of 4) stayed here for 2 nights on our road trip from Merida to Mexico, A very enjoyable stay. Rooms were big and comfortable, staff helpful. Nice pool and interesting to watch the crocs in the lake next to the hotel. It is a big hotel and maybe a bit lacking in character, but we enjoyed staying here. Had dinner in the hotel retaurant one evening, which turned out to be one of the best meals on our trip. Good breakfast too.
"Crocodiles. A beautiful facility... with potential."
Place is clean, people are friendly, lots of trees and green. Only the food is rather bland, but a good place overall, conveniently located nead two main VSA avenues. Mosquito repelent is a must. Do not walk under any tree whatsoever if you are not wearing repelent. WiFi more than ok. Beds are nice, and you get a great view if you stay in the tower, 4th and 5th floors.
"Fabulous hotel, great location, staff and comfort."
I stayed two nights in a room at the back, 454 ( I think) huge room, massive comfy bed, big bouncy pillows, soft white linen, a work desk plus a table and chair, lovely bathroom, gorgeous glass shower screen massive step into shower area. Absolutely faultless. Dining room lovely, nice choice at breakfast. Nice pool and lovely gardens with view over lake. The park and light show is a close, come out, turn right cross the road you are at the park. Walk through to zoo and Mayan heads etc.. Also a free tour bus beside the park. This hotel is fabulous value.
Top-rated Attractions Nearby
Parque Museo La Venta
Yumka
Museo Regional de Antropologia Carlos Pellicer Camara
Museo de Historia de Tabasco (Casa de los Azulejos)
Parque Tomas Garrido Canabal
Catedral del Senor de Tabasco
Casa Museo Carlos Pellicer
Parque La Choca
Teatro Esperanza Irirs
Museo de Historia Natural
Photos hotel and surroundings (128)
Rooms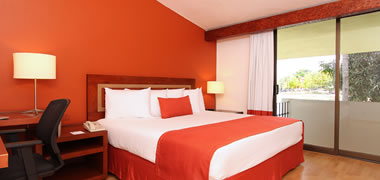 Superior Room 1 King
Whether traveling for work or pleasure, guests will find a home-away-from-home in this spacious room decorated with contemporary, warm themes. The room comes equipped with a security safe, air conditioning, coffeemaker, cable TV, and high-speed Internet. It also features a gorgeous view of the Lago de las Ilusiones or the hotel¿s courtyard.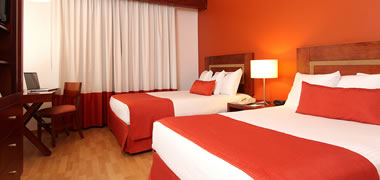 Superior Room 2 Double
This room offers a break from the stress of the outside world, where the contemporary decorations and warm colors create the perfect atmosphere for a relaxing and productive stay. The room has 2 double beds, a security safe, air conditioning, cable TV, and high-speed Internet. The view of the Lago de las Ilusiones, a spectacular example of Mexico¿s natural beauty, or the hotel¿s courtyard area is sure to brighten any traveler¿s stay.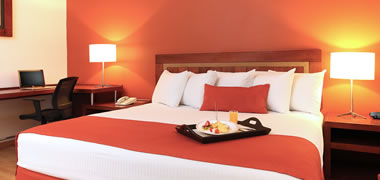 Junior Suite 1 King
This suite is designed to ensure a comfortable and productive stay by combining a spacious layout with warm color schemes to create a relaxing atmosphere. It includes a security safe, air conditioning, coffeemaker, cable TV, and high-speed Internet.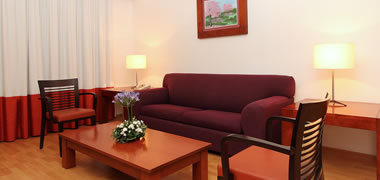 Master Suite 1 King
A warm, inviting retreat from the outside world awaits guests in this modern, comfortable room. The suite features a security safe, air conditioning, coffeemaker, cable TV and high-speed Internet. The magnificent view of the Laguna de las Ilusiones makes this a unique place to stay while traveling.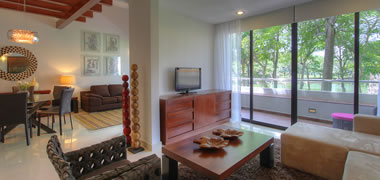 Presidential Suite
A special suite makes for a special experience. The warmth and comfort of this room are perfect for guests looking to work, rest or relax comfortably in a spacious suite. It is the only room type that features two stories and includes a living room, dining room, kitchen, air conditioning, two bathrooms, 32¿ cable TV and whirlpool bathtub.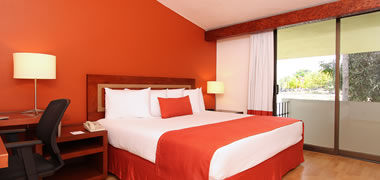 Accessible Room
Special needs guests will find the comfort and functionality they need in this room, which is wheelchair-accessible and designed for maximum ease of use. Extra features include safety rails in the shower and bathroom, in addition to the amenities found in all other guest rooms, such as a security safe, air conditioning, coffeemaker, cable TV, and high-speed Internet. It also offers a magnificent view of the Laguna de las Ilusiones.