Carousel_Fiesta_Inn_Tlalnepantla
ComPosadasCalificacionTripadvisor
Qualified:
ComPosadasTripadvisorModal
x
Location #3 of 15 hotels in Tlalnepantla
Summary of qualifications
Best comments
"Nice service but noisy rooms."
The service at this hotel is very attentive and friendly. The breakfast has a lot of options for juices, yogurts, cereals, etc. The lunch and dinner options were fine and there are a lot of beers and tequilas to choose from. The rooms towards the inside of the building are very noisy because of the large lobby and it's echo which did not provide the best resting option possible.
"Best Business Hotel in Tlalnepantla area"
Five-night M-F stay in September. Comfortable & spotless rooms; free hot breakfast buffet with many choices including several cooked-to-order dishes. If you're looking for a activity based tourist hotel with activities, movies, things-to-do, etc, this is not the place. However if you are looking for the right business hotel with everything you need after a hard day at the office, look no further. Special shoutout to Mariana in the dinner restaurant. Sharp, prompt,& professional!
"Be alert , I believe its unsafe:-/"
It's a decent hotel, I stayed for the first time to evaluate it for a business seminar. We got some cases of rude treatment for our guests, I faced a funny situation, I went down for breakfast and to got to the gym, the front desk told me that was necessary to pay the breakfast and could not charge to my room, all good to here, then I told them, I'm going to the gym an then I go to my room and I will be here in 1 hr, in 1 hr they went for me in the gym , they called my room 3 times and I were in n the shower there were a guy knocking my door with credit card machine.... just funny, I looked all my belongs this day because if they think that I would run away without paying 5 dollars for the coffee is because it must be a dangerous place. Tried to speak with the manager with no success
"Average Hotel, Decent Price"
Clean rooms, average to good customer service. A few things that I didn't like: sometimes the shower water smelled funny; the sink was outside of the bathroom (that's right); AC was too noisy; I had an issue with the corporate rate that at checkout and received no help. If you are looking for a budget hotel, its a good option.
"Average Hotel"
Average hotel with clean spacious rooms, but the bathroom was very small and washbasin was outside in the room was not the best design. A big mall is near within walking distance, but far from mexico city.
Top-rated Attractions Nearby
Photos hotel and surroundings (117)
Tripadvisor_Fiesta_Inn_Tlalnepantla
Located very close to the Fashion Mall Tlalnepantla square, the Tlalnepantla Executive Center and the Convention Center, and surrounded by the largest industrial zones such as Atizapán and Vallejo, and next to the Mundo E, Plaza Satélite and Punta Norte shopping centers. Situated sixty minutes from the Mexico City Airport and 30 minutes from the bus station.ABC Medical Center, our protocols ally. A leader in medical best practices for more than 130 years, ABC Medical Center, dedicated to caring for their patients' health, has assisted POSADAS in the development of prevention, hygiene, and disinfection protocols that allow the group to guarantee the safety of their staff and guests.We remind you that the check-in time is from 3:00 PM. Check-out is at 1:00 PM. We suggest you use our express check-out service.
Services
The hotel has 131 rooms, a restaurant, a lobby bar open from 11:00 p.m. until 23:00 a.m., and fitness center open from 6:00 a.m. until 23:00 a.m.
Guide Dog
Gym
Smoke Free Hotel
Indoor Parking Extra Cost
Shuttle Service Extra Cost
Room Service
Digital Check-in
Event and meeting rooms
The hotel has a Business Center with computers and high speed wireless Internet, it also has 2 meeting room with a screen, air conditioning and capacity for 6 people. It also features meeting rooms that can be adapted to host for up to 120 people in an auditorium; each room has a board, electric screen, flip charts, coffee service and personalized service. Our professional team will help with your groups and conventions.
Rooms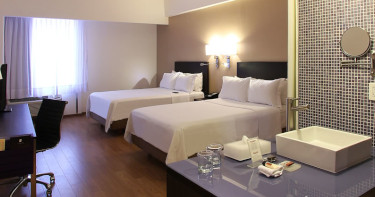 Accessible Room
70 m2 room equipped to meet the needs of handicapped guests: 2 single beds, 55'' TV, desk, telephone, a bathroom equipped with a 1 meter high handrail, shower and toilet with special safety bars.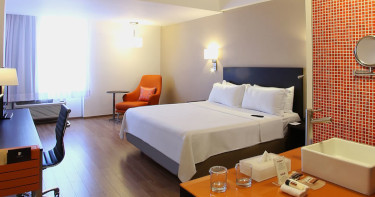 Superior Room, 1 king
68 m2 room with a king-size bed, air-conditioning and heating, private bathroom, closet, ironing board and iron. Telephone, one TV of 55" with remote control, and Wi-Fi capabilities.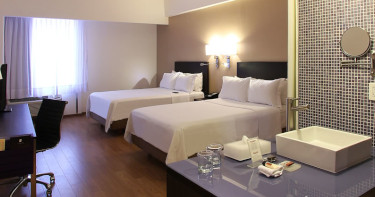 Superior Room, 2 double
68 m2 room equipped with 2 double beds, 55" TV, spacious work desk, telephone, bathroom with shower and toilet.