Fiesta Inn
Aeropuerto Ciudad de México
Fiesta Inn Aeropuerto Ciudad de México
Strategically located across from the Mexico City Airport, with shuttle service for guests during all year, this hotel is an excellent option for business travelers that need a central location and an agreeable setting. The hotel has gardens and an outdoor pool. The hotel is situated just 20 minutes from the Historic Center, the Zona Rosa neighborhood and 10 minutes from the Foro Sol stadium and the Palacio de los Deportes (sports arena). The hotel offers free airport-hotel-airport shuttle service every 20 minutes (At the number 4 door in the Terminal 1 and in front of national arrivals in Terminal 2)


Fiesta Inn Aeropuerto Ciudad de México is an Eco-friendly hotel, so it is a 100% smoke free hotel.

We remind you that the check-in time is from 3:00 PM. Check-out is at 12:00 PM. We suggest you use our express check-out service.

Services
The hotel has 327 rooms, a restaurant, a lobby bar open from 1:00 p.m. to 12:00 a.m., swimming pool and fitness center. Hotel services include:
Gym
Restaurant(s)
100% smoke free hotel
Guests access with guide dogs
Outdoor parking with cost
Shuttle service (subject to availability)
Pets are not allowed
Business center
Free Wi-Fi access
Laundry service
Bar(s)
24 hours room service
Outdoor pool
Restaurant

Restaurant
The Fiesta Inn features a restaurant which opens from 6:00 a.m. until 12:00 a.m. and is an excellent choice for breakfast, lunch and dinner. Try our breakfast, lunch or dinner buffets or order items from the menu. Different buffet styles are served Monday through Friday including Mexican, Italian and Seafood on Fridays.
Meeting Rooms

Event and meeting rooms
The hotel has a Business Center with computers and high speed wireless Internet, and 12 meeting rooms with a screen, air conditioning and capacity for 8 people.

It also features event rooms that can be adapted to host up to 500 people in an auditorium; each room has a board, electric screen, flip charts, coffee service and personalized service. Our professional team will help with your groups and conventions.
Qualified:
x
Fiesta Inn Aeropuerto Ciudad de Mexico
Location #64 of 312 hotels in Mexico City
GreenLeader Platinum
Certificate of Excellence 2018
Summary of qualifications
Best comments
"Next to airport in Mexico DF"
Nice and very convenient hotel for people that need to overnight close to the airport to fly next day. Food is excellent and is included in price, always Mexican buffet with very delicious dishes, desserts, drinks and the rooms are also confortable.
"Convenient location "
The hotel was very close to the airport not in the airport. Their free shuttle ran every 20 minutes 24hours a day. The room was 'tired' with small holes in the carpet. Also if you stay bring ear plugs as the planes going over are extremely noisy. We ate at the hotel's seafood buffet on a Friday and it was exceptional.
"Airport area hotel for when in-terminal hotels are not available."
Location: • South of Terminal 1 on the other side of a very busy road. Getting to hotel from airport: • After arriving terminal 1 and waiting at doorway 4 for a while decided to walk it. With rolling luggage took 15 minutes via pedestrian bridge over the major roadway that is between the terminal and the hotel. Check-In: • Fairly quick. But on getting to assigned room 1203 discovered open sliding glass door where anyone could walk into room from the outside. Sliding glass door would not lock easily and did not have any safety features to prevent breaking and entry so asked to be moved to a more secure room. Reallocated room on second floor in building D. Elevators: • Fairly quick. • Occasionally would get stuck for a couple of minutes before moving. Room: • 3212. • Large sized. • Clean smell. • Far from elevators. • Subdued decor. • Simple solid furnishings. • Carpet floor. • Slanted floor with one side of room higher than the other. Desk: • Small-sized desk. • Optical mouse friendly. • Desk lamp. • Two power sockets at desk height. Desk Chair: • Slightly adjustable. • Comfortable for work. Phones: • No phone on desk. • Phone bedside. Internet in Room: • Wi-Fi internet access provided with room. • Stable. • Fast. • Compatible with VPN. Room Lighting: • Well lit. • Floor lamp. • No ceiling lights. • Bedside lights. Closet: • Medium-sized closet. • Limited shelf space. Two drawers under luggage bench. Safe: • Yes. • Large enough for laptop. Additional Seating: • Sofa chair. TV: • Wall mounted. • Medium-sized. • English language channels include CNN and some movie channels. Windows: • Large along full length of outside wall • Curtains effective at blocking out sunlight. Balcony: • Very narrow. View from Room: • Parking lot. Bathroom: • Small-sized. • No tub. • Shower stall. • No bidet. • Well lit. • Soap, shampoo, lotion provided. • Adequate water pressure. • Hot water not always available. • Non-heated mirror. • No magnifying mirror. • Shaver power outlet. Noise Level in Room: • No noise from adjoining rooms. • High noise from air conditioner unit when running. • No street noise but occasional noise from car park. • Lots of noise from hallway due to gaps in the room door seal. Bed: • King size. • Firm mattress. • Very clean. Room Cleanliness: • Very clean. • Well cleaned daily. Air Conditioning/Heating: • Very effective at cooling room. Alarm Clock and Wakeup: • Wake up calls from reception always on time. Turn Down Service: • No. Complimentary Tea and Coffee in room: • Only coffee. Complimentary Drinking Water: • Two bottles daily. Fridge: • No. Microwave Oven: • No. Room Service: • Yes. • Did not use. Breakfast: • Extensive breakfast buffet. Restaurant: • Did not use other than for breakfast. Laundry Service: • Did not use. Iron: • Yes. Trouser Press: • No. Robe: • No. Slippers: • No. Umbrella: • No. Morning Newspaper at Door: • No. Gym: • Did not use. Pool: • Tiny. • Did not use. Steam Room: • No. Sauna: • No. Parking: • Did not use. Staff: • Not all staff fluent in English. • Very helpful. Check Out: • Fast. • Billed accurately. Leaving hotel: • Used pedestrian path over roadway to terminal 1.
"Pleasant, Affordable, Convenient"
The nice gardens and proximity to the Peñon Thermal Baths make it my top choice when connecting through MEX and can schedule an overnight layover. It's a refreshing and peaceful place to sleep, despite being within walking distance of T1. The natural hot mineral waters nearby have healed the weary for centuries and can be taken during any stopover longer than 3.5 hrs. Highly recommended and better than any airport lounge.
"A good medium priced hotel near Mexico City Airport"
Fiesta Inn Aerporto CD Mexico City hotel is located about a 10 minute free shuttle bus away from the airport. The airport is not well signposted. Go to Gate 4 in T1 and wait there for the hotel shuttle bus that should arrive every 20 minutes. If you arrive T2 go to the small hotels office near gate 4 and just outside turn right and there is a small unmarked parking area where the hotel shuttle buses come to. The hotel is I believe the best mid range priced hotel near the airport. There is a nice small pool. The staff are pleasant. In room safe and free one packet of brewing coffee. Nice buffet breakfast.
Top-rated Attractions Nearby
National Museum of Anthropology (Museo Nacional de Antropologia)
Eat Mexico Culinary Tours
Museo del Tiempo Tlalpan
Journeys Beyond the Surface Popular Culture Tours
Eat Like a Local Mexico
Mexico City Urban Adventures
Mexcity Tours- Day Tours
Sabores Mexico Food Tours
Casa Jacaranda
Estacion Mexico Free Tours
Photos hotel and surroundings (270)
Rooms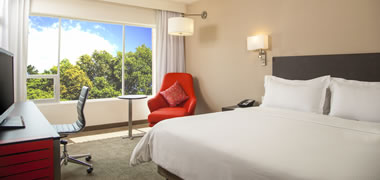 Executive Room, 1 King
Whether traveling for work or pleasure, you will feel instantly relaxed when entering these spacious rooms with minimalist design. Each room has a king bed, 32" LCD TV, two telephones, and work desk with high-speed wireless Internet. They also offer a bathroom with tub, air conditioning, security safe and ironing kit, and everything you need for an enjoyable stay, including 24-hour room service.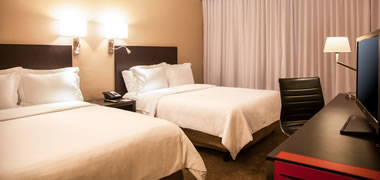 Executive Room, 2 Double
These spacious rooms feature minimalist design, making them ideal for rest and relaxation. Each room has two double beds, 32" LCD TV, two telephones, and work desk with high-speed wireless Internet. They also offer a bathroom with tub, air conditioning, security safe and ironing kit, and everything you need for an enjoyable stay, including 24-hour room service.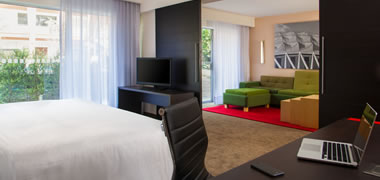 Junior Suite King
A spacious room with 2 areas: living room and bedroom; featuring 1 king-sized bed, two 32" LED screens (one in each room), 2 phone lines and a spacious desk.