Fiesta Inn
Aeropuerto Ciudad de México
Fiesta Inn Aeropuerto Ciudad de México
Strategically located across from the Mexico City Airport, with shuttle service for guests during all year, this hotel is an excellent option for business travelers that need a central location and an agreeable setting. The hotel has gardens and an outdoor pool. The hotel is situated just 20 minutes from the Historic Center, the Zona Rosa neighborhood and 10 minutes from the Foro Sol stadium and the Palacio de los Deportes (sports arena). The hotel offers free airport-hotel-airport shuttle service every 30 minutes (At the number 4 door in the Terminal 1 and in front of national arrivals in Terminal 2)


Fiesta Inn Aeropuerto Ciudad de México is an Eco-friendly hotel, so it is a 100% smoke free hotel.

We remind you that the check-in time is from 3:00 PM. Check-out is at 12:00 PM. We suggest you use our express check-out service.

Services
The hotel has 327 rooms, a restaurant, a lobby bar open from 1:00 p.m. to 12:00 a.m., swimming pool and fitness center. Hotel services include:
Gym
Restaurant(s)
100% smoke free hotel
Guests access with guide dogs
Outdoor parking with cost
Shuttle service (subject to availability)
Pets are not allowed
Business center
Free Wi-Fi access
Laundry service
Bar(s)
24 hours room service
Outdoor pool
Restaurant

Restaurant
The Fiesta Inn features a restaurant which opens from 6:00 a.m. until 12:00 a.m. and is an excellent choice for breakfast, lunch and dinner. Try our breakfast, lunch or dinner buffets or order items from the menu. Different buffet styles are served Monday through Friday including Mexican, Italian and Seafood on Fridays. Open to all public.
Meeting Rooms

Event and meeting rooms
The hotel has a Business Center with computers and high speed wireless Internet, and 12 meeting rooms with a screen, air conditioning and capacity for 8 people.

It also features event rooms that can be adapted to host up to 500 people in an auditorium; each room has a board, electric screen, flip charts, coffee service and personalized service. Our professional team will help with your groups and conventions.
Qualified:
x
Fiesta Inn Aeropuerto Ciudad de Mexico
Location #69 of 377 hotels in Mexico City
GreenLeader Platinum
Certificate of Excellence 2019
Summary of qualifications
Best comments
"Airport overnight"
Very nice facility at airport while waiting for hotel shuttle. Even though hotel is only one mile from airport, van had to take a much longer route to get to hotel and return to airport next day due to terrible design on access roads in area.
"Totally disappointed."
Only good things we're the shuttle service and the location. Stayed at this hotel two times with 3people with reservations about a week apart. When we arrived the room was very cool on the first arrival so I reset the thermostat for heat. I noticed there were only towels for two people when the reservation was clearly for three paid for. So I called for towels. We had been in the room about an hour when the towels arrived. Problem was that the room was not heating up. They called for maintenance who after 30 minutes could not fix the heat. So they sent me to the desk where they exchanged rooms. No apology. No offer if an upgrade. No concern about customer inconvenience. Really! At a facility that charges premium rates for a 3 star room because of location. I reviewed this on Google and received a message from management that they were happy enjoyed my stay. No kidding! They obviously do not read one-star reviews. I stayed the second time because of an early flight and convenience to the airport.. Would you believe that with a three person reservation that I had to talk to three people to get towels for the three guests that I reserved for.. Incredibly bad service.
"Good location-walking distance to great street food"
Missed a flight and needed a night's stay. Chose this hotel because of reasonable price and close proximity to the Aeropuerto. Staff very nice. Room comfortable. Big upside is the close proximity to nighttime street food. I walked 11 blocks deep on Norte 33 into the adjacent neighborhood. I never felt threatened walking alone. I came across several vendors selling tacos and the like. There were also tiendas open where I was able to purchase ice (no refrigerator in the room) and beverages. In the morning, I hit the streets for some exercise and found some great street food breakfast options. I'd give the hotel a fourth star but the building I was placed in (Building D) has settled leaning to the southwest. You can detect the slant walking the length of the room or down the hallway. Some doors stay open while others won't because of the lean. Still, the room was more than adequate for the price. Recommended.
"One night stay"
The hotel was clean and quiet. It was tricky to find the shuttle. It was at gate four by where the tour buses were. Otherwise a great experience. Restaurant is open late and the breakfast buffet had a huge variety.
"Mediocre airport hotel in need of renovation"
We chose this hotel as one of the reasonably priced ones next to the airport. The drive from Terminal 2 took about 15 minutes. Early in the morning, the drive back to the airport took about 10 minutes. Hotel is old, you can see it in the carpet of undetermined color, aged furniture, bathroom that needs a face lift. Hotel lobby is small and not comfortable for many people arriving at the same time. The hotel clerk did not bother to explain to us how to get to our room (it is a maze if you are there for the first time) and was not super happy when I asked for an explanation after 5 minutes wondering. Hotel restaurant is mediocre at best, do not recommend. The biggest surprise was a lack of organization and system in the airport shuttle. The lobby clerk explained to us that there is no system, the shuttle departs approx every 30 minutes, you cannot make reservations, just come in and wait until your turn. We got up at 4 AM, got to the shuttle bus only to find out that the shuttle was already full and would come back in about 20 minutes. I did not want to take chances and ordered an Uber drive. For the airport hotel this organization is ridiculous. The hotel was not worth the money we paid. I would look for a different option.
Top-rated Attractions Nearby
Museo Nacional de Antropologia
Eat Like a Local Mexico
Mexico Walking Tour
Bikes and Munchies
Strawberry Tours
Mexico a Pie
Journeys Beyond the Surface
Sabores Mexico Food Tours
Eat Mexico Culinary Tours
Casa Jacaranda
Photos hotel and surroundings (306)
Rooms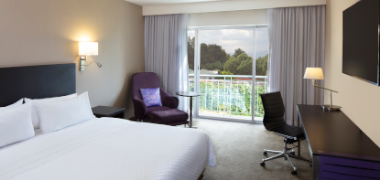 Executive Room, 1 King
Whether traveling for work or pleasure, you will feel instantly relaxed when entering these spacious rooms with minimalist design. Each room has a king bed, 32" LCD TV, two telephones, and work desk with high-speed wireless Internet. They also offer a bathroom with tub, air conditioning, security safe and ironing kit, and everything you need for an enjoyable stay, including 24-hour room service.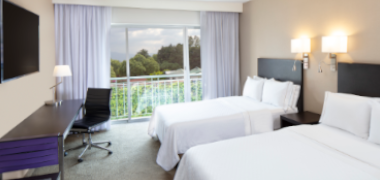 Executive Room, 2 Double
These spacious rooms feature minimalist design, making them ideal for rest and relaxation. Each room has two double beds, 32" LCD TV, two telephones, and work desk with high-speed wireless Internet. They also offer a bathroom with tub, air conditioning, security safe and ironing kit, and everything you need for an enjoyable stay, including 24-hour room service.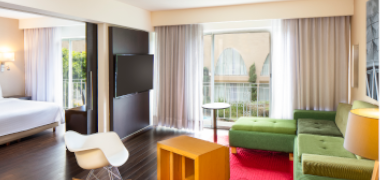 Junior Suite King
A spacious room with 2 areas: living room and bedroom; featuring 1 king-sized bed, two 32" LED screens (one in each room), 2 phone lines and a spacious desk.