Fiesta Inn
Aeropuerto Ciudad de México
Fiesta Inn Aeropuerto Ciudad de México
Strategically located across from the Mexico City Airport, with shuttle service for guests during all year, this hotel is an excellent option for business travelers that need a central location and an agreeable setting. The hotel has gardens and an outdoor pool. The hotel is situated just 20 minutes from the Historic Center, the Zona Rosa neighborhood and 10 minutes from the Foro Sol stadium and the Palacio de los Deportes (sports arena). The hotel offers free airport-hotel-airport shuttle service every 20 minutes (At the number 4 door in the Terminal 1 and in front of national arrivals in Terminal 2)


Fiesta Inn Aeropuerto Ciudad de México is an Eco-friendly hotel, so it is a 100% smoke free hotel.

We remind you that the check-in time is from 3:00 PM. Check-out is at 12:00 PM. We suggest you use our express check-out service.

Services
The hotel has 327 rooms, a restaurant, a lobby bar open from 1:00 p.m. to 12:00 a.m., swimming pool and fitness center. Hotel services include:
Gym
Restaurant(s)
100% smoke free hotel
Guests access with guide dogs
Outdoor parking with cost
Shuttle service (subject to availability)
Pets are not allowed
Business center
Free Wi-Fi access
Laundry service
Bar(s)
24 hours room service
Outdoor pool
Restaurant

Restaurant
The Fiesta Inn features a restaurant which opens from 6:00 a.m. until 12:00 a.m. and is an excellent choice for breakfast, lunch and dinner. Try our breakfast, lunch or dinner buffets or order items from the menu. Different buffet styles are served Monday through Friday including Mexican, Italian and Seafood on Fridays. Open to all public.
Meeting Rooms

Event and meeting rooms
The hotel has a Business Center with computers and high speed wireless Internet, and 12 meeting rooms with a screen, air conditioning and capacity for 8 people.

It also features event rooms that can be adapted to host up to 500 people in an auditorium; each room has a board, electric screen, flip charts, coffee service and personalized service. Our professional team will help with your groups and conventions.
Qualified:
x
Fiesta Inn Aeropuerto Ciudad de Mexico
Location #62 of 316 hotels in Mexico City
GreenLeader Platinum
Certificate of Excellence 2018
Summary of qualifications
Best comments
"disappointed"
I've never been treated so poorly in a hotel as I've been in this, I booked for 03 nights, the first one was nice because I arrived already at night because my flight coming from the United States was late because of the bad weather, on the second day, it leaves very early to visit the city and some tourist points out of the city, returning in the evening. On arrival I went to make a coffee in the room's coffee machine, there was no coffee, no sugar, no cups, I asked for it at the reception .. when I took a shower I noticed that you did not have the towels, again I asked for the reception, which after about 10 minutes they delivered to the room. on the 3rd day, I had another problem in relation to parking, in the hotel rules, you pay mxn 95.00 pesos per night, when you leave, you have to make the daily payment, but when leaving in the afternoon, I asked for the manager, he was not at the hotel, whoever was responsible for the hotel was the same employee who wanted to charge me. ... not to mention that one kept asking the other ...remembering that the hotel and all the dependancies are great, the maids and the restaurant staff are pleasant and attentive ... in regards to the morning reception staff are all polite and helpful, but the afternoon staff, They are not the same, not friendly.
"Was extremely impressed with the quality of the room. Loved it!!!!"
The check in staff was not friendly. But once I went up and into the room, I was very pleased. The bed was wonderfully comfortable, much needed after a long car drive. The shower just did it for me, the best shower I had in my whole trip. I would def. come back to this hotel.
"Not bad for a quick stop in Mexico City"
The airport is very close to the airport about a 10 minute drive. The hotel was surprisingly not that noisey with the aeroplanes coming in over night. The rooms are a decent size, I had a balcony which i could see the planes coming in to land. Staff are friendly and do speak English (which was useful due to my lack of Spanish) there is free wifi. Room service was cheap and decent. The soup and carrot cake was amazing and the serving size was huge. The A/C was noisey and the water pressure was low. There was no fridge or coffee machine in the room There is a free shuttle from the airport to the hotel, and it took me a little while to find where to meet. The airport isn't very well signposted and once you find your meeting it took me a while to find who and exactly where i was supposed to meet as there were so many people waiting to be picked up in the same area. If coming in at T1 go to Gate 4, just as you step outside there is a man who will wrap your bag in plastic, there were a couple of ladies standing there who will book/call your transfer. They come very 20minutes or so.
"Great Hotel"
Nice place to stay with shuttle service e to airport that was very punctual and courteous. Has restaurant and starbucks inside. Only stayed one night but will be my place to stay for any stops in Mexico city.
"Stop over"
🛬🕋🌚🌽🍺🍷🛌🍞☕🛫 my stay as a stop over between flights was a great experience thoroughly recommend this hotel so close to the airport and so quiet, clean, good facilities, efficient and friendly staff
Top-rated Attractions Nearby
National Museum of Anthropology (Museo Nacional de Antropologia)
Eat Mexico Culinary Tours
Journeys Beyond the Surface Popular Culture Tours
Museo del Tiempo Tlalpan
Sabores Mexico Food Tours
Estacion Mexico Free Tours
Eat Like a Local Mexico
Mexcity Tours- Day Tours
Stylewalk MX
Casa Jacaranda
Photos hotel and surroundings (275)
Rooms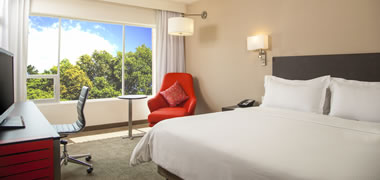 Executive Room, 1 King
Whether traveling for work or pleasure, you will feel instantly relaxed when entering these spacious rooms with minimalist design. Each room has a king bed, 32" LCD TV, two telephones, and work desk with high-speed wireless Internet. They also offer a bathroom with tub, air conditioning, security safe and ironing kit, and everything you need for an enjoyable stay, including 24-hour room service.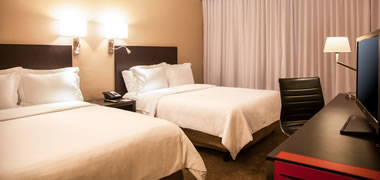 Executive Room, 2 Double
These spacious rooms feature minimalist design, making them ideal for rest and relaxation. Each room has two double beds, 32" LCD TV, two telephones, and work desk with high-speed wireless Internet. They also offer a bathroom with tub, air conditioning, security safe and ironing kit, and everything you need for an enjoyable stay, including 24-hour room service.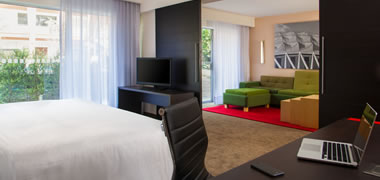 Junior Suite King
A spacious room with 2 areas: living room and bedroom; featuring 1 king-sized bed, two 32" LED screens (one in each room), 2 phone lines and a spacious desk.