Fiesta Inn
Aeropuerto Ciudad de México
Fiesta Inn Aeropuerto Ciudad de México
Strategically located across from the Mexico City Airport, with shuttle service for guests during all year, this hotel is an excellent option for business travelers that need a central location and an agreeable setting. The hotel has gardens and an outdoor pool. The hotel is situated just 20 minutes from the Historic Center, the Zona Rosa neighborhood and 10 minutes from the Foro Sol stadium and the Palacio de los Deportes (sports arena). The hotel offers free airport-hotel-airport shuttle service every 20 minutes (At the number 4 door in the Terminal 1 and in front of national arrivals in Terminal 2)


Fiesta Inn Aeropuerto Ciudad de México is an Eco-friendly hotel, so it is a 100% smoke free hotel.

We remind you that the check-in time is from 3:00 PM. Check-out is at 12:00 PM. We suggest you use our express check-out service.

Services
The hotel has 327 rooms, a restaurant, a lobby bar open from 1:00 p.m. to 12:00 a.m., swimming pool and fitness center. Hotel services include:
Gym
Restaurant(s)
100% smoke free hotel
Guests access with guide dogs
Outdoor parking with cost
Shuttle service (subject to availability)
Pets are not allowed
Business center
Free Wi-Fi access
Laundry service
Bar(s)
24 hours room service
Outdoor pool
Restaurant

Restaurant
The Fiesta Inn features a restaurant which opens from 6:00 a.m. until 12:00 a.m. and is an excellent choice for breakfast, lunch and dinner. Try our breakfast, lunch or dinner buffets or order items from the menu. Different buffet styles are served Monday through Friday including Mexican, Italian and Seafood on Fridays. Open to all public.
Meeting Rooms

Event and meeting rooms
The hotel has a Business Center with computers and high speed wireless Internet, and 12 meeting rooms with a screen, air conditioning and capacity for 8 people.

It also features event rooms that can be adapted to host up to 500 people in an auditorium; each room has a board, electric screen, flip charts, coffee service and personalized service. Our professional team will help with your groups and conventions.
Qualified:
x
Fiesta Inn Aeropuerto Ciudad de Mexico
Location #70 of 333 hotels in Mexico City
GreenLeader Platinum
Certificate of Excellence 2018
Summary of qualifications
Best comments
"Hotel is actually close to the airport"
Great executive room, good price, 24 hr shuttle, good restaurant. Perfect for an overnight stay when catching an early flight. Even the restaurant is great, friendly wait staff, good wine selection. Couldn't really ask for anything better.
"Convenient for early morning flight!"
We booked to accommodate a 6:00 a.m. flight. Have generally stayed at another hotel attached directly to the airport, but the price was two and a half times more. This hotel was very clean, and the staff were very friendly and polite; bed was comfortable and her room was quiet. although it is located directly across the highway from the airport, you do need to catch their complimentary shuttle. It picks you up from door 4, and the max weight is about 15 minutes. When returning to the airport, you simply need to be in the lobby a half hour before you want to be at the airport, in case you wait a few minutes for the shuttle. In our case, the shuttle was waiting at the door when we needed to return to the airport, so it was perfect. We would definitely stay here again, given the price differential, and the similarity in accommodation to the much more expensive hotel at the airport.
"Convenient and clean"
This hotel is attractive, very clean and extremely convenient. Although we stayed for only 12 hrs, we were pleased with everything. All the staff was pleasant and accommodating and it was like an ooasis rather than an "airport hotel."
"quality of the food is the same but the cook destroys the daily buffet"
I have been staying at this Fiesta Inn for 20 years, for convenience and quality and vareity of the food buffet, the hotel still buys quality food but the cook NOT a chef, desroys the food by over cooking, huge beautiful redsanpper which was oven roasted, meat was dry, with no flavor, , even the normally juicy meat on the back of the head was dry with no flavor, what they called paella had no safron, and nothing other than mussels, oysters, shrimp, crabas, pulpos, and calamar, this is mariscos with rice NOT Paella., had good flvored shrimpo bisque and crab soupo, just the broths both the crqbs and shrimp were overcooked, two other shrimp recipes were braded and the beading wet and mushy, beef stips, looked like fajitas but with a lot of fat and griscle on the meat, steamed vegetable over cooked, ala carte cuts of beef were ok, but the ribeye I ate came rare as I asked, the meat was red, but why didnt it have any blood, perhaps becasue it was freeezer burned, and it had more fat than muscle , but the fresh steamed asparagus were delightful, I had to send huevos rancheros back becuse they overcooked them, and I specifically told them to leave the yolks liquid and runny, It is a shame becaue this restuarnat used to be 5 star and they are still sing good ingredients, but the cooks do not care what they shovel out. Limited availabilty of fresh fruit drinks. I had a king size bed reserved and was given 2 queens without any explanation why and no discount. Checkin staff very inefficient, had four positions but only 2 staffed, few clients, only 6, but I had to wait 20 min to be attended, with only 1 person in front of me, since I had paid in advance, it should have teankn less than a min for them to give me a form to sign and a room card, it took 8 min. Then they gave me a room with 2 queens not a King, and no explanation why, and I did not knwo until I had walked 600 m to the room, beds and linen comfortable, room temperature control worked perfectly, siltent room no noise. one of the worst coffee makers I have ever used. does not get the water hot enough to extract the essence of the coffee.They now have a business class lounge in the airport to wait for the free shuttle to the hotel, this is wonderful, with free expresso capsule machine, but the woman there destroyed the coffee but filing a whole cup with watered down expresso, but a very nice jesture, you no longer have to go to the curb and flag down the shuttle, This is a very nice
"Great Location... fantastic meals"
I usually book this property when I have to take an early flight. Location near Mexico DF airport is as good as it gets, plus they offer a free shuttle to the airport 24 hours. Since I usually depart too early, I never have breakfast in the hotel's restaurant, and this was the first time I arrived early to the hotel and had the opportunity to have lunch. Reminder: lunch in Mexico is a heavy meal. I tried the buffet and I almost forgot I was staying at Fiesta Inn. This buffet was by far the best I have experienced in any other Fiesta Inn in the country, since they usually carry a very small, menu, nothing special. This is highly recommended. Only "problem" is I ate a bit too much and could not try dinner buffet.
Top-rated Attractions Nearby
Museo Nacional de Antropologia
Bikes and Munchies
Mexico Walking Tour
Journeys Beyond the Surface Popular Culture Tours
Eat Mexico Culinary Tours
Sabores Mexico Food Tours
Eat Like a Local Mexico
Mexico a Pie
Strawberry Tours
Casa Jacaranda
Photos hotel and surroundings (288)
Rooms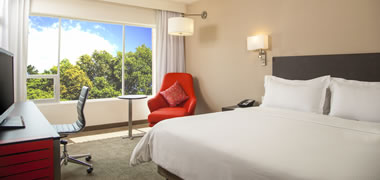 Executive Room, 1 King
Whether traveling for work or pleasure, you will feel instantly relaxed when entering these spacious rooms with minimalist design. Each room has a king bed, 32" LCD TV, two telephones, and work desk with high-speed wireless Internet. They also offer a bathroom with tub, air conditioning, security safe and ironing kit, and everything you need for an enjoyable stay, including 24-hour room service.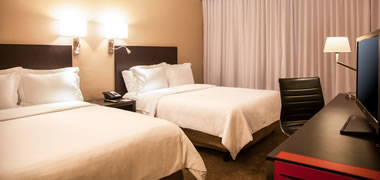 Executive Room, 2 Double
These spacious rooms feature minimalist design, making them ideal for rest and relaxation. Each room has two double beds, 32" LCD TV, two telephones, and work desk with high-speed wireless Internet. They also offer a bathroom with tub, air conditioning, security safe and ironing kit, and everything you need for an enjoyable stay, including 24-hour room service.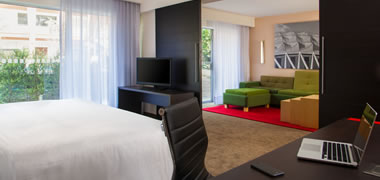 Junior Suite King
A spacious room with 2 areas: living room and bedroom; featuring 1 king-sized bed, two 32" LED screens (one in each room), 2 phone lines and a spacious desk.