Please be advised that from now on, an official Sanitation tax of $13.03 mxn per night will be charged in our hotels located in Othón P. Blanco, Quintana Roo.
Fiesta Inn continues to evolve and transform as a leader in Business Class hotels with the Fiesta Inn Chetumal. The hotel is designed to let visitors pass their time as they wish, with spaces that are functional and welcoming, so guests can work independently or socialize in groups. Today, the Fiesta Inn is more than just a hotel. It's a community of travelers all working to get ahead.

Located at the Capital City of Quintana Roo. Fiesta Inn Chetumal is located on the main street, 6 minutes from the Airport and 5 minutes from the Government Palace. It offers easy access to Rio Hondo River, Bacalar's Lagoon and Kohunlich and Dzibanché's Archeological Zones.

The hotel check-in time is 3pm. Check-out is 12:00 hrs. A convenient Express check-out service is available.


Services
There are 131 guest rooms, restaurant, skybar and a range of spacious and comfortable multi-use rooms for private work sessions, meetings and other group events. Other facilities include Lounge 360°, outdoor pool and fitness center. Hotel services include:
Handicapped access
Gym
Restaurant(s)
100% smoke free hotel
Guests access with guide dogs
Shuttle service (subject to availability)
Indoor parking
Business center
Free Wi-Fi access
Laundry service
Bar(s)
24 hours room service
Outdoor pool
Restaurant
La Isla
The Fiesta Inn features La Isla, the perfect spot to relax and grab a bite to eat, 24 hours a day. It offers a breakfast buffett, restaurant, grab-and-go refreshments and even room service. There's also a self-service bar with domestic and imported drinks.
Meeting Rooms

Event and meeting rooms
The B-On Business Center offers computer workstations with high-speed Internet access and three meeting rooms with projection screen and air conditioning, accommodating up to 14 people.
There are also three meeting and event rooms accommodating up to 300 people with auditorium seating. Each room has whiteboard, video screen, flipchart and other amenities. The professional staff can assist with coffee breaks and other services.

x
Location #2 of 23 hotels in Chetumal
GreenLeader Platinum
Certificate of Excellence 2019
Summary of qualifications
Best comments
"Friendly Staff"
Clean room, friendly staff. Great location with lovely views of Chetumal. Walking distance to the beach and piers. Only caveat was that the glass shower door did not seal and keep the water inside the shower and so the bathroom floor flooded.
"A bit of a business hotel but good for tourists too"
This was a bit of a higher price bracket than most of our other stops around the Yucatan, but, it was worth the money. The room was spacious, clean and cool and the rooftop pool was a Godsend after our trip out to the ruins. Their laundry service isn't cheap either, but it was good. We made the mistake of having a drink at the bar. Possibly the most expensive bar in Mexico! Ridiculous prices and the restaurant didn't look inviting either, so we didn't check any food prices.
"Housekeeping steals"
Stayed here for 2 nights and definitely never coming back. I should had listened to the previous bad review and stayed elsewhere. Don't get me wrong the hotel itself is amazing and so are the accommodations but they gave us a tough time just to check-in and during our stay a housekeeper stole my companions makeup. I can just buy more for her but it's the action that is unacceptable, luckily we stored all our valuables in the safe. We complained at front desk and all they did was send a housekeeper to tell us she is not a thief. No apologies whatsoever. Do yourself a favor and stay elsewhere. The positive side the door men were very professional and made sure we had a taxi to move around and extra change in case we needed it.
"modern hotel"
We stayed here two nights. The rooms were good sized, clean with good amenities. The rooftop pool has a great view of the city. The staff were helpful and the buffet breakfast was excellent. A convenient hotel in the city.
"Terrible service "
We visited this hotel for one night. The service is terrible. I've paid for 3 times the same bills. I have waited for long time the breakfast. Horrible customer service! I will not return to this hotel!
Top-rated Attractions Nearby
Dzibanche
El Malecon de Chetumal
Taj Mahal Cenote
Museum de la cultura maya
Kohunlich
Paraiso Tours
Mayan World Adventures
Experiencias Xcaret
Chetumal Dive Club
Zoologico Payo Obispo
Photos hotel and surroundings (332)
Qualified:
Rooms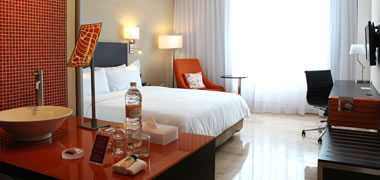 Superior Room, 1 king
There are 62 rooms with king bed, work desk, closet, telephone, coffeemaker, wireless Internet, full bathroom, air-conditioning and flat-screen cable TV.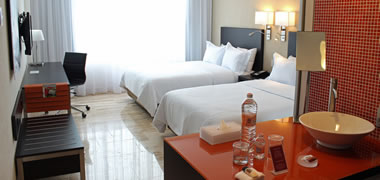 Superior Room, 2 double
The hotel offers 60 rooms with two double beds, work desk, closet, telephone, coffeemaker, wireless Internet, full bathroom, air-conditioning and flat-screen cable TV.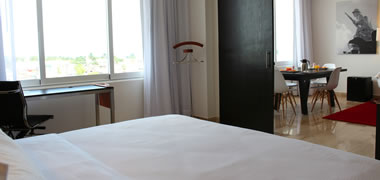 Junior Suite King
For guests wanting more space, there are 7 Junior Suites with king bed, work desk, closet, telephone, coffeemaker, wireless Internet, full bathroom, air-conditioning and flat-screen cable TV. These rooms also have a living and dining room, alarm clock and sofa.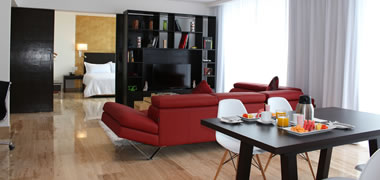 Governor Suite
Elegant, one-bedroom suite with king-size bed, full bathroom and patio. The suite has a living room with a breakfast area for six people, breakfast bar and kitchenette with microwave oven and mini bar.