Fiesta Inn
Chihuahua Fashion Mall
Fiesta Inn Chihuahua Fashion Mall
Fiesta Inn continues to evolve, transform, and innovate its Business Class hotel concept. With a fresh, modern image and new facilities, Fiesta Inn Chihuahua Fashion Mall is the perfect example of business accommodations done right. Designed to encourage creativity and productivity, the hotel's spaces are functional yet friendly, allowing guests to be connected while remaining independent. Today's Fiesta Inn is more than simply a hotel-- it is a community of professionals who thrive on success.
The hotel is located adjacent to the Fashion Mall shopping center and is just 10 minutes away from the Historic Downtown district. Guests can enjoy one of 156 rooms as well as the 360° Lounge, where they will find the La Isla restaurant, B-On business center, self-service area, and convenience store. Amenities include 24-hour room service, high-speed wireless Internet access, a fitness center, dry cleaning service, and secure parking. We welcome guests with service animals.
Please note that check-in begins at 3pm, subject to availability. Check-out is at 12pm. Express check-out is recommended.
Services
The hotel boasts 156 guest rooms, as well as the 360° Lounge, with the B-On business center and La Isla restaurant. Hotel services include:
Handicapped access
Gym
Restaurant(s)
100% smoke free hotel
Guests access with guide dogs
Pets are not allowed
Business center
Free Wi-Fi access
Laundry service
Bar(s)
24 hours room service
Outdoor parking
Outdoor pool
Restaurant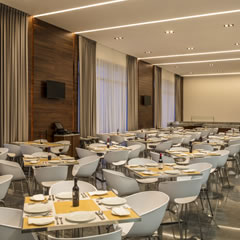 La Isla
Take a break and treat yourself to the flavors of La Isla, a 24-hour restaurant that lets you choose what you want and when. Offerings include a breakfast buffet, restaurant, grab and go, and room service.
Try out our breakfast buffet or order off the menu at lunch or dinner, where you can choose from a variety of healthy yet practical options: salads, pasta, sandwiches, fish and more. Enjoy your meal in a modern ambiance decorated in bright and fresh colors for a pleasant dining experience.
Meeting Rooms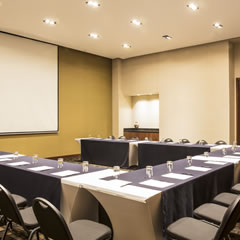 Meeting and Event Rooms
Fiesta Inn Chihuahua Fashion Mall is the perfect venue for a successful event. It has three rooms that can be configured to hold up to 160 people each, and each room is equipped with a whiteboard, projector, audio system, flip chart, and coffee break service. Combined with the personalized service offered by our trained staff, we have everything you need for a successful and productive event.
Qualified:
x
Fiesta Inn Chihuahua Fashion Mall
Location #9 of 44 hotels in Chihuahua
Summary of qualifications
Best comments
"Comfort and great service"
Excellent and friendly enviroment, Great breakfast buffet, no WIFI problems, great views form the room, clean facilities, near mall plazas and above all the personalized attention to customer, a must visit hotel
"Rest is good, place seems unfinished"
The hotel is modern and nice but with unfinished areas still under repair. The shower drain was dirty with hairs and the shampoo bottle was empty, cleary not cleaned after the previous stay. The bed and the rest of the room was very comfortable.
"de trabajo en chihuahua"
el servicio es muy bueno y calido, solo en mi habitacion la limpieza no me gusto, pero solucionaron el problema.la gente es muy atenta y cordial,los alimentos en el desayuno son muy frescos y atienden excelente.
"Buen servicio"
Excelente atención e instalaciones muy bien, buena ubicación atención de recepción super rápido y bien, se descansa muy a gusto y se tiene todo a la mano, definitivamente lo recomiendo para cuándo cuándon venir a Chihuahua
"Excelente servicio"
Un hotel con un excelente servicio, atencion calida por parte del personal. La ubicacion es de lo mejor, con accesos rapidos a cuelquier punto de la ciudad. Practicamente esta dentro del Fashion Mall de Chihuahua. Muchas gracias a todos y pronto volveremo
Top-rated Attractions Nearby
Quinta Gameros
Historical Museum of the Mexican Revolution
Catedral de Chihuahua
Museo Casa Chihuahua
Centro Historico de la Ciudad de Chihuahua, MX
Chepe
Parque Metropolitano Presa el Rejon
Grutas Nombre de Dios
Bodegas Pinesque
Basilica de Chihuahua
Photos hotel and surroundings (82)
Rooms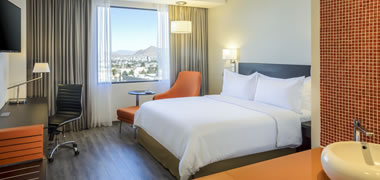 Superior Room, 1 King
Enjoy a productive and restful stay in this comfortable room that features a king bed, executive desk with chair, telephone, wireless Internet, cable LCD TV, closet, coffeemaker, full bathroom, and air conditioning.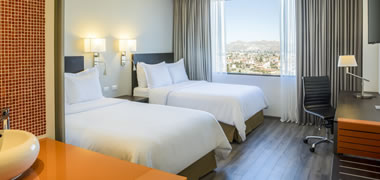 Superior Room, 2 Double
This room has everything you need for a successful business trip and a relaxing stay. It is equipped with two queen beds, a closet, telephone, coffeemaker, wireless Internet, work desk with chair and lamp, air conditioning, cable LCD TV, full bathroom, and complimentary personal care items.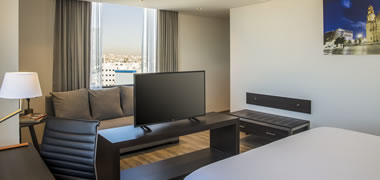 Junior Suite, 1 King
This spacious, modern suite is the key to a successful stay and has everything guests need to work or relax comfortably. It includes a bedroom and a living room with a view of the city and excellent lighting. It features a king bed, work desk, closet, telephone, coffeemaker, wireless Internet, full bathroom, air conditioning, and cable LCD TV. In addition to the living room, this suite includes a dining room and unique decorations to make you feel right at home.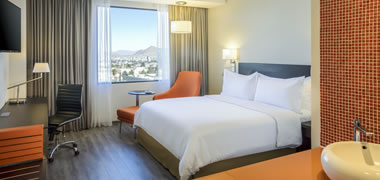 Accessible Room
We meet the needs of all guests to ensure that they have everything they need for a pleasant stay. This room comes with a single bed, work desk, closet, telephone, coffeemaker, wireless Internet, air conditioning, and cable LCD TV. The bathroom is equipped with safety rails in the shower, a raised toilet with safety rails, and extra-wide doors.