Fiesta Inn
Insurgentes Viaducto
Fiesta Inn Insurgentes Viaducto
Fiesta Inn continues to evolve, transform, and innovate its Business Class hotel concept. With a fresh, modern image and new facilities, Fiesta Inn Insurgentes Viaducto is the perfect example of business accommodations done right. Designed to encourage creativity and productivity, the hotel's spaces are functional yet friendly, allowing guests to be connected while remaining independent. Today's Fiesta Inn is more than simply a hotel; it is a community of professionals who thrive on success.
The hotel is located in one of the most lively and convenient parts of the city, just 5 minutes from the World Trade Center, 8 minutes from the Condesa district and 15 minutes from the Mexico City airport, making it ideal for business or pleasure. It offers easy access to the Foro Sol, Sports Palace, Bull Ring, and Azul Stadium. With modern construction and minimalist style, this 18-story hotel offers 210 guest rooms and multi-purpose spaces that are open, comfortable, and ideal for getting work done in a pleasing, distraction-free setting.
The hotel features the 360° Lounge and La Isla Restaurant, the B-On business center, and business concierge executive services. There is also a fitness center, 24-hour room service, high-speed Internet access, and meeting and event facilities.
Please note that check-in begins at 3pm, subject to availability. Check-out is at 12pm. Express check-out is recommended.
Services
The hotel has 210 rooms, a restaurant, a lobby bar open from 1:00 p.m. to 11:00 p.m, and fitness center. Hotel services include:
Handicapped access
Business center
Free Wi-Fi access
Gym
Restaurant(s)
100% smoke free hotel
Guests access with guide dogs
Laundry service
24 hours room service
Pets are not allowed
Bar(s)
Indoor parking with cost
Restaurant

Restaurant
The Fiesta Inn Insurgentes Viaducto offers the La Isla multi-purpose space that gives you the freedom to recharge 24 hours a day. Breakfast options include a buffet at the hotel restaurant, grab-and-go snacks, and room service. The restaurant offers a relaxed ambiance with friendly service, background music, and a varied menu of international dishes.
Meeting Rooms

Event and meeting rooms
Guests can take advantage of B-On, Fiesta Inn¿s modern business workspace located in the 360º Lounge. It features computer workstations, wireless Internet access and business services. From here, you can keep in touch with the rest of the world and hold meetings in two private meeting rooms with LCD screens and video conferencing facilities accommodating up to 8 people. It's the perfect environment to stay productive
Qualified:
x
Fiesta Inn Insurgentes Viaducto
Location #55 of 333 hotels in Mexico City
GreenLeader Platinum
Certificate of Excellence 2018
Summary of qualifications
Best comments
"Good for the value of your money"
I was expecting more for the value of my money but in general it was a good regular experience, I'm sure if they would really care on providing an up and above service they could do it as very simple things would help to chage the overall experience of the guests.
"Wonderful and clean hotel"
This hotel was amazing. The hotel staff was very helpful and friendly. The room was very clean and the beds were very comfortable. We also had a great view of the city. The valet parking guy was incredibly helpful. Thank you for the wonderful stay!
"Nice and cozy hotel in great locaiton"
My experience was great, I liked the location a lot, was able to walk or take bus or metro to all points of interest in downtown areas. All staff super friendly. Area was safe. Plenty of restaurants around
"food was not cooked for first night dinner"
caution that the definition of being cooked does not match international standards. I tried to order medium well and it came out raw, I sent it back after the first bite, but it still came out raw on the inside.
"Unsolved theft of our equipment during business trip"
I run a small design studio in Canada and we frequently work in Mexico City. Over the years, my staff often stays at Fiesta Inn hotels as the chain has modern, clean, well-located properties at reasonable prices. On my team's most recent stay on February 8 my cameraman asked the staff in the lobby to look after three cases of photographic and lighting equipment while he went to the front desk to get change for tips. Returning seconds after, two of three cases had been stolen. We have CCTV footage showing the theft taking place in the hotel's property, - it is unclear if the thief acted in collusion with hotel staff. We have the police report, all documentation of the stolen gear and many emails with courteous manager Adriana Gómez, who assured us that their insurance would help us. It has been three weeks since we last heard from them after repeated emails, so we fear the worst. My recommendation is to stay at this hotel during a holiday if you are not bringing anything valuable, - as a business hotel it fails to guarantee the most basic of needs: protection from thieves.
Top-rated Attractions Nearby
Museo Nacional de Antropologia
Bikes and Munchies
Mexico Walking Tour
Journeys Beyond the Surface Popular Culture Tours
Eat Mexico Culinary Tours
Sabores Mexico Food Tours
Eat Like a Local Mexico
Mexico a Pie
Casa Jacaranda
Strawberry Tours
Photos hotel and surroundings (145)
Rooms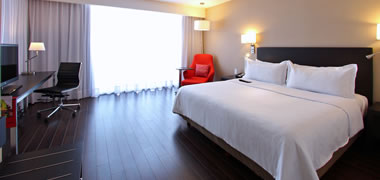 Executive Room, 1 King
These spacious guest rooms feature warm colors and laminated wood floors, making them ideal for relaxation. They are outfitted with a king bed, large dresser, and bathroom with shower stall. Each room has a 32" LCD TV, two telephones, and work desk with high-speed wireless Internet access. They also have bottled water, a coffeemaker, selection of teas, and a travelers kit.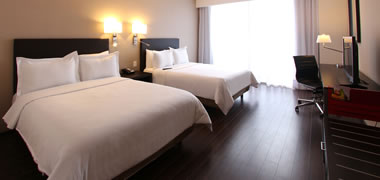 Executive Room, 2 Double
Whether traveling for work or pleasure, these spacious rooms offer a tranquil getaway. They feature warm colors and laminated floors, and are outfitted with a two double beds, large dresser, and bathroom with shower stall. Each room has a 32" LCD TV, two telephones, and work desk with high-speed wireless Internet access. They also have bottled water, a coffeemaker, teas, and a travelers kit.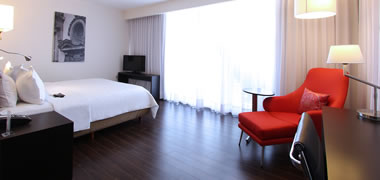 Deluxe Room, 1 king
A spacious and comfortable 35m2 room, with light from windows that surround nearly ¾ of the room. It features a sofa, king-sized bed and space for an additional bed or serving table for 2 people. Bathroom equipped with shower and toilet. Ideal for extended stays.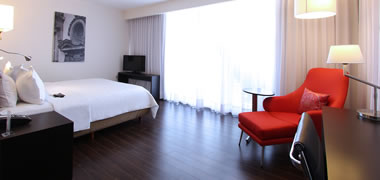 Junior Suite King
Tackle your big projects and ponder your dreams in the comfort of this luxurious suite. It features two separate areas, closet, 4-seat dining table and coffeemaker. It also has a cozy sitting room with two large sofas, two coffee tables, stylish lamps, 32" TV, telephone, bathroom scale and luxury amenities.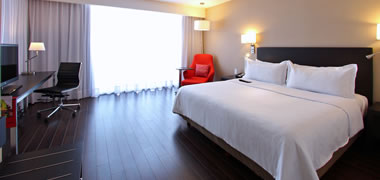 Accessible Room
Experience a comfortable stay in this specially equipped room with one bed, dresser, reading lamps, 32" TV, spacious work desk, telephone and task lamp. The room is outfitted with safety rails, shower bars, an elevated toilet with grab bars, and a wide entry door. The room also has a spectacular view of the city.